Sorry for the lack of blogging.  You've not missed any fishing adventures.  When you're an
artist
, Christmas is the busiest time of the year and I've been grinding away.  Twice I nearly snuck to the water but last minute commission orders continue to come in.  Check out my first ever painting of a
Westslope Cutthroat
.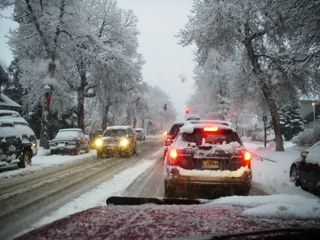 I also spoke in
Bozeman, Montana
 last Wednesday night.  My PowerPoint presentation was
"Improve Your Fishing Photography"
.  Lucky for me and the
Madison – Gallatin Chapter of Trout Unlimited
, I left
Victor, Idaho
at 9 AM for what is generally a four hour drive.  Snow and wind turned the normally enjoyable drive in to a six hour white knuckler.  Even downtown Bozeman was a snowy skating rink.  They don't call me "Monsoon Currier" for nothing.  The early start got me there in plenty of time and I had a great night and a surprisingly large crowd despite the weather.  Then Thursday I drove a whopping 35 MPH all the way from Bozeman to home – another 6 hour plus drive thanks to hard packed ice.
Last but not least, I'm updating all
my shows
 for
my speaking circuit
.  I'll start the 2013 season at the
Denver Fly Fishing Show
and go non stop till mid March.  Sure, that includes hosting a week in the Amazon in February, but overall I'll be doing more than 40 presentations nationwide the next three months.