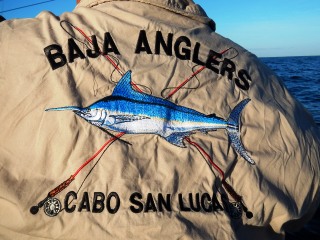 Sammy Vigneri and I were wiped out when we rolled into the Cabo San Lucas marina this morning to meet Grant Hartman, legendary Baja fly fishing guide and founder of Baja Anglers.  We had every right to be.  After a long day of travel we didn't get to Sammy's condo in Todos Santos, Mexico until 2 AM.  Nonetheless, we were ready to catch a marlin on fly.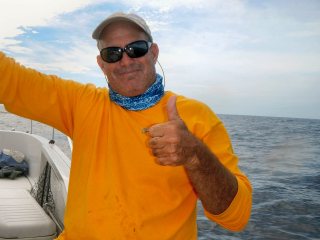 Grant Hartman is a longtime friend.  I met Grant in 1996 when he had a fly shop at the Cabo docks.  We kept in touch and then our friendship accelerated after I introduced him to Sammy in 2007.  Since then Sammy has been booking Grant for marlin trips and roosterfish beach trips annually and I've had the great pleasure of tagging along on most of these.  If you come to Baja and need a guide, Grant is your man.
The best marlin grounds in December are around the southern tip of Baja and up the Pacific coast.  Although you could stumble into a blue marlin or even a black, the striped marlin are plentiful.  To catch them on fly we tease them up behind the boat within casting range by trolling hookless teasers or drifting hookless live baits.  No matter which method, when the marlin arrives Grant works the teaser away from the frenzied billfish.  Once he lures the marlin behind the boat he yanks the teaser away completely and one of us cast our seven inch fly with a 14-weight.
I've fly fished for marlin many times but still haven't boated one.  I've had a marlin curse for years.  No matter when or where I go it's a "should have been here last week" scenario.  Although I once hooked solidly into a white marlin, in general they aren't around when I'm in town.  In 2009 Sammy and I got skunked with Grant.  Then last year Sammy took me to the Galapagos Islands where we were guaranteed numerous marlin on fly, but in five days Sammy got two unanswered casts and I never picked up the rod!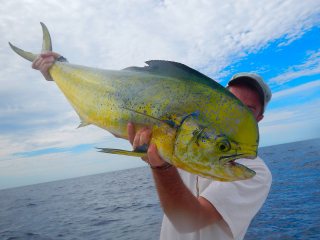 We began teasing for marlin at around 10 AM.  Grants method today was to dangle live bait behind the boat while wind drifting.  This proved successful for attracting dorado (also known as dolphin fish or Mahi-mahi) almost immediately.  First we teased in a single that Sammy nailed on a white streamer.  Then less than an hour later we teased in a school of dorado and Sammy and I each landed one.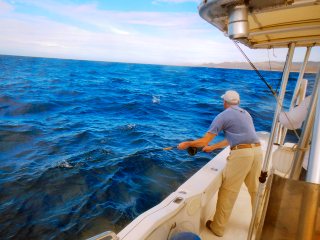 The first marlin didn't appear until 3 PM.  He didn't tease well and disappeared before Sammy cast.  Shortly afterwards a second marlin ripped line from our live bait rod.  This striped marlin was more cooperative and Grant teased him into casting range.  Sammy launched perfectly as the teaser left the water and the marlin ate the fly voraciously.  But billfish are hard to hook and unfortunately after a short run the fly dislodged.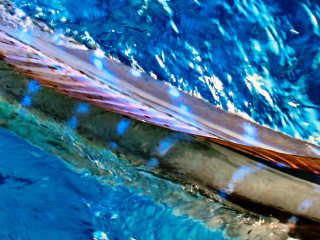 After Sammy's two shots he generously passed the next turn to me.  Again it didn't take long for fish to arrive.  This one also teased into range.  The seven foot long fish was electric in color.  Striped marlin pectoral fins glow in a wild fluorescent turquoise while their stripes flash a purplish blue.  It's a sight to behold that often leads to angler breakdown.  Somehow I kept my cool.  In fact the big fly landed exactly where I planned, behind and to the left of the fish.  If it were a sailfish it would've been perfect because sails turn and eat creating the ideal angle to hook them.  Sadly, I didn't know that striped marlin don't turn around to eat.  The fly needs to land in front of them and you take your chances on a hook up.  It was too late.  This marlin retreated back to the deep.
That was it for today.  We came closer than any time before at landing a striped marlin.  Sammy hooked up and I finally got a good cast.  We headed in at around 4:30 excited with our progress and eager for tomorrow.  We ended the day at the Cafe Santa Fe Italian Restaurant in Todos Santos where Sammy treated me to a delectable feast of seafood.