Fly Fishing the Port Elizabeth Estuary of South Africa
Categories: Uncategorized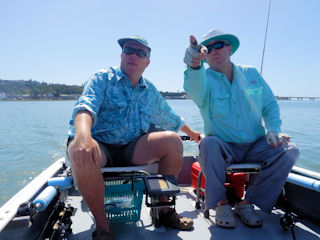 Anthony and Ed took Granny and I out on the Port Elizabeth estuary today.  The Port Elizabeth estuary is the 2nd richest in all of South Africa.  Our plan of attack was to hit all the spotted grunter hot spots as possible in hopes to fool one of them into eating a fly.  You may remember last week while fishing with Craig Smith these fish baffled me and created me a burning desire to catch one.  Ed and Anthony catch them often and know some tricks.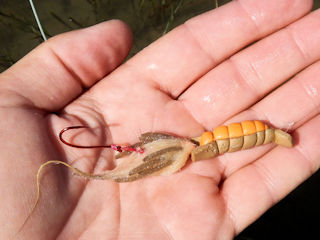 We hit the water around 9 AM.  As we traveled to the first location Ed filled me in on his strategies for grunter.  First of all, Ed uses a floating shrimp fly.  He does so even though hungry grunters are often spotted tailing.  Ed says what the grunters are actually doing is blowing into the shrimp holes and forcing them out their back entrances.  After the grunter blows he tilts back to normal and looks for a fleeing shrimp.  In many cases that disoriented shrimp ends up thrashing on the surface hence the success of his floating shrimp pattern.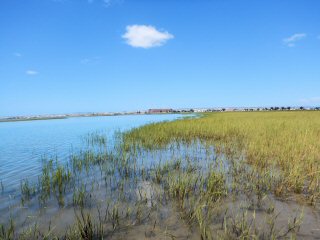 Unfortunately, today was not a good grunter day because it's the neap tide (smallest fluctuation from high to low tides).  With this in mind we hit the grunter locations rapidly and if there was no action we moved on.  We hit several grassy flats covered in shrimp holes but the grunters were nowhere to be found.  By noon it was time to look for other species.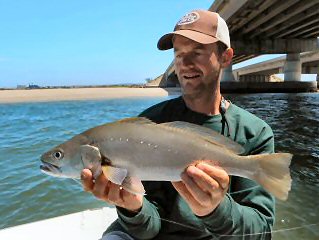 The other fish I had my heart set on catching was the dusky kob.  Like with the grunter, Craig and I tried some places for kob last week but had no luck.  Anthony had a bridge piling area that he'd caught kob on jigs with before.  At the bridge piling its deep and Ed and Anthony in fact used jigs in order to get down.  As always, I stuck with the fly.  I used my 300 grain on my 9-weight and a heavy Clouser and dredged.  We messed around for an hour then Ed actually snagged a small kob.  As he was releasing the seabass-like fish I hooked up.  Kob often travel together and sure enough a couple minutes later I was posing with my first dusky kob on the fly.
The fight from the kob was nothing to write home about but what a good looking fish he was.  What really caught my eye were the silver dots along his lateral line.  The next fish hit with a ton of force and gave me several good runs before we saw him.  It was a bluefish, looking just like the ones I grew up with in New England.  This one was a small specimen but a bluefish nonetheless.  Here South Africans call bluefish – elf or shad.  I'll check to see if he's exactly the same or not when I get home.  Fish names often get confusing when you're overseas.
We kept after it around the bridge piling area for about an hour but the low tide went slack and the fish stopped moving.  About then Ed asked if I have caught a legit fly in the mouth mullet.  God knows I've tried but the truth is I've yet to add a mullet to my species list.  Ed and Anthony pulled out a bag of chum and Ed handed me a little green foam fly.  It was basically a smaller version of a milkfish fly.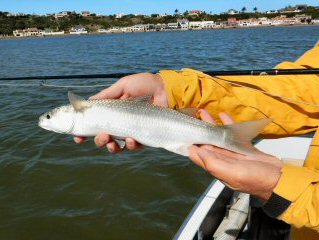 We anchored off the edge of a flat and hung the chum bucket about ten feet off the back of the boat.  It took only minutes for the species Southern mullet to arrive.  They came in like a school of rising trout on a lake.  I tossed the fly in front of them and they took hard looks but refused.  Ed told me to keep trying and after five minutes or so I hooked up.  I always suspected any mullet species would fight hard and I wasn't disappointed.  After a good run I landed this Southern mullet.  New species!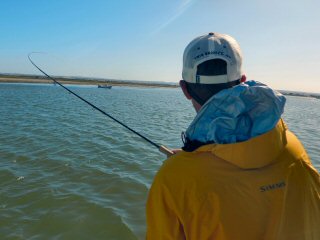 Some larger striped mullet arrived also but as individuals and they would not get closer than about 70 feet from the boat.  I launched some distance casts at these larger rises.  They were few and far between.  The guys suggested a slow strip to create a wake with the fly.  This method went on for about fifteen minutes when we thought we saw fish.  Then completely by surprise I got hit and line whizzed off my Abel.  Then the two foot long fish went mad and leaped and cartwheeled like a salmon about five times and was gone.  "That was the striped!" both Ed and Anthony exclaimed.
I hooked one more and got a long deep to the backing screaming run and lost this one also.  Then that was it – another lost striped mullet and no more to be found.  Wow I thought.  What a fish and yet another reason to return to this place someday.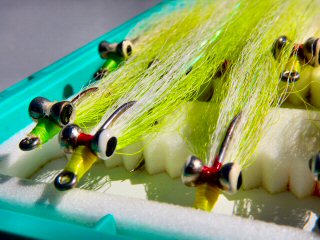 It was near 5 PM by the time the mullet became scarce.  Anthony anchored us in a spot to chuck chartreuse and white Clouser's blind in hopes of skip jack.  Skip jack is what we call ladyfish.  But we went empty here.  So we decided to wrap things up where we started and try once more for grunter.
This time both Anthony and Ed threw the spin rods with big top water lures.  I'm no expert on the lures but they reminded me of mirror lures the way they moved on top.  We drifted a flat for a ways.  I was chilling and Granny was throwing Ed's floating shrimp fly on my 9-weight Boron Plus Jungle rod.  Then Granny shrieked and I looked and saw a big boil with her fly.  We hoped for a grab but it never happened.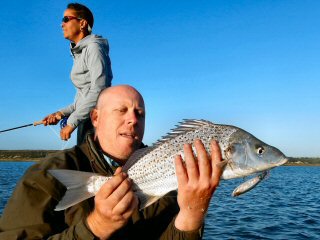 Ed's lure was way out and then it happened.  He got hooked up and his spin reel sang loudly.  I was thinking, "This is a grunter?"  Well it was and all I can say is now I need to catch one even more than I thought.  The spotted grunter fights like all get out.  He smoked line from Ed then bullied him right up till the side of the boat which probably took a good three minutes.  Once to the side Ed hoisted the handsome fish with the quirky mouth.  I'm not exactly thrilled with the pics so Ed – we need to do this again!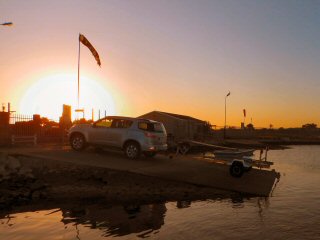 Naturally we tried till almost dark but that would be the only cooperative grunter today.  We didn't catch heaps of fish but enough.  Any time I catch a new species is memorable but when I add two – spectacular!  It's been a great few days with Ed and Anthony and like Craig and Coreta Smith, I hope they come visit Granny and I in the US.
We're making a big move tomorrow to the next fishing grounds.  Stay tuned. . . .