Misty Dhillon Meets Quake Lake in Montana
Categories: Uncategorized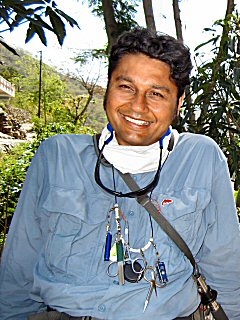 Most of you have seen the movie Waypoints and the part where I was fishing for golden mahseer in India.  I was fishing with my great friend Misty Dhillon, owner of the Himalayan Outback.  We filmed the exciting segment in May of 2013 and if you missed that series of blogs you definitely want to check them out.
That wasn't first time I fished with Misty.  Our first adventure was in 2008.  If I had a blog then you'd see another series of exciting stories and photos.  On that trip I caught and released a 27lb IGFA World Record golden mahseer and later the same day found myself face to face with a Bengal tiger.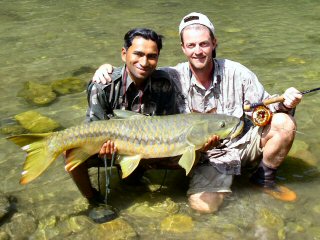 Misty and I have shared some unbelievable fishing together in India and when he told me he'd be in Montana this week I grabbed the opportunity to treat him to one of my favorites of August.  I took Misty to Quake Lake.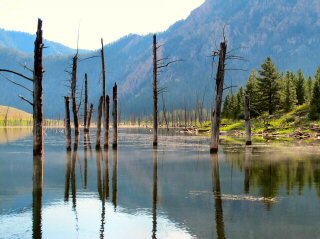 Misty met me at the Quake boat ramp just before 8 AM.  I already had the boat launched and ready.  We loaded up and I weaved through the sunken forest to where I caught the giant brown trout several years ago.  I handed Misty my 4-weight Winston Boron III LS already rigged with my favorite Quake Lake fly, the Cinnamon Ant.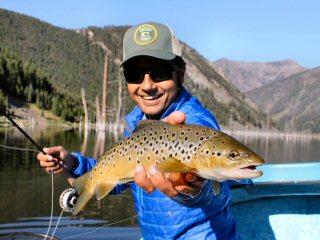 The fish were rising.  The water was covered with varieties of midges, a few Pale Morning Duns and Callibaetis.  Nonetheless, I promise you the ant works best on most occasions.  Misty was a little overwhelmed by all the risers.  He did exactly what most anglers do and that's keep casting at different fish rather than focusing on one at a time.  I told him to take a deep breath and cast to a gulper off the bow.  There was a tiny bit of current from the nearby mouth of the Madison River and sure enough he fed the brown trout.  Misty set the hook and the brown trout did his best to tangle Misty in the trees.  But even against the light 4-weight, the brown was no match for the experienced mahseer angler.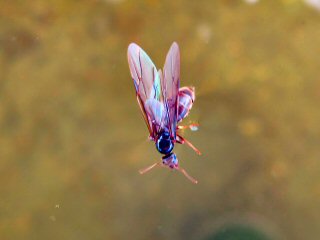 The hatches went from excellent to tremendous.  Conditions were nearly calm and everywhere you looked there were rising trout.  I've fished here for more than 30 years with many incredible days, but I've never seen Quake go off like this.  Misty never went more than thirty seconds without a rising target to cast too.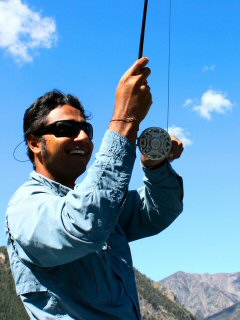 We actually had a slow period after that brown trout despite all the risers.  There simply were so many natural insects on the water that it was hard to get them to notice the ant.  We changed our strategy to only cast ahead of the boat and dropped the fly almost on the trout's nose.  The trick worked.  They saw the tiny splat and almost every time they sipped our fly.  For the next three hours Misty was almost constantly hooked up.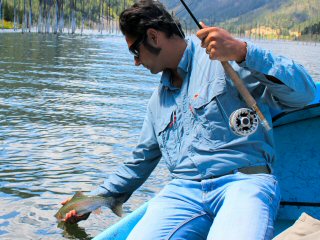 After the fifth handsome rainbow, Misty mentioned what beautiful trout they are.  But I could see they weren't just beautiful to him, he was mesmerized on every release.  Turns out; these were Misty's first rainbow trout.  How I didn't know that I'll never know.  Furthermore, although he's got some excellent brown trout fishing back in India, today's brown trout was his first on a dry fly.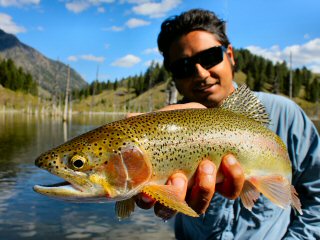 Misty crushed it on his first dry fly experience for trout.  Dry fly fishing on lakes is extremely difficult, especially on a calm day.  The trout are spooky from the get go.  They can see you casting and easily pick up the leader or an awkwardly sitting fly.  Nevertheless, Misty landed one brown and a dozen bows, none shorter than 15".  Today was the best day I've ever seen on Quake Lake!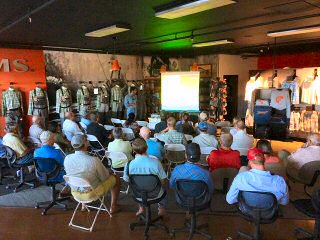 We reeled it in at 2 PM.  Not by choice however, Misty and I had to give a presentation about fly fishing for mahseer in India.  We spoke at the River's Edge Fly Shop in Bozeman, Montana.  The event was sponsored by Yellow Dog Flyfishing Adventures.  I didn't do much more than tell a fun story about how Misty and I met years ago.  Then I turned it over to him.  His presentation was superb.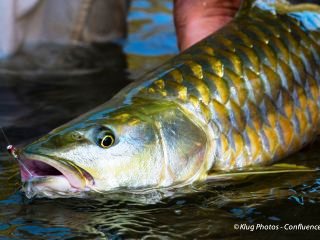 Misty is the founder of Himalayan Outback. Enjoy his beautiful website.  Not only are golden mahseer one of the most stunning fish in the world, but so are the rivers they live in.  After two incredible trips with Misty I can promise you, if you go you won't be disappointed.  You'll become one of few Westerners to catch a golden mahseer and have an experience to remember the rest of your life.