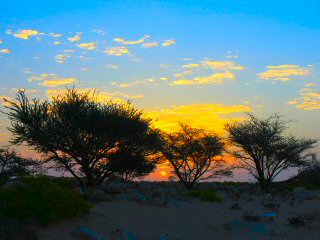 Granny's and my last Omani sunrise was a good one.  Instead of enjoying it from the camp chairs I made coffee and watched as we headed north for Muscat.  We arrived at Ray and Kerry Montoya's house around noon.
It was sad unpacking our RAV4 rental.  An epic chapter in our lives has come to an end.  Once empty there was nothing but heaps of sand and salt dust on everything.  I hope the car agency doesn't look underneath and find anything they can charge us for.  We put this car through the test!
Ray and Kerry were out fishing from Muscat and they kindly let us use their house even before they returned.  The first shower in ten days was luxurious and we followed that up with a few cold beers that Ray left us in his fridge.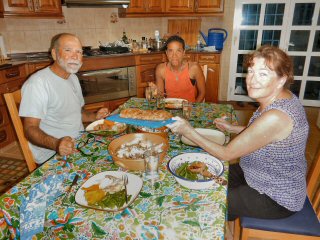 We just finished up a great night with the Montoya's with dinner, drinks and stories from our trip.  We are presently on a Swissair flight back to Dubai.  We'll arrive in Dubai at midnight and should be to my friend Nick Bowles house by 2 AM.  We'll likely rest up tomorrow but return to our fishing adventures the day after which include Dubai and Musandam with Ocean Active until we begin the long journey home Sunday.