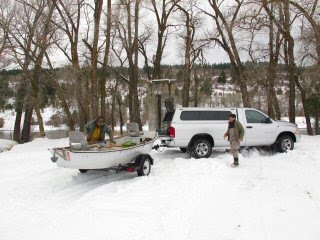 Paul and I had fun catching up over dinner at the Knotty Pine last night followed by a good night sleep. We were up early and had our tackle in order and the lunches packed before we knew it. Today we brought along our long time friend Tom Montgomery. Tom and Paul have been friends forever. Like Paul, I met Tom shortly after I moved to Jackson and we've been friends ever since. Tom is not only another of Jackson's well known fishing guides but is also a fantastic photographer. He has been taking pictures of fish and fly fishing scenes for well over thirty years. His photos have graced the covers of nearly every fly fishing magazine. These days Tom spends much of his winter hosting anglers to New Zealand and Argentina and then during August and September he guides the Snake River. He and I have fished and traveled together throughout Yellowstone, South America and New Zealand. Tom has been a roll model not only for me but many anglers and guides who arrive on the Jackson scene.

Paul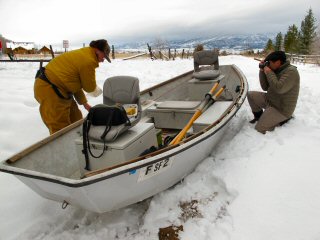 and I were impressed with Tom right from the start of the day. Tom is far from a morning person yet he made it from Jackson over Teton Pass in snowy conditions before 8:30 AM. After heating up a thermos and filling it with some spicy soup we were loaded up and on our way back to the South Fork.
We got about another 3 inches of snow last night. At 10 AM when we arrived at the South Fork the snow completely stopped. It w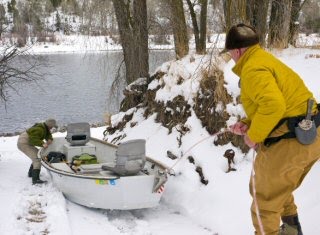 as overcast and felt about 40 degrees. Things were really shaping up nice. We picked up Paul's boat and because of our nice early start we added some length to our float and drove up and launched at the Irwin Slide, about 4 miles above the Spring Creek Bridge. Like yesterday we would take out at the Conant Boat Ramp. This would give us a nice 6-7 mile float. We drove as close as we could get to the boat ramp then rather then risking getting the truck stuck backing down the snowy ramp, we unloaded the boa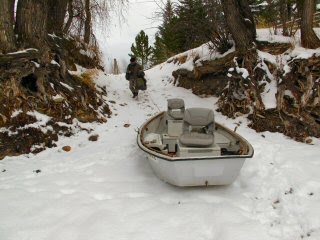 t up top and slid it down the ramp to the river. We were off and floating again.
10:30 AM in December is a bit early even for the midge hatch so we pulled out our streamer rods to start the day. It didn't take long to start rousting some fish. I brought a nice rainbow close to the boat minutes into the float and then Tom hooked into a beefy brown trout. This time of year these big fish aren't in their summer lairs. The water levels are so much lower than in summer months that all the bank structure you typically find them in is out of the water. Therefore, this time or year I like to target them on the inside turns anywhere the water is slow moving and deep. In these places fish conserve needed energy by avoiding the hard work of holding in heavy current yet still get the benefit of being deep enough to hide from the numerous eagles that winter here. These spots are also ideal for feeding on midges when the hatches start in late afternoon.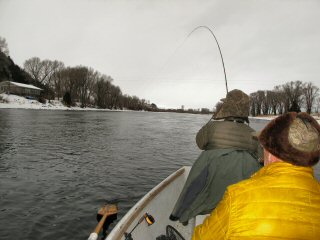 Tom's brown put up one heck of a scrap. If he hadn't leaped next to the boat early in the fight we'd of been certain that Tom foul hooked him. Shortly after hook-up Paul was able to net what was one of the larger browns I've seen on the South Fork since August. After a few clicks on my camera Mr. Brownie bolted from Toms hands back to the deep. It's good to see these fish so strong and healthy even as we approach winter.
Un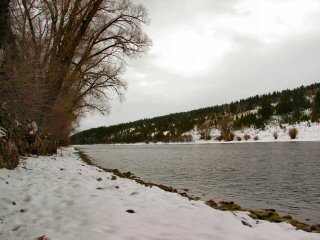 like yesterday, the midges hardly hatched. Today was similar but for some reason they just did not come out. It was perhaps the one slight difference between today and yesterday that caused the change, and that was the temperature. Yesterday temps hovered right around freezing. Today they reached 40 degrees, so warm that the snow was melting rapidly. When the snow melts fast it drains into the river and the water temperature goes down. In other words, even though today was warmer for us anglers, the water temperatures were colder than yesterday and not only changed the behavior of the trout but also the midges. It was too cold for the midges to hatch and the trout had to make meals out of nymphs and baitfish. And to prove our theory, we absolutely destroyed the fish on streamers today!
We a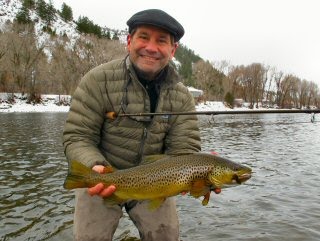 re not normally guys that keep track of how many fish we catch but I don't recall any previous fishing days in December that were better. It seemed one of us was always at least getting a strike. And there were no shining flies that dominated our catches either. I fished multiple flies all day and it seemed that my black screamer and my yellow screamer fly each caught about the same number of fish. Best of all, we caught numerous brown trout today. The last few trips we've caught hardly any browns, that's be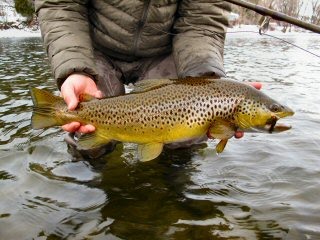 cause they were in the shallows spawning. Judging from today many have finished their spawn and are now ferociously feeding to get in shape to survive the harsh winter months. We landed nearly 30!
I hope today wasn't my last float of the year, but it certainly could be. You never know what to expect in December. We could get three feet of snow in the next few days and it would be bye bye to reaching any boat ramps. Or the temperature could drop to 20 below zero and it could stay that way for a month. Either weather condition would put an end to it for me. But if next weeks weather is anything like the last two days, I'll guarantee you can expect another story and a few more pics of me and some friends enjoying the quiet of winter fishing.