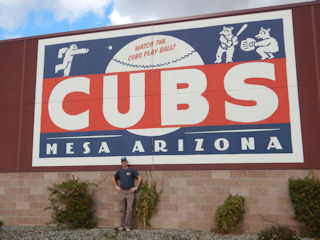 Its life in the fast lane from now till April.  I always move fast but during my show/speaking tour season it moves crazy fast.  Today I escaped the big storm in Idaho and caught an early flight for Phoenix.  Though the reason was to deliver my PowerPoint presentation, "Four Seasons of the Yellowstone Trout Bum", to Desert Fly Casters tonight, I'll be fly fishing for grass carp on Thursday and Friday with my friend Steve Berry.  After Steve fetched me from the Phoenix airport he took me to see the Chicago Cubs new spring training facility.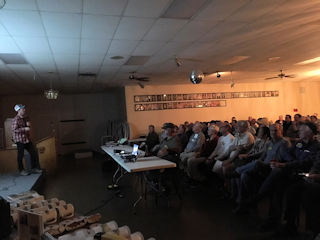 I never stopped moving from 3 AM in Victor, Idaho this morning till after my speech and returned to Steve's house tonight.  It was a draining 22-hour day.  But it was also a great success and over 120 members of the Desert Fly Casters were well entertained.
A funny thing came up at my gig.  There were folks from the other Phoenix fly fishing club, Arizona Flycasters Club, attending.  When I was done they asked if I was free to speak to them tomorrow night.  Yes, I am.  So, after fishing tomorrow it will be back to the microphone.  Now it's time for some desperately needed sleep before yet another fun filled day.