California Combination of Work and Pleasure
Categories: Uncategorized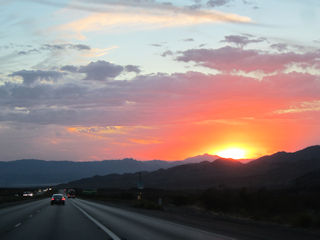 Granny I arrived in California last night by car to begin a ten-day speaking tour.  It was a great 15-hour drive listening to playoff baseball on my XM all the way from home.  Cubs pitcher, Jake Arrieta, hit his amazing three run homer just as the sun was setting for us west of I 15 between Vegas and Barstow, CA.  We pulled off the highway, got a room and found a bar to watch the rest of the game.  Last night's great game outcome wasn't what I was hoping for.
I'll be giving my PowerPoint presentation "Fly Fishing Through Midlife Heaven" to seven different fly fishing clubs.  I've done this tour twice in the past and it's a fun one.  Not only meeting up with the club folks that I've gotten to know over the years but also because Granny comes along and we fish and make a mini vacation out of this.
First stop was tonight to speak to Santa Barbara Flyfishers.   Getting to Santa Barbara meant driving along about 30 miles of coastline.  I can't pass that much water without a cast so we stopped at Ventura Beach and I rigged my 91/2' Winston and SA's 300-grain Sonar.  It was a few years ago that I got into the shovelnose sharks but unfortunately not today.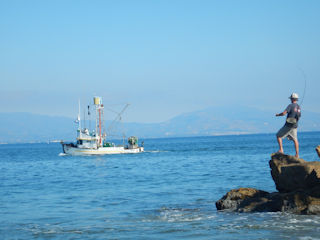 The water seemed warm and should've at least produced a surf perch but didn't.  After we settled into our hotel in Santa Barbara I walked out on the public dock for a few more cast before meeting to speak to the club.  This was a good move as I landed a tiny halibut to avoid the skunk for the day.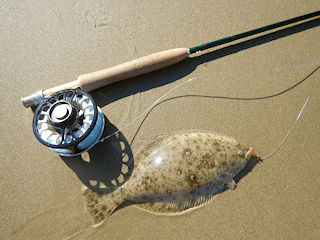 There's a lot of good fly water in this world that people don't fish because they only want trout.  I'll take a halibut on the fly any day and later this week I aim to catch a few more fun specie as well.
We're about to call it a day and a successful one at that.  My gig to Santa Barbara Fly Fishers was a blast and even better, the Cubs won tonight in spectacular fashion!  PUMPED!