Arizona Finally Meets Yellowstone Waters
Categories: Uncategorized
September 22-25, 2014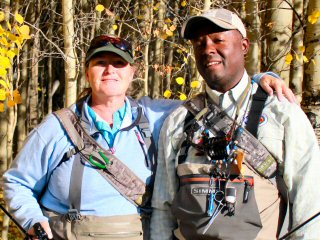 If you've ever fly fished in Arizona then surely you know Cinda Howard and Steve Berry.  Cinda is an expert of nearly twenty years on Arizona waters.  She worked at Orvis in Scottsdale for eight years, was president of Desert Fly Casters and is currently a board member of Zane Grey Trout Unlimited.  Cinda recently started Fly Fish Arizona, a guide service and fly fishing school that offers trout fishing (including the Apache trout) bass and one of my favorites, carp on the fly.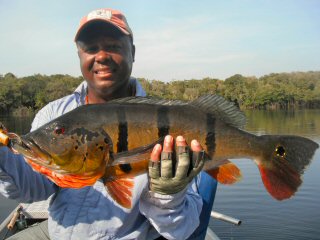 Steve Berry has worked in fly shops and been an Orvis fly fishing instructor for many years in Arizona.  Although he has a day job, he frequently helps Cinda with her fly fishing schools and guiding throughout Arizona. He's also hosted and array of trips from Montana to Belize and joined me in the Amazon in 2011.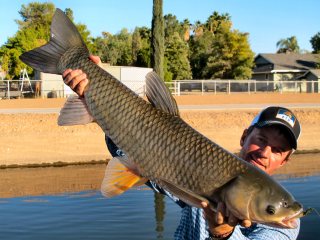 I've been friends with Cinda and Steve for years.  We met at Sport Shows and I've given fly fishing presentations to their club Desert Fly Casters at least half a dozen times.  The way I know them best is from fly fishing for grass carp (white Amur) around the Phoenix area every time I pass through.  See 2010, 2011 and 2012.
All these years of friendship and Cinda nor Steve have ever made it up fishing with Granny and me.  The last three days they finally made the trip and I couldn't wait to put them on some nice fish from my backyard.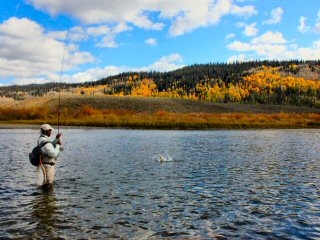 Granny and I have been scouting the last few weeks in order to turn Cinda and Steve on to the best of the best for fishing.  You remember two weeks ago Granny and I slayed fish on big dries.  Monday night we headed to the exact camp and first thing Tuesday morning we set out on a long walk.  The fishing started red hot.  Cinda hooked three chunky browns and landed one, and Steve wrestled with another right to the net before he got off.  Would you believe that would be it for the rest of the day?  Despite walking about five miles and combing every inch of water along the way?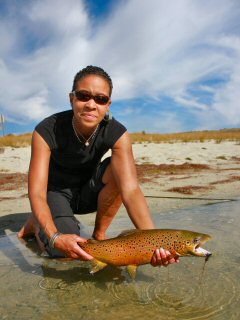 Our fishing disintegrated so badly that Wednesday morning we got up at the crack of dawn and drove hours to try Kubswin Lake.  Here the fish were hitting slightly better but unfortunately Granny and I did most of the catching.  Granny didn't even wader up and made a few random casts between reading her book and caught this brown.  Fortunately right after Steve landed a nice brook trout.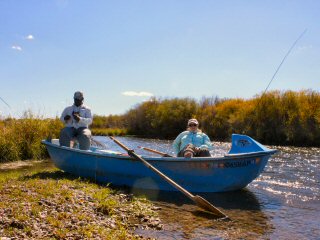 Today I treated our guests to a long float on the Renteria.  I chose twelve miles of slow water for two reasons:  First was so that we would see some moose.  Arizona isn't moose country so Cinda was especially keen on my idea of finding some.  Second, the long float on the Renteria rarely gets hit, especially in September when the slow moving water makes it a nine our float with lots of downstream rowing.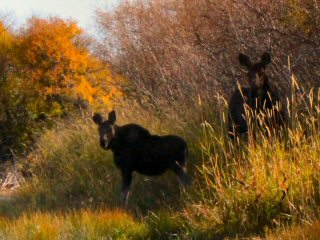 All I can say is that it's a good thing the moose were a priority.  I rowed us up close to eleven moose consisting of three bulls, four cows and four calves.  Toss in one great horned owl and some otters and it was a magnificent wildlife day.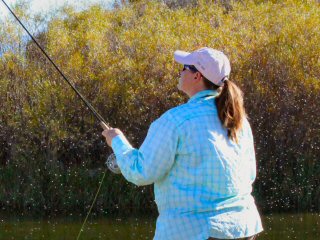 What stunk for my Arizona friends, once again, was the fishing.  We landed ten small rainbows and brook trout.  Granted, in the morning we had an epic Trico hatch and some big fish were up.  We hooked a few but each fish managed to get away.  At 10 AM the wind cranked up and the Trico clouds blew away.  Casting got hard and my rowing even harder.  I'm not one to notice the pain but I am absolutely sore and tired from pushing down the river.  More likely, I just wanted Cinda and Steve to have great fishing and it didn't pan out like expected.  If the fishing had been as planned there would be no pain!
Steve and Cinda return to Arizona tomorrow.  I'm hitting some yard work then back to work.  I've fished more than ever this year and now it's time to buckle down.  Buckle down means finish a cool Atlantic salmon painting I've been layering the watercolor on for a few weeks, get ready to go speak in Indiana and Michigan mid-October and pack for an unreal upcoming trip.  You won't believe what I'm hoping to catch in November!