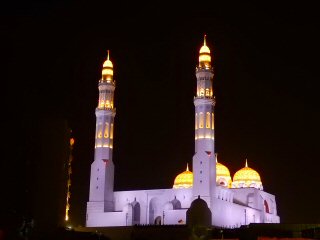 Our Swiss Air flight was two hours late due to a mechanical leaving Dubai last night.  We arrived in Muscat, Oman at 2 AM.  By the time we cleared Omani customs, changed over money and then taxied to the Ibis Hotel it was 3 AM.  Some of the mosques we passed on our taxi ride were stunningly beautiful which luckily kept us awake.
The travel must have really taken its toll.  We slept till 10 AM.  I swear I've never slept that late in my life.  Once up I saw the time and panicked because we had lots to do.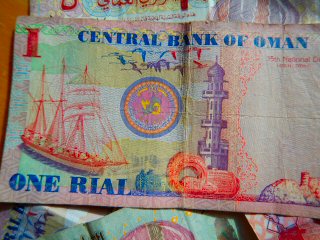 Granny and I are renting a car and heading south to fish and camp the beaches of Oman for the next eleven days.  Our chores were pick up the rental, grocery shop for food and camping supplies and meet an American by the name of Ray Montoya that not only calls this place home, but also fly fishes.
In planning for this trip I cruised the internet for information on fishing in Oman.  There's very little out there.  What I found however, led me to the blog of Ray.  Ray and his wife Kerry are teachers and have lived in Oman for thirteen years.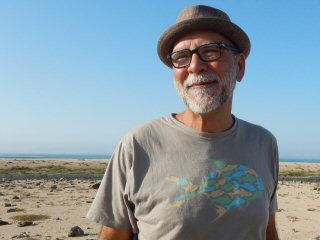 Long story short, I contacted Ray via email and he generously gave info to help us plan for the trip.  Best of all, he invited us to his house for a visit and to borrow some camping equipment upon our arrival.  Granny and I have traveled the world in "wing it style" for years.  You'd be amazed at the luck like this we've had!
The visit with Ray and Kerry was a godsend.  Ray loaned us a cooler, camping stove, some camp chairs and cots.  Cots are a necessity because you can't sleep in your car because it's too hot.  You can't sleep on the ground because if you camp on the beach the sand is torturous.  And if on the desert, snakes and scorpions will get you. Furthermore, camel spiders are bigger than small dogs!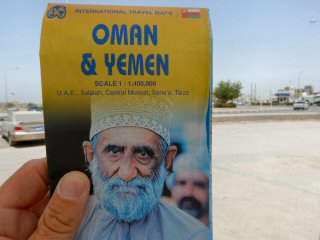 In addition to loaning us gear, Ray marked up my map with some places to try fishing.  He also suggested camping places and towns where we can resupply on the trip.  Last but not least, Ray and a pal of his, Peter Coetzee, are fishing the next three days.  We're going to camp together tomorrow night and I'm sure that over the campfire we'll gather even more info.
Its midnight.  We're back to the Ibis hotel one more night and heading south in the morning.  We have our car, groceries, camping gear and a map – should be good to go!