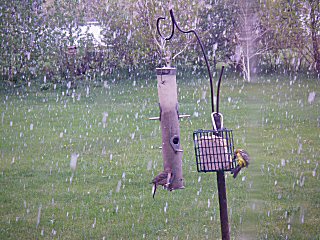 We've had eight days of colder than normal September temperatures with a solid dose of precipitation mixed of rain and snow.  I refer to it as the fall Equinox storm.  It's a good thing for Idaho.  You can never get too much moisture.  Bad weather also gives me a window to catch up on my office work.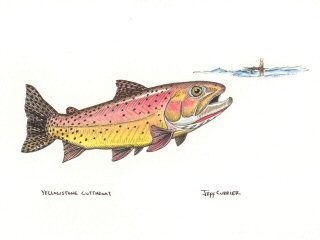 Office work for me ranges from organizing my 2018 speaking tour (travel logistics and scheduling is a challenge), catching up on writing projects and also doing what I enjoy most, painting fish.  After the day on the Yellowstone River I was inspired to paint this rising Yellowstone cutthroat.  This is a 7" x 9" watercolor with pen and ink that I've already taken to the framer.  Unless it sells beforehand, it will be some nice decoration for my booth when the 2018 show season kicks off.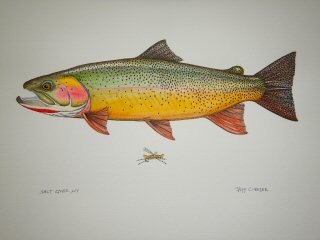 I also completed a larger painting (14" x 20") of a Snake River Cutthroat.  This one is a commissioned piece for angler Ted Jablonski of California.  Ted placed his order in July right after he caught it on his visit out this way.  I don't paint much in summer so I promised it to him by October.  Thanks goodness for this bad weather!
Our weather is forecasted to be crappy through the week.  I have plenty more to do so no problem with me.  I won't be fishing much next week either however because Granny and I have massive plans.
As most of you know, I am a die-hard Chicago Cub fan.  This season has been stressful but the last two weeks have been fantastic to watch.  The Cubs are hanging in there.  Granny and I are heading to Busch Stadium in St. Louis to catch the Cubs against the Cardinals in an epic battle to make the playoffs.  The last time I went to a game of this caliber was with my dad at Fenway Park in October 1975.  Red Sox pitcher Luis Tiant faced Baltimore Orioles pitcher Jim Palmer in an epic pitching duel.  The Sox won 2-0 thanks to Carlton Fisk and Rico Petrocelli homeruns.  They went on to the World Series against the Cincinnati Reds.  Hands down, that game experience, at such a young age, made me a baseball fan for life!
I love this time of year!