There's nothing like a day fishing solo on water you've never fished before. Today was nearly exactly that. I say nearly because I did have a driver today to run me from my hotel in Cabo to a couple spots up the East Cape. But this person, Iban, didn't speak English or fish for that matter. He just kicked back and watched me fish. Oh, and took a couple photos for
me!

The day started early with a long ride north up the East Cape towards Los Barrilles. I have fished up here before, but today we were trying some new beaches recommended to me. When we arrived at the first beach I thought I went to heaven. Compared to yesterday where the surf and wind beat me to death, this place was calm and surf was nearly nonexistent. I
strung up my 10-weight
Ross fly rod and reel
with a
Rio Saltwater Tropical
Intermediate line and a big popper. You may wonder why not a floating line for popper fishing. The answer is, in the surf with the waves, if you use a floating line, your popper just kind of jumps from wave top to wave top. An intermediate line helps keep the popper on the water. If your popper was small than the intermediate line likely would sink it, but in the tropics I almost always use big poppers because I'm hoping for big fish like jacks and roosterfish depending on my location.

I made my first cast right about where we parked the truck and started working my way up the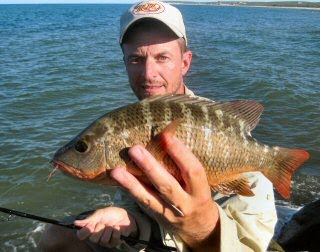 beach. I had a landmark of a jetty about a mile away that I planned to fish my way to. On my first cast I had a nice roosterfish chase my popper to my feet. Which brings up a point, to those new to roosterfishing, don't let the roosters see you. I like to back up while I'm retrieving my fly so by the time my fly reaches the beach I'm well out of sight. I even get into a crouch like I'm stalking a trout on a spring creek when a fish is following. If they see you standing there forget it! I made several more cast the direction the big fish came from but he was gone. With the exception of a baby rooster and a few small Pacific Jack Crevalles, my efforts went unanswered.
After about two hours I reached the jetty I'd seen from the start. I poppered the water thoroughly then changed my rig. I strung up my 8-weight with a Rio Deep Sea 200gr line. This line has a 26ft sink tip that with a Clouser tied on gets me down deep. On my first cast I landed another peanut of a roosterfish followed by a handful of jacks (both crevalles and greens). It was a blast after the slow beach walk. When I reached the end of the jetty I let the fly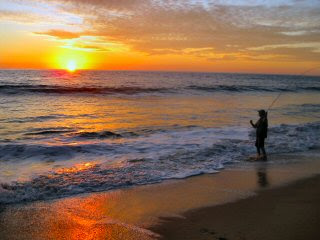 sink deep and caught a beautiful Pacific Dog Snapper. The next cast produced the unusual look down fish. Not only did I catch this one, but I caught one on my next twenty casts!
I played around the beaches of the East Cape until I couldn't see anymore today. I continued to pick up an array of species while switching back and forth from my popper to the
Clouser Minnow
. What a fantastic day and a great way to end a Baja adventure!