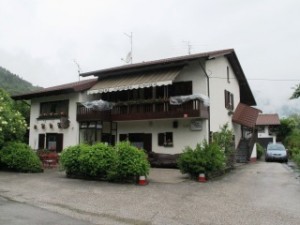 Vladi and I must have been more tired than we thought.  We didn't move unit 8 AM.  Sure, my body hasn't adjusted to the 8 hour time change, but Vladi, he's normally an early riser.  Once up the folks that own this B & B, Pri Jezbecu, made us a delicious breakfast then I went out to poke around the property.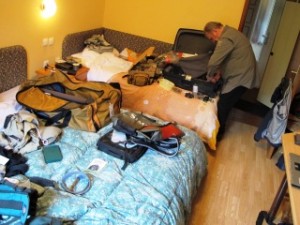 It was flat out pouring rain.  I mean this is "Monsoon Currier" style blow out rain.  We didn't explode out of Jezbecu because of it and instead we dumped our gear out in the room and got organized.  I don't have much with me as this is simply a trout and grayling trip, but Vladi brought his fly tying stuff and his suitcase exploded everywhere.  It was quite a sight.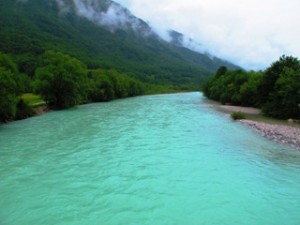 Believe it or not we didn't leave the Jezbecu until noon because of the downpour.  We were organized though and we each bought a blank three day fishing permit.  Basically a three day license costs 146 Euros per angler but it gives access to private rivers.  You date it in pen yourself the minute you start.  This gave us the flexibility to either fish or just look around today.  The first river we looked at was the Reka Sŏca, the most famous river in southern Europe.  The spectacular river was so high and milky from a month of rain and snow melt that we were instantly devastated.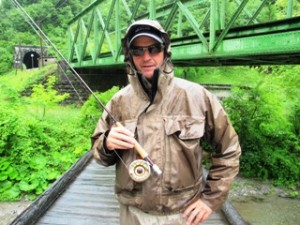 After looking around the unfishable Sŏca we drove to a smaller tributary to the Sŏca, the Idrijca.  The Idrijca is high but even when high it runs clear.  Then we drove up a tributary to it, the Reka Baču.  Despite the rain, when I caught my first glimpse of the Reka Baču I was in heaven.  And when I looked into a deep pool and saw a trout that could be a marble trout, I said, "Vladi, start my license!"  Vladi wasn't sold on the idea and though I started my license he opted to be my photographer and cheerleader rather than fish himself.  Hey, he's 66 and trudging a high river in a downpour may not be so exciting to me either in twenty years!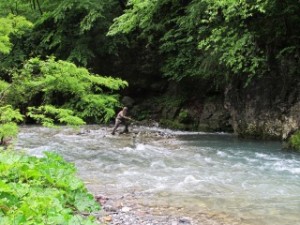 Three hours later after some very hardcore fishing and wading in a deluge I had nothing.  Not a strike, a flash or anything.  All I did was get soaked to the bone, collect rain in my fly boxes so I can rust some flies and get a sore back from wading a roaring slippery boulder-bottomed river.  I made an attempt however – I indeed want a marble trout on my species list.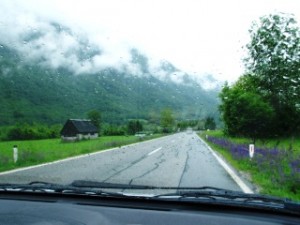 It was already 5 PM.  We chowed down some Polish sausage with Vladi's pickled vegetables and bread and decided to drive further up the Idrijca, above where the ca Baču came in.  The roads here are narrow and people drive crazy so it wasn't easy to find a place to pull over and fish.  Finally we did.
By the time we stopped it was 7 PM and Vladi was ready to call it a day.  He'd been watching me get blanked all afternoon and as it got dark and rained even harder he was ready for dinner.  However, as you all know by now, I never give up.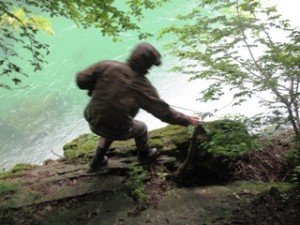 There was nowhere to cast at this spot because of cliffs and solid trees.  I climbed down to a ledge where there was a small hole in the trees, positioned myself to sit and attempted to roll cast my heavy streamer into the hole below.  At this moment I thought Vladi was right, what I was doing was useless.  It was raining so hard I was literally watching the river come up.  This is when I saw the most unexpected wonderful thing a tired soaked fly fisher could ask for, a huge trout rising!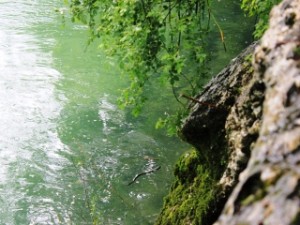 My heart skipped a few beats.  First of all, I was in the middle of a sloppy 7-weight roll cast hanging off a slippery overhang.  I assumed I spooked the fish but somehow didn't.  Then was the sheer beauty of this fish.  He was huge and comfortably in the sneakiest trout spot under a stick and a drooping branch 15 feet below me facing downstream because he was in a back eddy.  He was the perfect gift from the fish gods.  But what was he?  Could he be a marble trout (Salmo marmatus)?
After admiring him for nearly five minutes I couldn't identify the species.  The water was milky and it was very dark.  It didn't matter.  I leaned back out of the huge trout's sight, climbed back up the cliff and went to the car and ravaged for my 5-weight.  Vladi jumped from the drivers seat and said, "We go?"  When I told him absolutely not because I saw a huge riser he just looked at me.  He couldn't tell if I was pulling his leg or not.
Rigging my 5-weight was a nightmare I'll remember forever.  It was almost dark.  It was pouring.  I couldn't maneuver through my vest, rain jacket, etc worth a damn.  I just couldn't get it together.  Once I finally got my leader ready and settled on a size 14 parachute Adams, I couldn't see to thread the fly.  I must have tried 20 times – no luck.  I was freaking out.  Vladi handed me his 1.25 readers.  I refused – it can't be I thought.  But, I've used 1.25's to do fine detail in my art.  Was it time for some help on the river?  Yes.  We needed to catch this trout.  In a few days I'll blame it on jet lag but its official; I needed glasses at age 47 – dang it!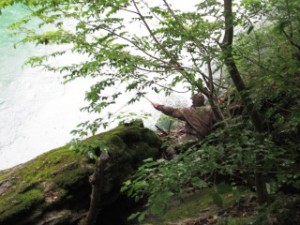 I doubt I've ever positioned myself to cast to a fish so carefully in my life.  I spent ten minutes moving 15 feet.  Eventually I was hanging from the ledge.  My right hand clung to a tree branch and I was ready to cast with my left – awkward for this righty but I can do it reasonable well.  The problem I faced was the willow leaning over the fish.  If I hooked that it was over.
I tossed a couple practice casts away from the continuously rising trout.  Then I flipped a shorty his way and sure enough my leader flopped right over the will branch.  Lucky for me I pulled lightly and it flipped off without hooking it.  Believe it or not I did the same two more times, both times it slid free without hooking the willow.  On my fourth attempt my fly landed right in the trout's lane and like it was scripted he rose for it.  He was huge so I waited for him to completely shut the door and turn before I set.  When I set I leaped to my feet and he was on.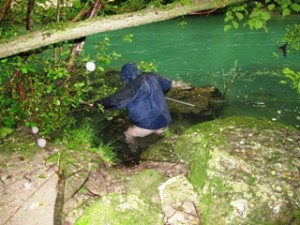 It's not easy fighting a fish from 15 feet above on a slippery cliff with trees everywhere in the way.  Then add a 66 year old shocked and excited Polish man into the equation tearing through a car looking for a net followed by a route to the water down the same slippery cliff.  It was absolute chaos!  Fortunately this trout was one of those tired old hawgs and rather then sting me into my backing he rolled like a lake trout while I waited for Vladi to reach him.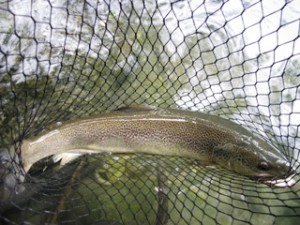 Netting the long trout wasn't easy.  First of all he didn't fit in Vladi's net well.  The first attempt got him almost completely in but when Vladi lifted he flopped out.  We were lucky and got a second chance that went smoothly.
Because of the rain my camera was in the car.  I stashed my rod up the cliff and told Vladi to hold tight.  Of course Vladi locked the car so I had to scurry down to him, get the key, then back up to the car first.  I got the camera then went back down.  Now it was really dark.  What kind of trout did we have?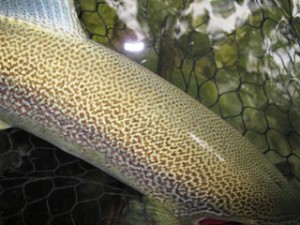 It turns out he was a brown trout-marble trout hybrid.  See the close up of his back and you see the incredibly unusual pattern.  Browns were not native to this area but like the throughout rest of the world, humans screwed with things and stocked them here eons ago.  It's this very move that makes it so hard to find a native purebred marble trout.  Nonetheless, this fish was a new one to me and throw in his decent size, the difficult cast, the rain, etc – this one is for the history books!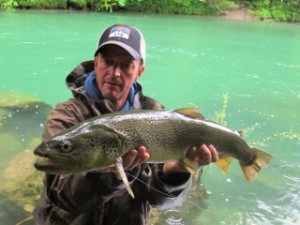 It's been a hell of a first day.  There's nothing better then a heap of hardships ending with success.  We'll try again tomorrow but who knows what to expect.  It continues to rain harder and harder which means the rivers get higher and murkier.
Jeff Currier Global Fly Fishing