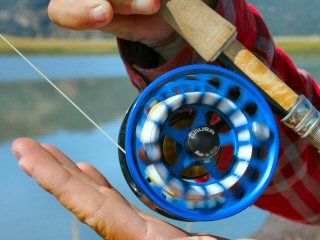 The last thing I should've been doing today was fishing because I'm headed for a unique part of the Amazon in 30 hours and I'm not ready.  But I couldn't waste Granny's day off packing.  Instead we took off for a long day of carp fishing beginning at one of our secret spots followed by Blackfoot Reservoir.  The forecast was for the 90°s and little wind.  Much like ten days ago when Tom Hansen and I both got skunked.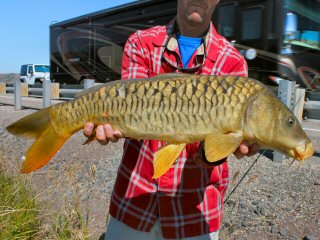 After a hefty-unhealthy-carb-fat filled breakfast we hit the first carp spot of the day.  Here requires no waders.  Only my 6-weight Boron III X, 75 yds. of backing on my Bauer RX 3, a SHARKWAVE floater, a Chernobyl Ant and a nymph dropper.  Because I should be packing rather than writing, I'll just tell you in photos, the mirror carp were hungry and in an hour we landed four of these fine-looking fellas despite the screaming traffic behind.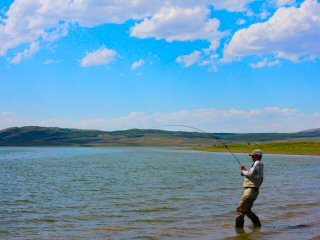 If the carp bite is on here than it should be on Blackfoot Reservoir as well.  The unique fish are larger there so at 11 AM we pointed the Explorer and went.  Granny opted to be staff photographer and I went to work dropping a friend's ingenious crayfish pattern in the many puffs of mud from feeding carp.  It didn't take long for intense action to begin.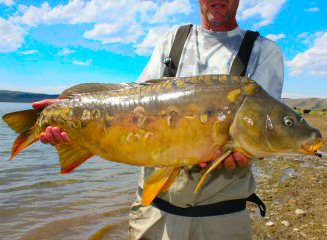 In two hours I hooked eight of these strangely scaled oversized minnows.  Landing fish of this size in a weed filled lake from shore is another story.  I landed only half what I hooked.  But I promise you.  Four beautiful mirror carp on the fly on Blackfoot Reservoir in only a few hours is true success!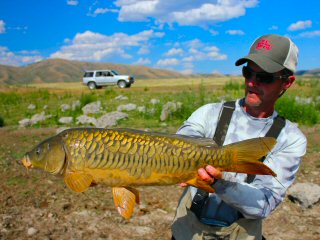 A fish like this 100 feet from the Exploder – I'll take it any day. . . .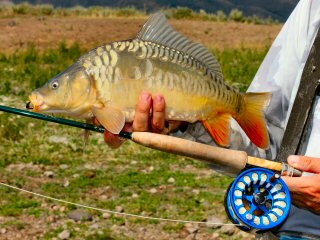 The rare but cute baby mirror carp.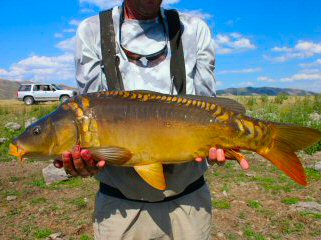 Every mirror carp has his own spectacular scale pattern worth photographing.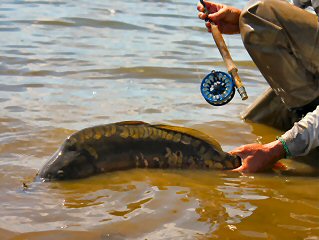 So long Idaho.  It's off to the unknown for more amazing fish species!
Stay Tuned