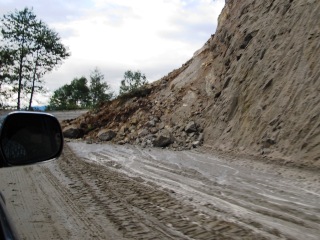 If someone told me we'd catch mahseer today I'd tell them they were crazy.  The heavy rain hadn't stopped since we left Royal Manas National Park in Bhutan and it got worse a few times during our drive out of Geylegphug.  The roads are teetering, breaking apart on the steep edges, and rocks and logs and etc are falling across them from the cliffs above.  We were lucky to get through in many places.  But half way to Thimphu the skies began to clear.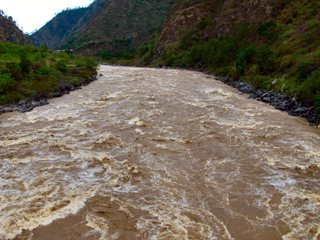 Half way to Thimphu is about where we started driving along the river we caught the mahseer in on May 21.  The river was raging and far more chocolate in color than before.  But the sudden blue sky had us dreaming of a few casts where that tributary entered.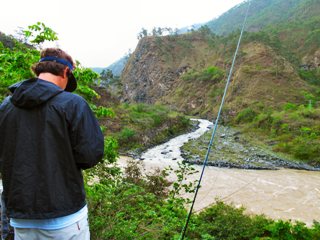 When we got there it looked doubtful.  The tributary was still mostly clear but was up at least a couple feet.  A bridge that was in sight before was completely gone.  The tributary too was raging.  The main river was so much larger that the clear water from the tributary was consumed almost instantly.  Jon suggested bagging it and getting to Thimphu at a decent hour but Dawes and I convinced him to let us have a quick crack.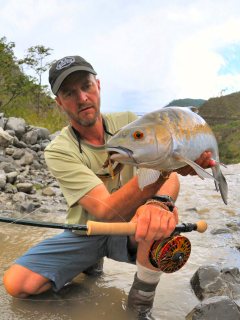 Dawes insisted I take first shot today.  I accepted and crept into place.  The ripping river was so loud it was intimidating to be near.  I thought about how incredibly strong mahseer must be.  On my first cast, in a tiny little pocket of clearness next to the bank, this fantastic chocolate mahseer exploded on my fly.  How he saw it, and how he caught it so quickly in such conditions will always amaze me.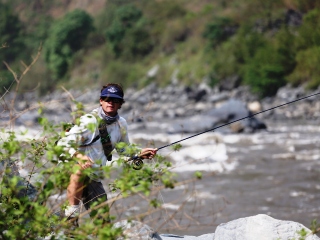 Dawes got in next and he too got a quick strike only he missed his.  Then for fifteen minutes of pounding the water he didn't touch another fish.  It seemed our fishing was officially over this trip.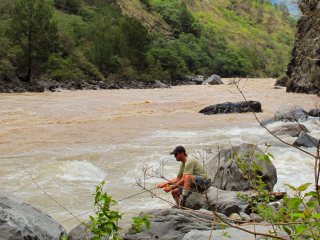 I slipped back in when Dawes was done and sat on a rock above the sliver of clear water from the tributary.  I had on two Warpath flies that sink ridiculously fast and started swinging and jigging them gently.  The flies were deeper than deep thanks to my 300 grain Streamer Express.
It didn't take long and I was hooked up again.  I could tell it wasn't a big mahseer but the current had the rest of the guys fooled until I slipped him in a downstream back eddy.  Out of the mud I hoisted my final golden mahseer of the trip.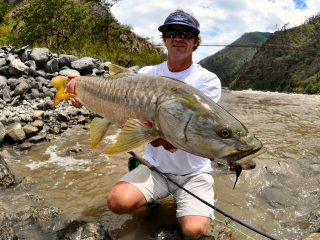 Dawes went right back in and hooked up immediately.  It appeared he had a giant on but his fish was also taking advantage of the current.  Minutes later he landed this golden mahseer of about 10lbs.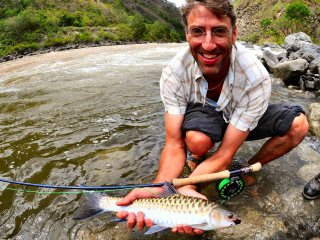 There were some nice fish in one tiny little spot.  Jon is the only one not to land a mahseer the entire trip.  Dawes and I sent him in for one last try.  I sat with him on the rock and coached him on how to get his fly deep.  Several casts went by with nothing but then I could see his fly got perfectly in the zone.  Just as I said get ready, Jon got thumped – a perfect specimen of a chocolate mahseer!
We were hoping that Niel and Jigme could get in there and catch mahseer also but our luck ran out.  Niel hit it hard another ten minutes before we had to pull the plug.  It was time to finish our road trip to Thimphu or we'd be driving in the dark.  But what a grand finale!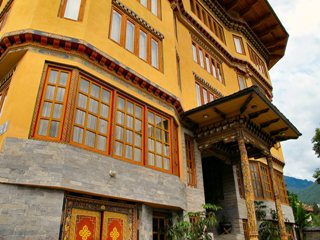 We arrived in Thimphu around 6 PM and checked into an awesome hotel called the Namgay Heritage.  It's really nice after being in the jungle for more than a week.  We all got cleaned up then had a few beers and went to dinner at an Indian restaurant Jon knew about.  It's been a great trip.
The Prime Minister made it home from India.  His secretary said his delay has backed up his schedule but as of tonight he still plans to meet with us tomorrow afternoon.  We are crossing our fingers!