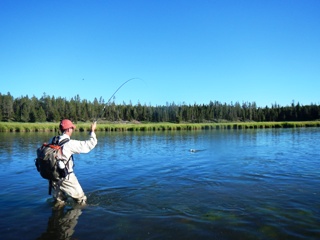 We all have big fishing days from time to time.  I don't mean fish catching wise, but rather a long hard fought day on the water.  You might get an early start and get home for dinner or you might leave after lunch and get home at dark.  You rack up a good 8-10 hours and call it a great day, or at least a hard effort.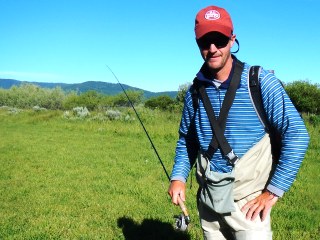 My Henry's Fork Harriman Ranch Marathon is 15 hours of fishing.  In fact, in my younger days 25 years ago when I started my marathon, it was an 18 hour day leaving the Last Chance parking lot at 5 AM sharp and returning around 11 PM.  In June there's enough daylight to do this.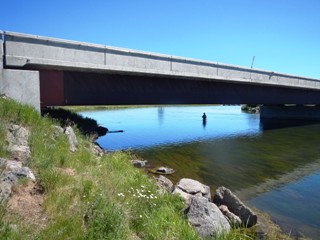 These days it's still a long day of fishing but we leave the Last Chance lot between 7 and 8 AM and get back between 9 and 10 PM so we can celebrate at TroutHunter (see Marathon 2010, 2011, 2012 and 2013).  Although a few hours shorter, the one thing still required to consider it "The Marathon" is that you walk all the way to the Osborne Bridge and back, about a 10 mile round trip when you factor I all the zigzagging you do crossing the river fishing.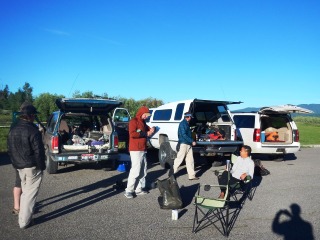 Anyone is welcome to come along.  Granny always goes.  She's never missed one in all the 25+ years.  In fact the Marathon specifically takes place on a Tuesday because it's her day off, usually on the longest Tuesday of the year.  July 1st is unusual but we missed the longest Tuesday of the year last week because Granny and I were in New Hampshire bass fishing.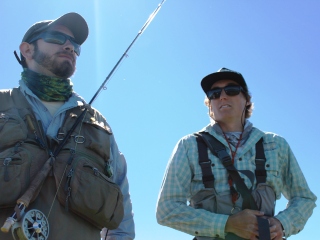 After a nice night around the fire at the gravel pits Monday night, Granny and I drove into the Last Chance parking lot around 6:30 AM.  I brewed some coffee and Marathon regular of three years, Jon Yusko (JY) came shortly after.  Also along was Erik Moncada (2nd Marathon) and Colton Scoffield (1st) of Boise and one of my Victor pals, Tim Brune (1st).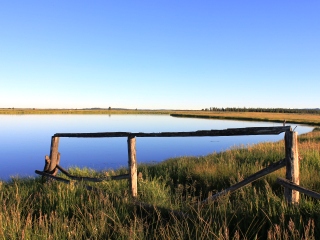 The weather for the 2014 Marathon will go down as the most enjoyable.  There wasn't a breath of wind, no clouds and plenty warm.  These aren't exactly the best conditions for hatches and fishing, but that's not always what it's about.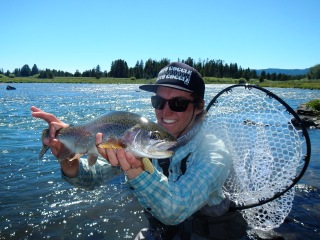 If you grade our fishing for the entire day, I'll give it a B-.  The morning session was ok.  Granny and I cast to four big fish.  I lost both mine after the second jump.  Granny lost one after one jump and missed the other eat altogether.  As a group, there were three nice fish landed before we reached Osborne Bridge.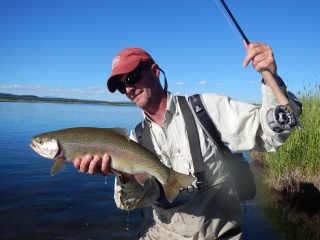 We reached the bridge at 3 PM.  From 1 till 7 nothing happened.  It was hot.  At 7 PM a hatch of PMD's, drakes and caddis came off and the fishing went nuts.  I landed two nice fish and hooked and lost another five.  Keeping them buttoned on today was not in my cards.  I had almost no refusals on these finicky fish all day using the Thorax Mahogany Dun.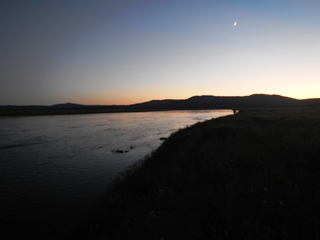 JY and I were last off the river reaching the parking lot at 10:15 PM.  Brune beat us in by a matter of minutes.  The other guys and Granny packed it in at 9.
We celebrated at the Trouthunter with delicious Last Chance Burgers and beer.  I must be getting slightly older because I'm exhausted and sore – but in a rewarding happy way.  Marathon 2014 is in the books.  I hope to see some new participants for 2015!