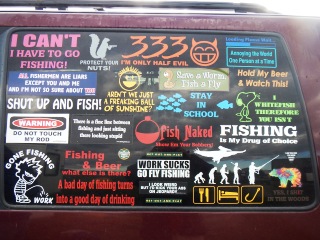 I had no business fishing a third day this week.  I still have a scientific report to write for the World Wildlife Fund (WWF) about our Bhutan mahseer fishing findings, a short story for the Scientific Anglers 2015 catalog about golden dorado, consignment art to get done and just like the rest of us, a million other things as well.  I even head East on Monday for ten more days from the office.  But any fly fisherman that lives as close to the Henry's Fork as I do should not miss the opening of the Railroad Ranch.  No matter what!
The Harriman Ranch on the Henry's Fork opens every year on June 15th.  Like any opener it's crowded.  I hate crowds and rarely fish in them anymore.  But the Ranch opener isn't about the fishing for me.  It's a get together with friends that I only see once a year.
June 14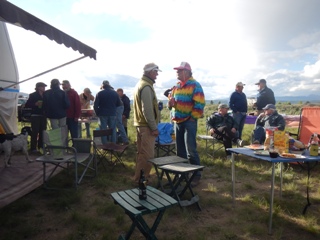 Granny was working so I arrived at the Fork at around 5 on Saturday afternoon.  Despite driving through several car shaking thunderstorms, when I got there the rain stopped and it was cloudy and dry but a cool 50°.  Instead of fishing around Last Chance I went straight to the gravel pits.
Normally the night before the Ranch opens a bunch of my older friends host a parking lot party.  We grill up all kinds of meat and have a feast.  This year happens that the Henry's Fork Foundation was having their annual dinner the same night and they took over the parking lot.  We shifted our party to the pits.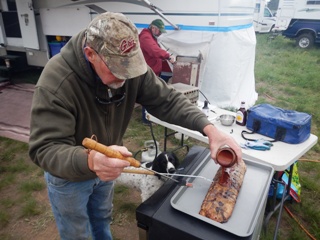 This year was a better than normal party.  For the first time in a few years we didn't have anyone's ashes to feed to the river.  Instead it was all about eating.  In addition to the normal grilling that goes on, Terry Ross of Jackson brought a smoker and we porked out on some fine ribs to go along with all the rest of the great food.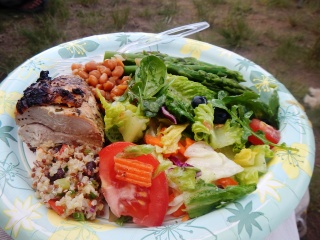 At 8:30 as the parking lot party slowed down I headed up to the Trout Hunter for their famous Ranch opener party and live band.  My late arrival was ideal because most my younger friends, and everyone there for that matter, were already two sheets into the wind.  That gave me the ever so important edge I always like to have.  I partied down till a far too late 2 AM – but what the heck right. . . .
June 15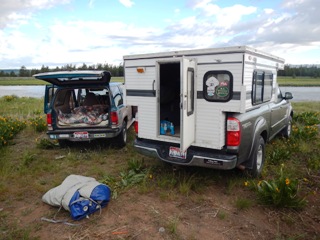 As you can imagine 7 AM came quick.  I was sleeping in my Explorer behind the Trout Hunter (absolutely no driving after the Trout Hunter party).  My truck was nestled between several other friends including Brooks Montgomery, a top rep in the fly fishing industry.  We all returned to the Trout Hunter for a huge and necessary greasy breakfast.
I really do head east to New Hampshire in the morning so I made a deal with myself – go fish the Ranch, stick one big fish and go home and pack.  At 9 AM I marched in with a few pals.  It was sunny and the wind was already blowing out of the South East.  At 9:40 I spotted a sporadic riser.
It's my friend Rob Parkin's birthday so I offered him the fish but he told me to have at it.  I don't think Rob wanted the fish because he was rising once every five minutes and also moving twenty feet between rises.  Catching a fish with this behavior is usually impossible.
I've found that chasing these moving fish down is the way to get them.  I went and he rose close to me.  Without wasting a second I cast and fed my parachute Adams down his lane.  He slurped it and I stuck him.  He was sitting shallow so he peeled of line at a bonefish-like pace almost to the backing.  After a minute or two of his battle I slid him towards the bank.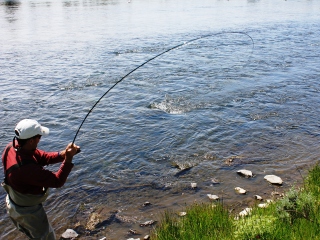 The intensely colored 17" rainbow came off just before I got him.  Rob and Brooks wanted a pic but not today.  That bow took off for home as fast as he made his first run.
When I made the agreement with myself to leave the Ranch after sticking my first fish I didn't envision it happening before 10 AM so I walked deeper in the Ranch with Brooks and Rob.  Unfortunately that South wind picked up and it turned into another half hour sitting in the tall grass on the banks of the Ranch shooting the breeze.  At 10:30 I walked out and headed home.
The mission was accomplished.  It's another Henry's Fork Ranch Opener in the books.  That's at least 25 for me and eleven in a row.  And another nice fish stuck keeping a long "no skunk" on the opener record.  A quick Henry's Fork reminder, I'll be doing my famous Marathon on July 1 (see 2010, 2011, 2012 and 2013).  Anyone who likes to have a good time is invited.
Tomorrow it's off to Wolfeboro, New Hampshire to celebrate my parent's 50th anniversary and naturally a week of warmwater fly fishing.  Stay tuned.