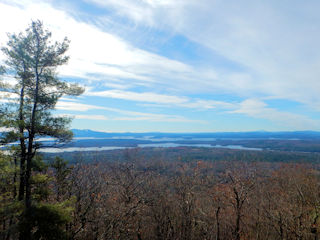 After our superb redfishing down in Louisiana, instead of going home Granny and I went to New England for two weeks to visit my family.  We based out of Moms house in Wolfeboro, New Hampshire.  The weather was incredible with sunshine and temperatures in the 40°s and 50°s for most of the trip.  I think the weather was better than when we visited last May.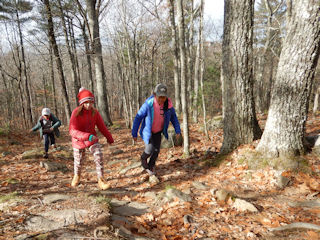 Most of the fishing in the area is closed now including Lake Winnipesaukee.  I packed a 6-weight just in cast but for the most part I hiked with my nephew and nieces in my free time.  We had a blast and the kids helped keep me in shape while on vacation.  We climbed a couple of mountains and enjoyed the incredible lake views.  But hands down, our top experience was walking into a sizeable black bear and her two cubs.  Things could've gotten dicey but luckily, she and her cubs bolted the other direction.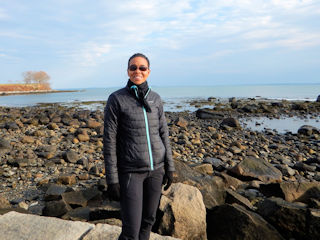 Midway through the trip Granny and I rented a car and drove up the Maine coast for a couple days.  We had intentions of going far but traffic along the Route 1 was surprisingly busy for this time of year.  Perhaps it was the good weather.  We did some hikes but mostly ate too much seafood!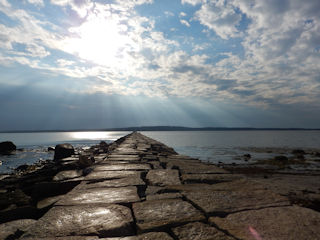 Our Maine highlight was a windless 55° day out of Rockland.  We stayed at the reasonable Rockland Harbor Hotel overlooking the ocean.  Out in the bay is a jetty where you can walk a mile out on to a picturesque lighthouse.  Normal late November weather doesn't allow such a jaunt but we were literally sweating.  We saw loons, king eiders and a curious seal.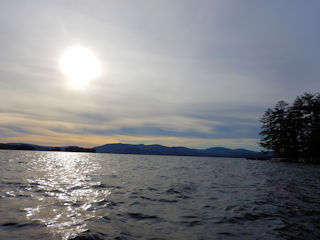 The last few days we spent back in Wolfeboro.  The Thanksgiving celebrations were long over so I worked, ran, hiked and actually canoed Lake Winnipesaukee.  It wasn't exactly warm on the lake but to have such a magnificent large lake all to yourself made it more than worth it.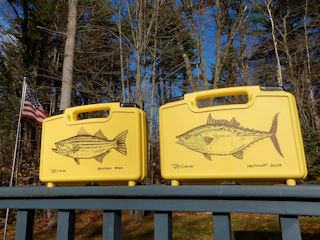 One of my work projects was drawing on Cliff Fly boxes.  Here is a striped bass and a false albacore.  Both of these are already sold but I can do more.  Contact me to place and order.  And of course, there's still plenty of time till Christmas so you can order my fish coffee mugs, beer steins and decals online!