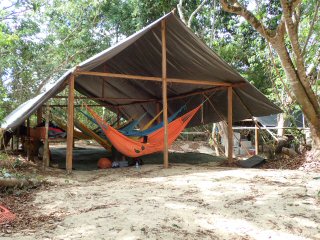 As if Rewa Eco-Lodge isn't as far from civilization as anywhere on earth.  But we all know, if you can get a little bit further, no matter where you are, the fishing always gets better.  Today we sorted our tackle down to the bare essentials and boated an hour thirty minutes up the Rewa River and the staff draped a large tarp and strung up hammocks.  This will be our home for the next two nights.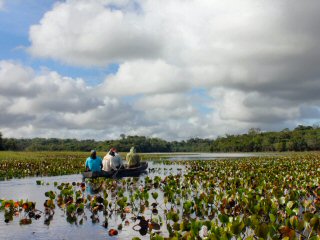 With the big move upstream normally the morning fishing gets sacrificed.  However, being the diehards that we are, camp manager Matt arranged us to fish the nearby Grass Lagoon for a couple hours before we left.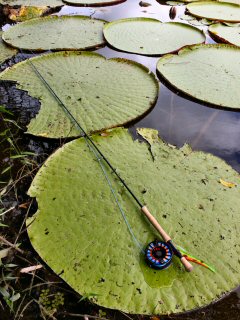 Grass Lagoon is a gorgeous place about half covered in invasive hyacinth and native giant Amazon lily pads.  Only these aren't your ordinary lily pads.  Some of these lily pads are three feet across and known to hold up to 80 lbs!  I stupidly didn't get a pic of the flower they yield but my 12-weight across them gives you the size.
Unfortunately Grass Lagoon didn't produce.  It wasn't as if we didn't see a few arapaima.  But the few we saw were cruising right on the edge of the weeds.  Undoubtedly deep in the lily's many arapaima were breathing but we just couldn't get a fly in front of them – skunked again.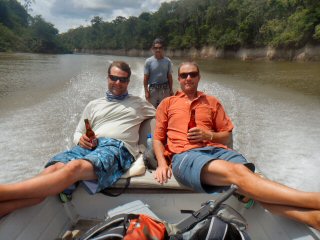 The boat ride upstream was fun.  Tim and I worked on our suntans and enjoyed a few Banks.  As we sipped the cold ones neither of us could help think about how bad we were getting our butts kicked.  But we always come through and I have no doubt this week will be the same, but the time has come.  Let's land an arapaima!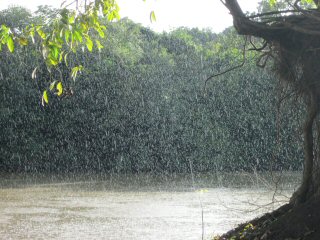 When we got to camp the hammocks were strung and camp was set.  We ate lunch then most everyone relaxed.  Tim went out and fed flies to the piranhas while I wrote in the journal.  Then a huge storm whipped up a gnarly wind and unloaded torrential rain.  Naturally this happens as soon as we decide to camp.  With the nickname Monsoon Currier you always need be a tiny bit concerned.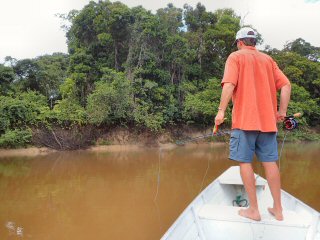 The storm passed and at 3 we went directly across from camp and fished River Burst Oxbow Lake.  It was muddy from the storm but there were plenty of arapaima but also turtles, splashing arowana and peacocks.  It was hard to tell which was which and we wasted a lot of casts to the wrong creatures.  For instance, I'd get fooled and accidently cast to the roll of an Amazon turtle.  Then when my line was too far out to pick up and recast, an arapaima would roll next to the boat.  I'm telling you, the learning curve is slow on Mr. Arapaima.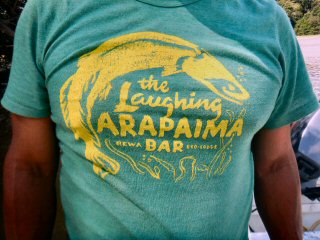 At the end of the evening just as we were calling it quits all hell broke lose.  Tim made a long cast at a roll.  He stripped all the way back in and ten feet from the boat his fly got devoured.  He strip set perfectly with at least five good jabs.  They looked extremely solid but sadly as fast as the take occurred the fish was gone.  "Progress", I said, "We're getting closer.
That was it for today.  Despite lots of rolling arapaima we never got another chance.  These big fish are getting the last laugh so far.  It was a great night around camp and tomorrow might be time for a fly change.