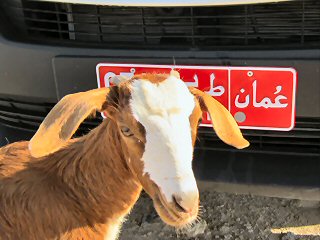 Granny and I had a clammy night of sleep our first night camping on the beach in Oman.  We were on cots under the stars in our jungle (lightweight) sleeping bags.  At about 1 AM I noticed we were getting covered in dew.  By sunrise it was so thick we both were drenched from head to toe and it took some time to dry out our bags before fishing.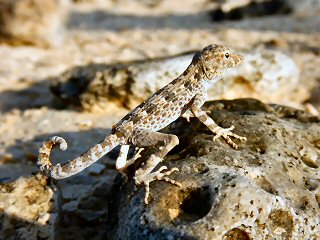 Killing the time wasn't bad.  I made some instant coffee and we sat in the camp chairs and watched the sunrise over the Arabian Sea of the Indian Ocean.  There were some cool little lizards moving around with a scorpion imitating tail and flock of mischievous goats.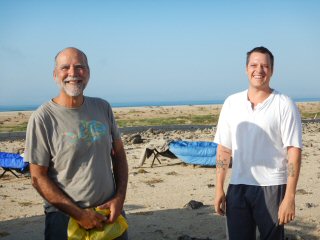 Soon Ray and Peter woke up.  Ray suggested a permit beach for us to investigate an hour drive away and drew me a map in the sand.  He and Peter headed elsewhere.  We said our goodbyes as we will not see them again until our trip is over and we return to Muscat in ten days.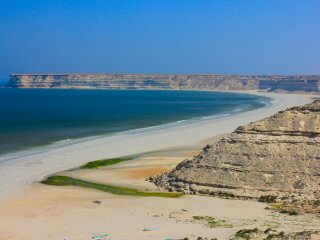 Granny and I arrived at Rays suggested beach around 8:30 AM.  The lengthy beach is about four miles long and no less than spectacular.  To get here we cut off the main road and took a ten mile washboard dirt track across the desert.  We came to a cliff overlooking this incredible place.  To drive down the cliff was a steep switch back road that dead ends at the beach.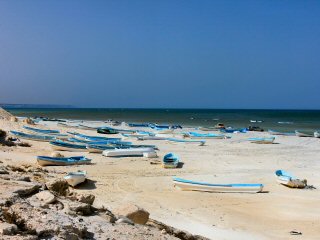 There are about fifty pangas up on the beach where we arrived and a few fisherman working.  I think they fish at night so most the guys were sleeping in the shade.  We parked and walked down to where a gentle surf was breaking on the beach.  It was high tide.  Naturally I didn't walk down unarmed.  I made a few casts.
We stood out like a sore thumb and a few of the resting locals sat up to watch.  It didn't matter how tired they were.  We Americans were probably the most interesting creatures to show up on this beach in years.  In seconds one of them came to us.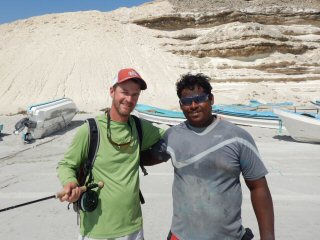 The language here is Arabic.  There's a huge Indian and Bangladesh influence so there's a lot of Hindu as well.  As for English, not much at all as we're quickly learning.  Our visitor soon learned we couldn't exactly have a chat but was delighted that he could have his picture taken with me.  I guess for him it was like seeing a grizzly bear in Yellowstone!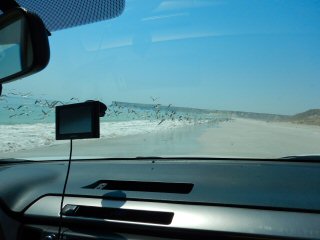 The truth is, I was working up the courage to drive our rental Toyota RAV4 on the beach.  Ray recommended we drive to the far end and search the surf for permit.  His details were wait for the tide to drop some.  Then plow through the soft part of the beach and get below the high tide mark on the beach.  This sand was hard and easy to drive on here.  Then drive nearly three miles at high speed so we don't get stuck and park between a pair of sand dunes.  I was ****** bricks but before Granny talked me out of it I took off!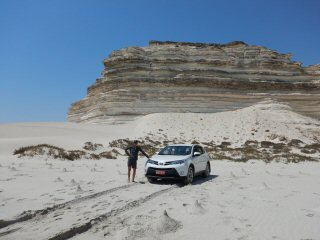 We nearly got stuck about five times and took on three waves on our drive.  We definitely should have let the tide drop some more.  But we made it.  And the sand dune parking spot Ray recommended was stunning.  The problem however was in order to get the car to safe ground we had to plunge through the soft sand again like we did to get on the beach.  What if we got stuck all the way out here?  Once again we went for it.  Once again we made it.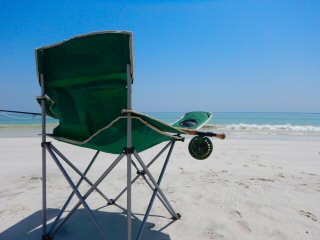 What a place.  Granny and I got out and took a deep breath, looked around and couldn't believe we were on a backcountry beach in Oman.  We were starving so Granny whipped up a breakfast while I rigged my 9-weight for permit and placed it ready to cast in a chair in front of camp.  Paradise!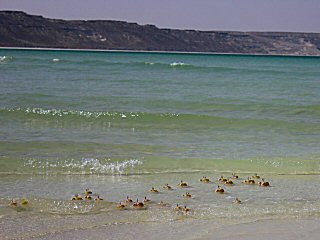 Breakfast was great as is all Granny's cooking.  Once stuffed to the gills it was time to head down the beach to look for permit.  These are Indo Pacific permit, similar but different from our Atlantics and this beach style fishing for them is far different than flats fishing for them back home.  Here the permit ride in the breaking waves hunting for crabs then ride the wave back out.  And there are a ton of crabs in the waves.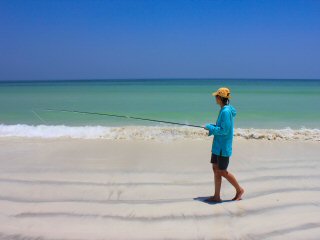 The way Ray and Peter described the permit riding the waves they should have been easy to see.  But Granny and I walked and walked and walked and saw zero permit and tons of crabs.  At 1 PM with the sun overhead and visibility excellent, I changed my tactic.  I looked for actual permit swimming normal where the sand of the beach dropped off.  We went a long time again but then I saw one.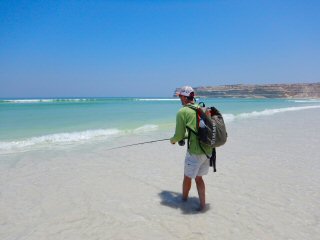 My eyes were throbbing from straining them so terribly.  This permit was so hard to see I questioned myself several times.  But it was legit and I launched my first cast.  My crab landed a foot in front of the yellow colored permit and he lunged forward as if to eat it.  Then my inexperience in the surf got me.  At the exact time, my fly line got smacked by a surf wave and the fly got jerked five feet away from the permit.  He looked puzzled then realized something wasn't right and bolted for the deep.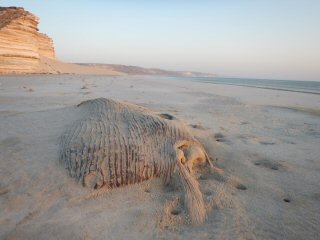 Granny and I saw a mere four permit today.  As difficult as they were to see I'm sure I missed some others.  But we had no luck.  At 4 PM our visibility diminished so we decided to investigate an awful smell we picked up each time we walked through a certain spot.  The stink was a half-buried dead whale – wow!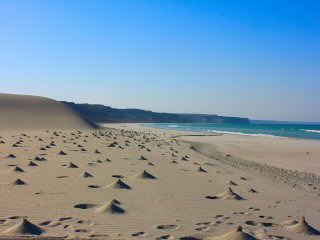 Between the sand dunes is so magnificent we've decided to camp here with the ghost crabs and look for permit again tomorrow.  We just hope the tide stops where we see the high tide mark from earlier.  The Toyota is as far up on the beach as we can get it without getting stuck.  If high tide is higher than normal we're screwed.  I'm definitely a bit nervous about it.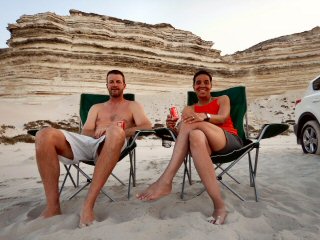 We watched the sunset and prepared dinner.  We intend on eating fish for dinner most of this trip but for skunk days like today we have a few more of the freeze dried meals and the old standby, pasta.  Tonight it was pasta.  I can't describe to you how bad I wanted a cold beer or a bottle of red wine for this scenario.  But no, we sipped mini cokes.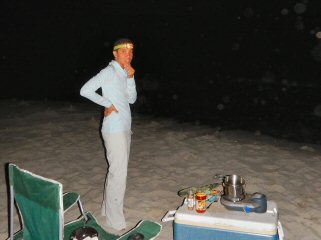 This beach, which Granny and I have named dead whale beach, is facing north.  There's no moon so the stars are gleaming.  Right now the Big Dipper is directly overhead and I'm looking at the North Star and wishing for an Indo Pacific permit tomorrow.  Meanwhile Granny is watching the high tide roll in and getting a bit nervous.  I think we're good though!