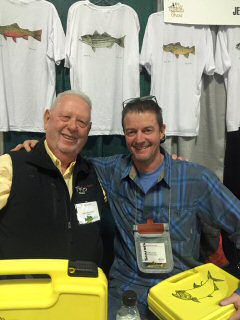 I was wrecked in a good way after this weekend at the Somerset New Jersey Fly Fishing Show.  The show was incredible from Friday morning until Sunday afternoon.  I visited with folks nonstop.  My seminars went great and there was tons of interest in my art.  What wore me down most was drawing on Cliff Fly Boxes, computers and a Yeti Rambler Tumbler.  When I wasn't speaking I was drawing with sharpies and completed fifteen different pieces!  Don't get me wrong though, I loved every minute of it.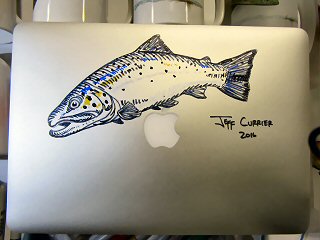 Somerset is a long way from Wolfeboro, New Hampshire as well and I drove six hours each way.  That's tiring in its own.  Upon return to my folks house just before midnight Sunday, I slept poorly then tidied up loose ends all day Monday at their house.  That night we celebrated dads 73rd birthday.  He's not doing well these days so we made it a special one at the Corner House Restaurant in Sandwich.  One of dad's favorites.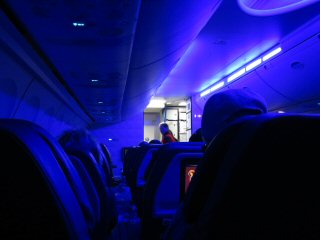 I'm presently on a blue lit night flight from Atlanta to Salt Lake City (SLC).  Granny and I left Wolfeboro at 9 this morning and due to the blizzard in the Midwest had to divert from Minneapolis to Atlanta.  Right now it looks like we'll make it to SLC in time for our flight to Idaho Falls.  Then it's the drive to Victor and our ETA will be midnight.  And I'm guessing after two weeks away there will be too much snow to pull in the driveway.  Sometimes shows and all the travel involved can be punishing.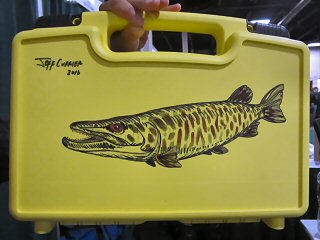 Lots of work to do tomorrow from shoveling to filling Cliff Box orders to paying bills to etc. . . . . . ..   If it takes me all day and all night however I'll do it.  Thursday morning its right back to the Delta counter to head for Florida for our annual George Hillenbrand party.  Usually we walleye fish through the ice in Wisconsin but George has moved the awesome event to Florida for redfish.  Before I left for the east coast 15 days ago I packed my Winston's, SA Redfish Tapers, Abel and Ross Reels, Costas and Simms Flats booties.  Stay tuned. . . . . .