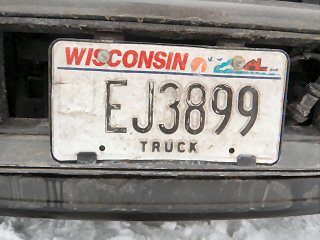 What a difference a day makes.  The wind stopped and there were splashes of sunshine as we took to the ice here in Manitowish Waters, Wisconsin. The temperature also rose.  It was 22° before we had all our tip ups in.  This is way above average for northern Wisconsin in February.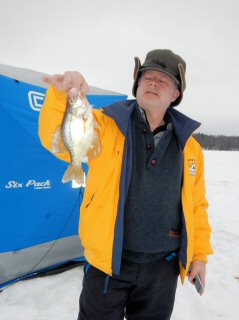 A few of us went on a crappie hunt.  Crappie are very active fish under the ice in the dead of winter.  The problem is you must find the school in order to catch them.  The best way is to drill a line of holes and drop down tiny jigs.  Fish the hole from top to bottom.  If you don't hit a fish move.  When you finally hit that first crappie you're in for a treat.  We hit a few in an area and managed to land about ten of average size.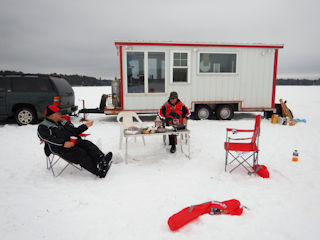 Unlike yesterday where we spent most the day in the ice shack, we lounged around outside.  We grabbed the lawn chairs and spread them out like it was a summer afternoon.  We sipped beers and watched for flags.  It doesn't get any more relaxing that this.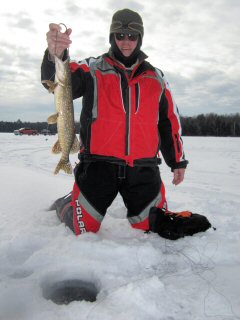 While we caught numerous pike and a scattering of yellow perch, there was one flag to remember.  The flag popped on our furthest tip up from where we had our party.  Rather than charge for the flag myself, I offered it to the guys.  Everyone seemed lazy so off I went.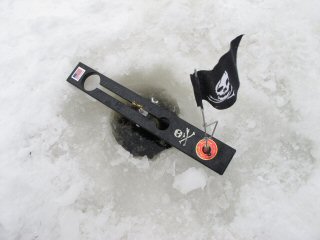 When I got to the tip up the fish wasn't running at all.  In fact whatever fish it was had only taken a few inches of line.  But I had a feeling as I went into action.  At that time the spool began to spin frantically.  Normally you'd let it stop then strike the fish but this one didn't stop.  I reached in and set and it was game on.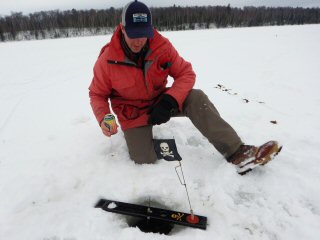 If you've never hand lined a strong fish I'll tell you it's a unique feeling.  You need to have a magic touch or one swift headshake and they'll break you off.  It's even more likely when you have a toothy critter like a pike.  I gently fought the fish to the surface for times.  We saw flashes below our ice hole but then the fish would run back out 30 feet of line and I'd work him back.  At last I got him – a small musky!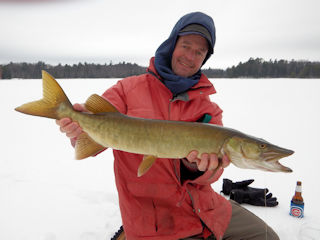 A muskellunge through the ice is a rarity.  In more than thirty years of Wisconsin ice fishing this handsome member of the pike family is only my second on a tip up.   Pretty cool stuff.  After this quick photo I released him unharmed.  All I can think about now is how bad I need to get back here in October with my fly rod like I last did in 2012.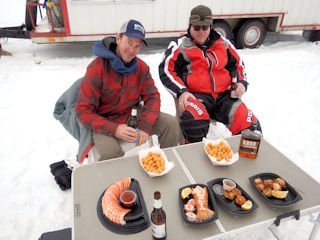 It was another magic day on the ice.  We continued to enjoy ourselves from the lounge.  Joe fried up our pike and perch and along with it we had shrimp, scallops and lobster tails.  I wonder what the guides are serving in the warm destinations around the world today?  Probably not quite as good.  One more day.  Loving it here in Wisconsin!