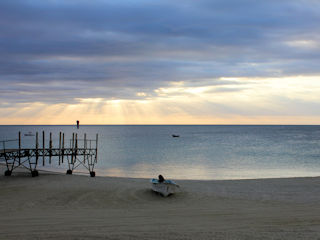 I'm not sure how many times in a row weather on fishing trips can go wrong but I guess there's no limit when your nickname is "Monsoon".  Granny and I came to the East Cape of Baja yesterday to escape the cold and clouds of the Pacific side but unfortunately those conditions followed us.  We camped at Los Barriles and woke up to threatening skies and fleece top temperatures.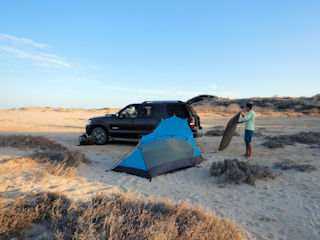 When roosterfishing off the beach you need sunlight to spot the fish.  After some huevo rancheros I looked at the skies and made a long dirt road drive for a place that looked cloudless.  The beach is one I spent a month camping on in April of 1996.  When we arrived the skies weren't perfect but dang close.  We set up a cozy camp then wandered a 100yds to the Sea of Cortez and waited for the roosterfish.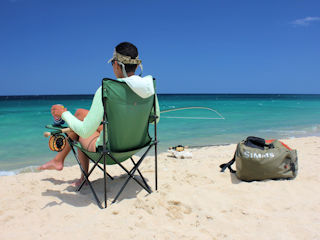 I have high hopes of getting Granny on to her first roosterfish and I found her a few today.  The problem is there were very few.  Furthermore, strong wind started heaving in our face at 10 AM.  Despite some excellent casts, they were just out of range of the few passing roosters.  Granny handed rooster duty to me and kicked back and enjoyed the awesome view.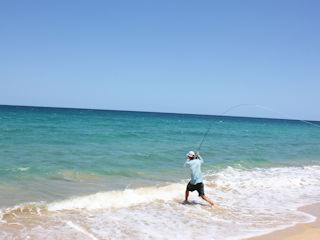 We didn't see a roosterfish swim by for at least two hours after Granny's last chance.  Finally, at about 2 PM two small sized ones came.  At first they were too far for Tim Rajeff to reach but I tracked them down the beach.  Gradually they slid in closer and closer and I charged into the surf and launched the best I could.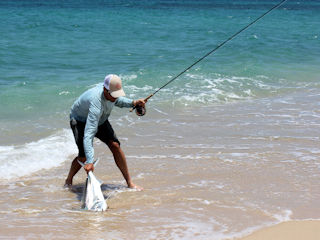 Though my cast seemed short, the eyesight of a roosterfish must be like that of an eagle.  My fly hit and I began stripping fast with plans to try again.  By luck both fish saw the fly from 20 feet away and came charging.  I hooked up and the fight was on.  The battle lasted about five minutes and this rooster jumped more than any rooster I've ever caught before.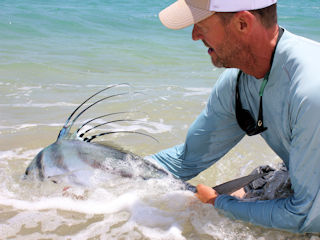 The rooster was barely 10lbs if that.  But these are stunning looking animals and no matter what size they're a thrill to catch.  After a few photos I released him.  You can hardly get yourself to let go sometimes because that amazing roosterfish dorsal comb puts you in a trance.
Darren Clarke left a cigar behind after fishing with Grant Hartman last week with hopes it would be smoked in roosterfish celebration.  I didn't disappoint.  As we watched diligently for another rooster to pass I kicked back.  I was lucky to have a cigar because we never saw another all day.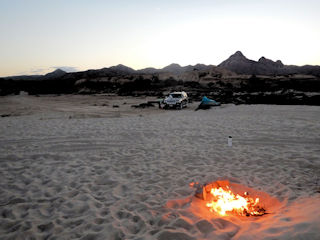 Only one fish in a day is a nightmare to most anglers.  When roosterfishing one fish is a great day.  We lit the campfire as the sunset and Granny cooked a mean meal out of nothing.  I don't know how she does it but I'll keep being the family fishing guide and let her be the chef.
Back at it tomorrow. . . .