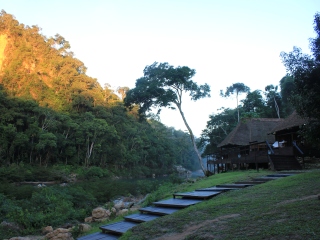 In spite of being exhausted from two days of travel from home to Tsimane Lodge here in Bolivia, I didn't sleep much last night.  It's because I get excited like a little kid waiting for Christmas when I'm about to enter and outstanding fishing venue.  I tossed and turned and looked at my watch a hundred times.  Finally, when daylight came through the cracks of the room I jumped from bed.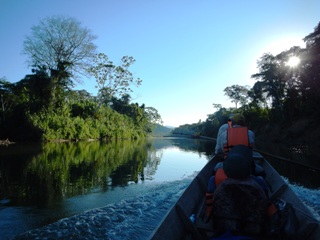 It was cold.  Once again it was far cooler than I'd expect for golden dorado fishing.  But as the sun came up so did the thermometer and by 8 AM we were cruising into the 70°s.  After breakfast Skip and I climbed aboard our dugout with our guide Fernando and his two Tsimane Indian helpers and headed downstream.
We headed to Beat 2.  Here at the first lodge at Tsimane fishing operations there are three Beats.  You spend three days here therefore one day on each beat.  From Skip's previous experiences here, Beat 2 is the best so we were extremely pumped.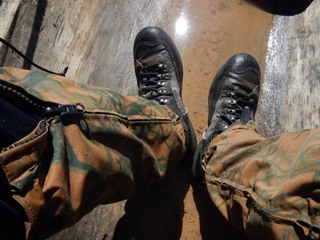 You fish here both in and out of the boat but mainly by wading.  It's the Amazon so no need for waders.  All you do is bring your wading shoes from home.  However you also need stingray guards.  Most are unaware but the Amazon has plenty of freshwater stingrays that if they get you it will more than ruin your trip.  Most the guys in our group have the guards because they come here every year but I borrowed a set from the lodge.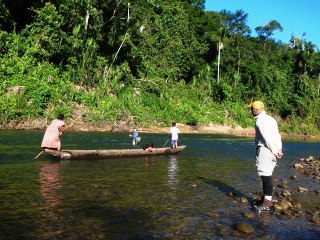 When the boat stopped Fernando set Skip and I up to fish a great looking run.  Neither of us hit a fish at this first spot, nor the second, third and on and on.  That exhilarating feeling we woke up with slowly diminished as we thoroughly pounded prime looking water without a strike for hours.  The fish were nowhere to be found and even some of the passing locals informed us that the fish were not around.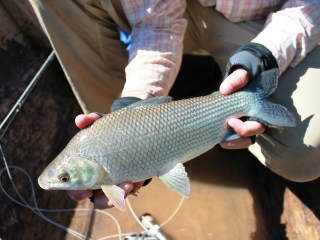 The truth is the dorado are around, but the cold temps have chilled the water and knocked off the dorado bite.  Skip and I cast relentlessly at log jams, tailouts, wooded banks and any other prominent dorado habitat but nothing.  We had one thrill however which is indeed a good sign, a dorado blitz that lasted about five seconds.  Sabalos (see pic), the resident baitfish that reach more than 20 inches, started leaping from the river like mullet in the ocean running from roosters.  It was an incredible sight because here they were getting chased by dorado.  The dorado were all over 10lbs yet in four inches of water.   They were screaming across a sand flat with sabalos fleeing as best they could.  I could see the eyes of these dorado as the water flew.  Both Skip and I got our flies right in the blitz but not a strike.  Not a strike!  How could they not eat under the circumstances?
The feeding frenzy ended as fast as it started and Skip and I were left with flies in tact.  It was a real surprise, bummer – we, including Fernando and his helpers just couldn't believe it.  Some days fishing simply doesn't go your way so we took a nice lunch break in a shady spot on a beach.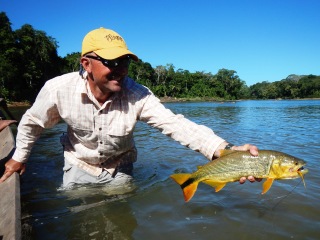 Our afternoon session didn't improve much but Skip shook off the skunk.  He landed this gorgeous little dorado.   The fish took a size 2/0 black and chartreuse streamer the second the fly hit the water.  As gorgeous as this little dorado is, he's not why folks come to Bolivia.  I would go on to take a complete blank on my first full day of fishing in Bolivia.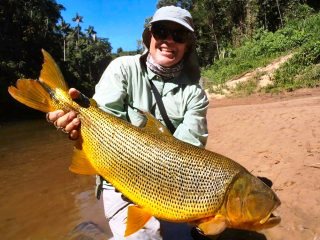 A blank in Bolivia is rare.  Members of our group have had a few over the years but usually it's because of high muddy water, not cold water.  Luckily, my blank was the only blank.  While only a few fish were landed amongst our group, both Tom and Eric landed dorado over 20lbs.   These are incredible dorado anywhere but from this small river – spectacular!  Here's Tom and his monster!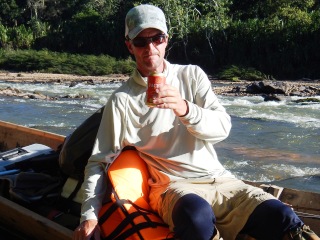 I'm by no means crushed from my beating today.  If you keep playing cards you're going to lose.  Today I lost.  It's good to be humbled and for this humbling day I'll be better tomorrow.
We just finished a fantastic meal in the lodge with red wine and amazing stories.  Now I'm being serenaded by frogs – I mean a ton of frogs.  There's also a little something scratching on the outside of our cabin by the head of my bed.  The way it's squeaking it might be a bat.  This place is awesome!
Jeff Currier Global Fly Fishing