Thanks to work and watching baseball I haven't been fishing enough.  Also, our fall weather has been heinous.  On the night of September 14 our high temperatures went from the 80°s to 40°s and most days since have provided cold rain and snow.  Although todays early morning drive to Kubswin Lake was colorful, I should've suspected by the heaps of fidgety wildlife that we were about to freeze our butts off.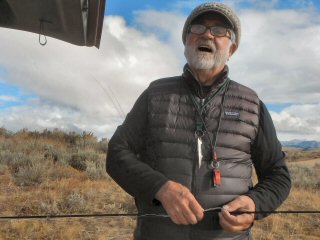 I was with my longtime friend Gary Eckman.  Gary is a spunky 77 year old that fishes as hardcore as most 22 year olds.  He once participated in the Jackson Hole One Fly and generously sponsored me on his team.  We fished together tons back in my early blogging days.  These days both of us are so busy we only get out a couple times a year.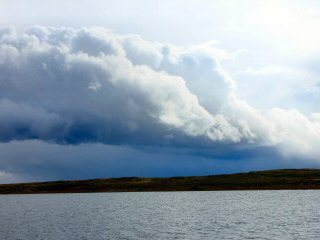 When we arrived on Kubswin at 9:30 AM the weather wasn't too bad.  It was exactly 31° and calm.  There were a few fish rolling near shore along weed beds on the lake.  Unfortunately, off in the distance I could see a troublesome storm developing.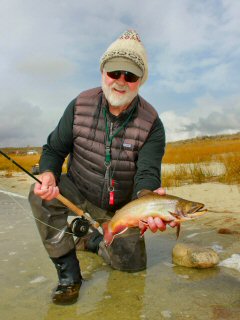 After wadering up Gary and I both went into action.  I was fishing my 5-weight Winston with a floating line and a long 0X fluorocarbon leader.  On my point fly (bottom) I had a gray colored bead head soft hackle and my dropper was an unweighted black woolly bugger.  Gary was fishing a similar rig and in the first half hour we each landed a respectable brook trout.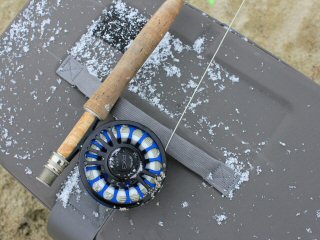 It wasn't minutes after Gary released his brook trout that the wind started and a snow squall came with it.  I have good resistance to the cold despite my love for warm climate fishing.  But this got so bone chilling both Gary and I retreated to his truck for more clothes and snacks.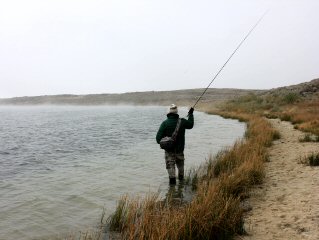 The invigorating weather was actually a welcome site because this often sparks great fishing.  Plus, I love a cold fall day of fishing once I'm decked out in my Simms gear.  But the hours rolled on by slowly.  Gary and I fished relentlessly and not a fish stirred.  Not even a strike!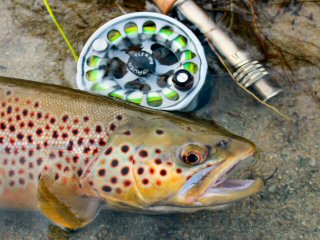 Gary was ready to surrender at 3 PM.  With my lack of fishing lately I was a bit more stubborn.  Gary patiently waited and continued fishing while I changed flies, stripping techniques and anything else I could think of to catch a fish.  Finally at 5 I landed a small but handsomely colored brown trout.  I reeled it in for the day after I released him.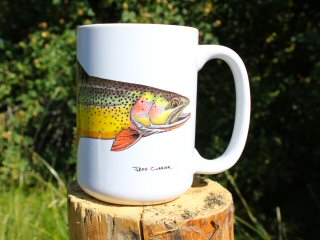 There will be lots of fishing coming this month no matter what the weather.   I'm headed to Jenny Lake for lake trout later this week.  Then I speak to the Flyfisher's Club of Oregon next week delivering "Streamer Tricks for More and Larger Trout".  This event will be followed by three days of Oregon coast fishing.  There I'd like to catch my first chum salmon but more likely the new species I'll catch will be a coastal cutthroat.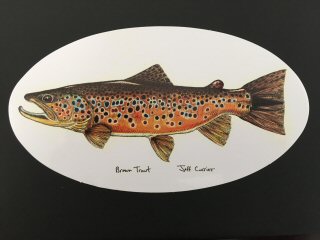 With the Holidays charging on us fast, keep in mind that I sell great gifts for the fly fishers that have everything.  Visit my store where you can buy online both my fish art coffee mugs and beer steins!  And a friend and I are building a decal biz.  We don't have many available yet but you can order what we presently have on Amazon.  We would greatly appreciate some reviews to help us get this gig going!