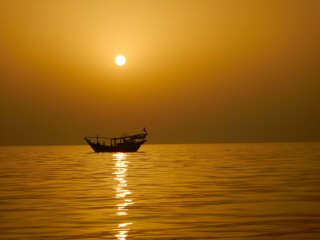 Musandam, Oman is most famous for is its enormous sized giant trevally (GT).  I've gone hard for the GT's for only a few hours each day here then been side tracked with dredging, milkfish and other fish.  There's nothing wrong with chasing everything but now was time to focus on GT's because conditions were perfect.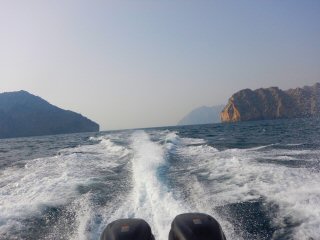 Today we not only went to what I've labeled the "gateway" from the Gulf of Oman to the Strait of Hormuz, but it was calm enough that we went through the rocky passage then another twenty minutes out into the Straits.  We went to what Ocean Active calls the Military Base, a mere 21 miles from the Iran coast.  A special place that few guests reach due to time, weather or rough seas.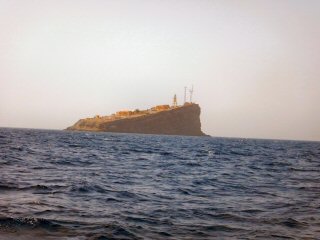 We were so close to Iran that we shared the waters with Iranians.  As we arrived at the Military Base (the base is situated on a massive island rock) you could see Iranians in their small fishing boats crossing the Strait of Hormuz to fish the Omani waters.  It's technically illegal, but the Omani's don't hassle them as long as they use hook and line and not nets.  I can respect that.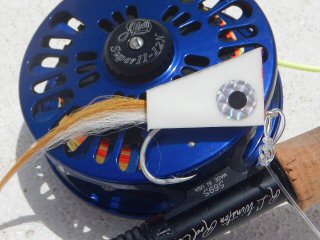 Cameron had me start popping along the farthest northern island in all Musandam.  There were rocks and bait and a current rip moving so strong it simply had to have big GT's in it.  I was relentless in my pursuit especially after a mini trevally (MT) (a GT under 10 kilo) exploded on my popper and I missed him.  But long story short, I chucked my 12-weight for seven straight hours, first with my sailfish popper, then I downsized to this popular concoction and finally I dredged a giant chartreuse Clouser.  Despite some of the finest looking water I've ever dropped a fly in, the mammoth GT's would not cooperate.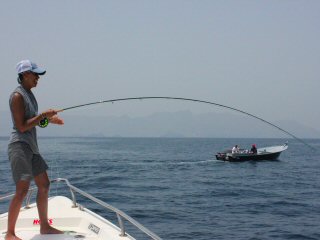 Granny doesn't care about catching unearthly beasts.  She stuck to the "let's have some fun" program.  While I was laboring she kept my 9-weight bent most of the day dredging a small Clouser down deep from the back of the boat.  At one spot she caught so many fish in a row she attracted the attention of some Iranians who had to join in the fun.  Granny out fished them ten to none!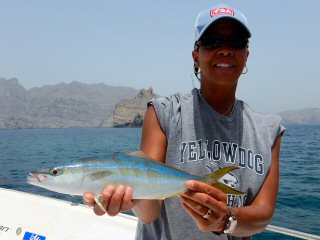 Granny picked up several new species for herself.  She caught a handful of halfspotted grouper, Russell snappers and a few more of her favorites, the orange-spot trevally.  She also landed this small rainbow runner, one of the finest baits in the ocean.
It was sad times at the Musandam base tonight.  I broke down my rods and cleaned the salt off them. Today may have been the last day of fishing on this classic adventure.  There's a chance the 9-weights will come back out in Dubai but that remains in the air.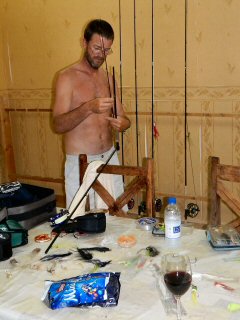 The last three days of the trip go like this.  Tomorrow we return to Dubai and Nick Bowles house.  Tomorrow night I'm doing my PowerPoint presentation "Fly Fishing Through Midlife Heaven" for Nick and his Ocean Active customers.  Then two days taking in the sights of Dubai with Granny.  Hopefully I'll get out with Nick one last time for queenies and have one last crack for the elusive golden trevally.