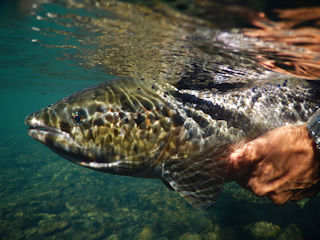 When you know in advance the fishing trip you're going on will be a challenge, don't get there and imagine it to be easy.  Keep your expectations in line and don't fall off the track.  You won't burnout so easily and your fishing skill won't leave you.  Big Atlantic salmon don't come without hard work and persistence this year in Iceland.  Keep your fly in the water and it will pay off and etch a memory for life.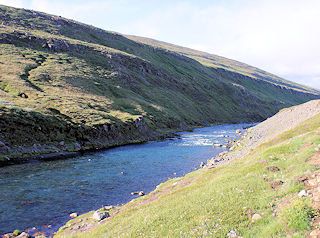 Today we went to Beat 1 on the upper Hofsá River.  This is Siggy's favorite stretch of water in all of Iceland not only because its great fishing, but also beautiful.  This was a special day for sure, but also one where all three of us felt some pressure to catch a big salmon.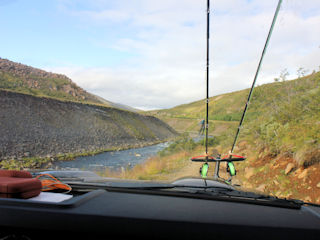 The other neat part about this beat is the journey there.  It was a one-hour drive to the bottom of Beat 1.  The road is entirely a rough dirt track that involves navigation along a mile of cliff high above the Hofsá.  The drop was an eye catcher for sure but staggeringly gorgeous.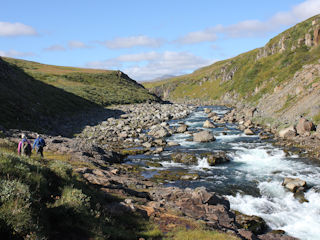 After you drive as far as you can, your only at the bottom of Beat 1.  From here you need to cross the river then hike up.  The water is fast.  Its crystal clear and looking upstream you see rapids and small waterfalls – falls Atlantic salmon can easily jump.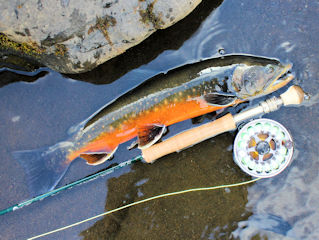 We didn't go far on our hike up before I spotted an Arctic char resting on bottom.  I was completely aware this was not our target fish today and attempted to walk by.  But I couldn't.  I slipped a cone on the leader above my Undertaker salmon fly and nymphed him up in less than a minute.  Today was looking good already.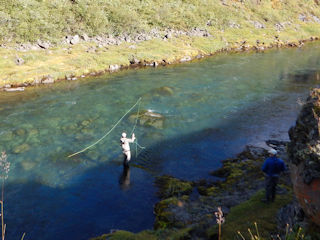 We continued our hike up and down and scrambling along rocky cliff edges.  We stopped at a few spots to look for salmon and we found them in the pools.  The first one was in a place with little room for a back cast and not much current considering the rest of the river was moving.  I wanted to give Granny every chance but she declined this spot.  I went in and got four good swings, strips and even tried to dead drift my fly in this salmon's mouth but to no avail.  Soon the salmon was gone.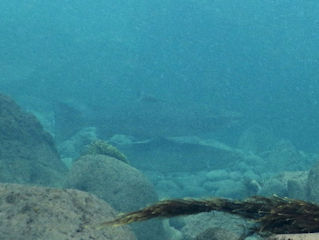 It doesn't matter where you go on the planet.  If the fish you're after have lockjaw – they have lockjaw.  What I mean is they just won't eat.  Usually it's a weather thing and in my opinion directly related to barometric pressure.  Regardless of what it is, the Atlantic salmon of the Hofsá River have been playing SERIOUSLY HARD TO GET.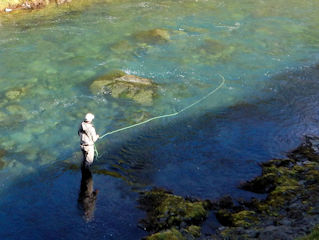 I got shots (it seemed Granny had given up) at three more big salmon all of which refused to eat.  The last stole all sureness I had left.  He refused several flies on the swing.  He refused them stripped.  And finally, Siggy gave me approval to try to nymph style him up.  I drifted a heavily weighted Metallica nearly in this Atlantics mouth ten times before I hit him square in the forehead and he finally spooked.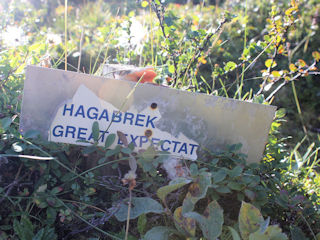 The only reasonable way to change our luck was to get Granny her fish.  There are so many Atlantic salmon on Beat 1 its incredible.  We needed to get one.  We came to the third to last pool before a waterfall high enough the salmon can't pass.  The pools name, "Great Expectations".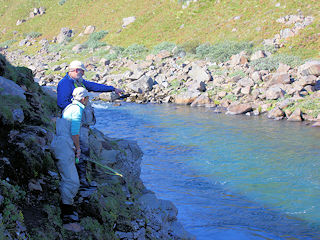 Siggy and I climbed high above and looked down.  There must have been ten salmon.  It was a sight to behold.  But one in particular shifted side so side as if to be. . . . happy.  Could that be?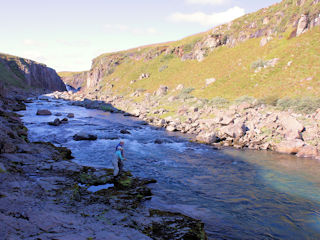 I insisted Granny take a stab.  Siggy pointed the active salmon out to Granny then they snuck down the cliff using the shade to be undetected.  They found a nice rock to cast from and swung the fly into the area of the salmon.  From their point of view in the shade they could no longer see the fish.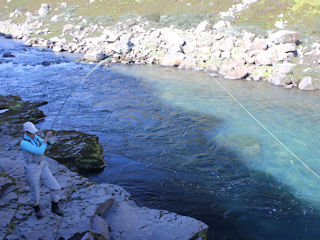 The water was turbulent so I couldn't see Granny's fly like a could earlier this week on the Hafralónsá.  The salmon on the other hand, I could see loud and clear.  And when the Atlantic lifted from bottom and opened her mighty white mouth, the small dark spot which I was sure was the fly disappeared.  BIG FISH ON!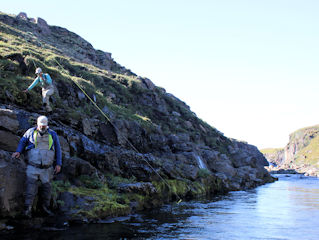 Granny wasn't in a great place to start chasing a huge fish.  As it is she hates rock scrambling.  Now she was scrambling while battling a salmon and she had to move fast in order to keep up.  This meant up and down often times with one hand on the Winston and the other hanging on to the cliff.  She found herself high then low.  But she always kept the rod bent and the tension on.  She did an incredible job with this huge fish in fast water!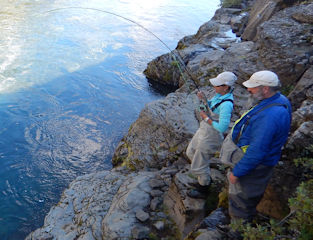 The fight went on for a good ten minutes.  There were few jumps but lots of runs and down deep holding.  It was a fight of all fights for Granny.  Probably her biggest since her massive tarpon a few years ago.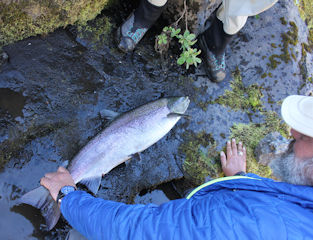 When the beautiful Atlantic salmon tired I yelled, "Put his head on a rock".  Twenty years ago Granny lost a huge brown trout in New Zealand because she couldn't get him to my net.  Friend Tony Entwistle told me I attempted to soon.  A fish isn't ready until you can put his head on a rock.  The advice has never failed us since.  Granny tested my 16lb Flouro to the max and dragged the salmon to rest in the shallows.  Siggy grabbed her by the tail – landed!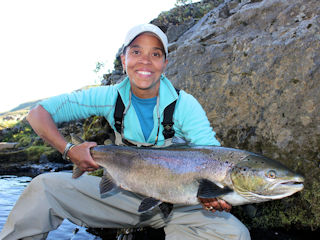 When Granny grabbed the tail of her precious prize it was a proud moment for me.  I'm sure she felt the same along with some relief.  Her smile was as big as the fish.  Which by the way measured 85 cm and likely pushed 15lbs.  It was truly an amazing salmon in Iceland.  A fish of hundreds of hours and thousands of miles from home – etched in our memory forever.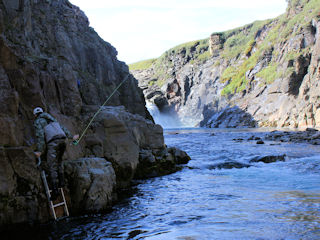 Honestly it was hard to fish after Granny released her incredible catch.  I think we all could've easily headed back to the lodge for a bottle of red and an afternoon of rest.  But instead we hiked all the way up to Pool 1 below the waterfall that stops the salmon on the Hofsá.  To get to this spot takes some work. . . . and a ladder!
It was fun to fish up there and beyond spectacular.  I'm glad we saw the last pool going up river.  But it was tremendously challenging to cast and was very deep.  I'm certain it was full of salmon and char but honestly I don't think I showed any my fly.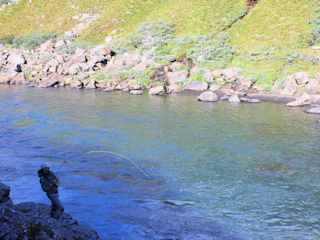 On the way back, remarkably there was another salmon laying exactly where Granny hooked hers.  I was way ahead of her and Siggy on the way back dreaming of such a situation but not expecting it.  I made several cast but nothing.  My last attempt was to dead drift my Metallica in hopes to hit this fish right square on the nose.  It worked and I hooked up!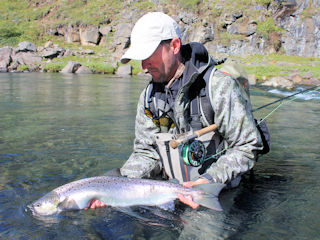 It wasn't a beast like Granny's but it was a splendid salmon nonetheless.  Mine jumped like crazy and wore herself out fast.  I leaned on this fish with my 8-weight Winston so hard Siggy went as far as to tell me I would break my rod.  But I know exactly how much pressure I can put and soon I was posing with my 72 cm salmon.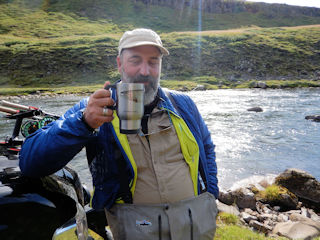 It was a magnificent morning.  Magnificent and well deserved by all! When we got to Siggy's truck we relaxed and reflected on the morning.  Siggy busted out his thermos and rightfully drank it from one of my stainless steel Atlantic salmon mugs (special order only!).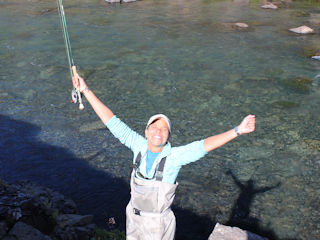 We returned to the lodge for lunch, beers, naps and made it out to Beat 2 for the evening.  Siggy and I fished very hard but never saw a fish.  Somehow it just didn't bother us too much.  This was the best day of the trip so far.  And proof – it only takes one fish to make a trip.
Thanks to Icelandic Fly Fishermen for bringing Granny and I on this unbelievable trip.  When you're ready for Iceland feel free to Contact me.