A Weather Change for the Last Day at Farquhar
Categories: Uncategorized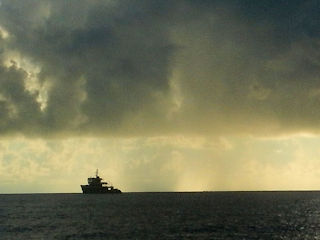 A change in weather arrived last night.  You could feel the Maya's Dugong rocking side to side as you slept.  When morning came and I went out on the deck and there were storm clouds and strong wind.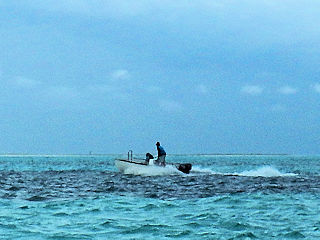 We went from one extreme to the other, but it was our last day so despite the threat of stormy weather everyone grabbed their gear and climbed aboard the skiffs.  It didn't matter where you went, it was a rough boat ride.  Luckily it wasn't raining but my Simms rain jacket was essential for protection from the boat splash.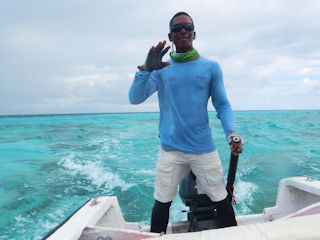 I fished with Sammy and our guide was Peter King from Mahe.  Peter guided me last trip and we had a stellar day which included catching a saddleback grouper.  Peter is considered one of the top giant trevally guides at Farquhar.  He put Tom on his yesterday and has seen the most GTs this week.  Sammy had an incredible last two days with numerous species but he'd put this trip through the roof with a giant trevally on the last day.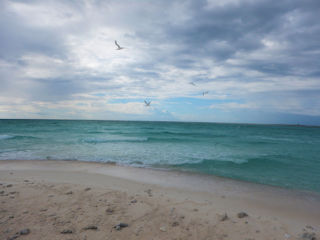 We went straight to Peters favorite GT spot.  It's a tiny sand-spit of an island and there was strong current from the outgoing tide.  The wind was howling off the open ocean a short distance away.  There was static in the air and the terns told me something was going to happen.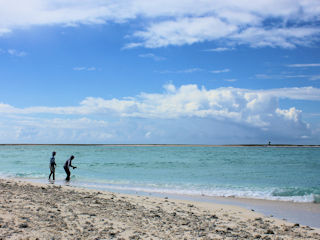 We scanned the waves of the deep flat for an hour.  In the distance beyond casting range Peter pointed out three big GT's chasing bait.  He assured Sammy they'd make it in range if we stayed patient.  Sure enough they did and Sammy went into action.
Sammy's cast couldn't have been more perfect.  All three giant trevally saw his fly hit the water and came charging.  Sammy crouched down and stripped like mad.  The faster you move your fly the better for GT's.  One devoured the fly but due to the excitement, instead of strip setting Sam lifted his rod and did a trout set.  The equivalence of buck fever.  There was no chance to drive the hook into the hard mouth of the GT.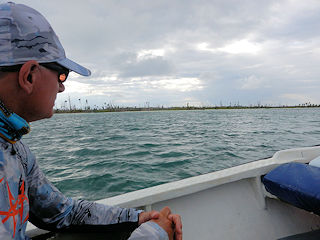 Sammy was upset with himself, but you can't look back.  We do this sport for fun.  I've been saltwater fly fishing for over 25 years and I can't recall a trip where I didn't screw up at least one good fish with a trout set.  We fly fishers are human.  Strange humans but humans nonetheless.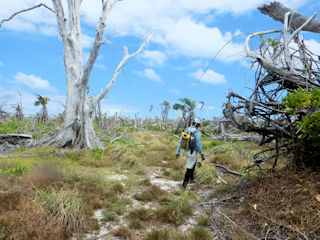 That was it for Peters island spot.  We waited another hour but there were no more chances.  The wind began to lay down and the sun came out.  It was time to move.  We took a boat ride and beached in the Farquhar Atoll lagoon.  Then we hiked across the thickest part of the island for the ocean flats.  The damage from last year's cyclone was a sight to behold.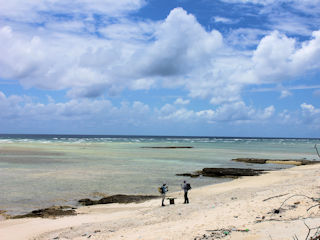 I love the flats that butt up to the open ocean.  The fish are tough but there's always a lot of action with a variety of species.  While Sammy and Peter didn't give up the quest for that big GT, I went to catch some fish.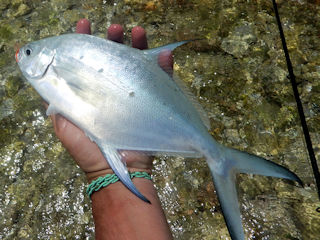 I started with a few cast to triggerfish.  They've humbled us all week and continued to do so.  Then I got into school of nice bonefish and landed a few.  Then I caught this pompano.  There are many different species of pompano and this one I'll need to look up.  He's very similar to the largespot pompano I caught in Oman but definitely has smaller spots.
Matt Cosson identified him as the three spotted pompano also known as the small spotted dart.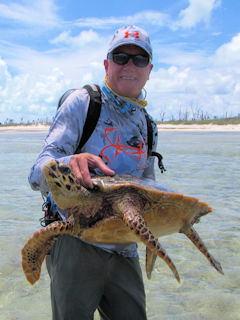 It was a nice afternoon to end fly fishing Farquhar 2016.  I almost always had something to cast to.  Sammy had the same luck of spooking triggers and landing some bonefish.  What he caught that was special was this sea turtle!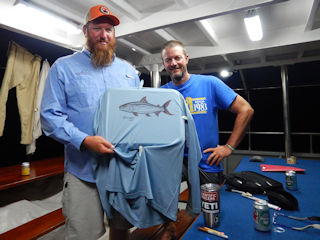 We rapped it up and tonight I finished all sharpie art projects that needed to be done.  While most the fish I drew this week were locals of the flats, James Christmas had me draw tigerfish in his XXL t-shirt.  The thing looked bad ass if I do say so myself!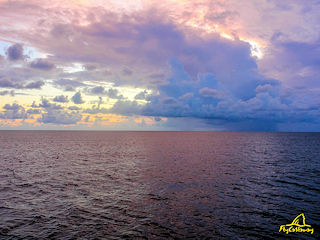 Though today was our last day fishing on Farquhar, the blog will remain fun.  First of all, I'll sum up the trip and show more photos of cool fish tomorrow.  Then for me and Sammy, it's off to United Arab Emirates for another week of saltwater fly fishing with my pal Nick Bowles of Ocean Active.  Stay tuned. . . . 
The Seychelles are truly one of the great saltwater fly fishing destinations left in the world.  To learn more or even better, join me on my next trip here, contact me or Yellow Dog Flyfishing Adventures!