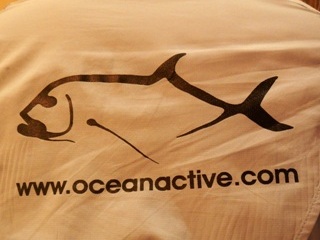 I've proven that if you have a day long flight layover in Dubai you're crazy if you don't go fishing with my friends at Ocean Active.  But what if you have more than one day?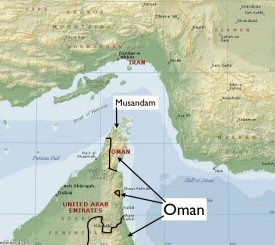 My friend Nick Bowles, owner of Ocean Active, not only offers guides out of Dubai but also to neighboring Oman.  Depending on the time of the year he runs trips in Southern Oman and to the north.  The north region is called Musandam and after spending much time with Nick, Musandam appears to be one of his favorite fishing places on earth.
Granny and I and guide Cameron Mundy arrived at the Ocean Active base in Musandam yesterday afternoon.  It was only a two hour drive from Dubai therefore if you have two days you can do this trip.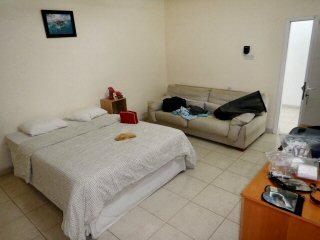 Base is a simple accommodation with comfortable air-conditioned rooms, each with their own bath and an equipment room with plenty of area to rig.  Once we settled in, the manager of base, Nuru from Sri Lanka, cooked us up a dinner of fresh grilled steaks.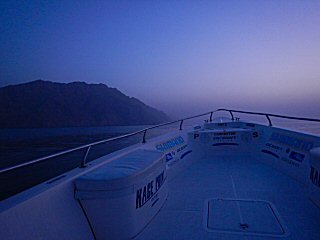 We slept well but short.  Due to the wild nature of the region and long distances covered by boat, fishing starts early and you're back early afternoon.  Cameron had us up at 4 AM and at the marina loading the boat in the dark before 5 and we took off at the first glimmer of daylight.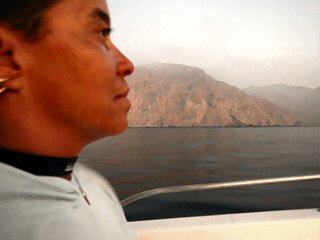 We motored north and watched the sun light creep down the flanks of the rugged Al Hajar Mountains that drop directly into the sea.  They are like Fjords in Alaska only these are bone dry and you can see desert species of vegetation.  Nonetheless the scenery is stunning and reminds me of no place I've ever been.
Our first stop was for busting longtail tuna.  The busts lasted only a few seconds and unfortunately that would be our story for the day.  We'd spot some birds and see a couple splashes then the fish would be gone.  We worked hard at this style of fishing for a good couple hours before Cameron and I agreed it was a waste of time.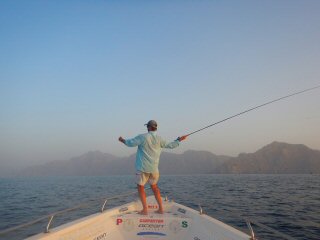 Next we went to a shallow reef and I started by blind casting a sailfish popper hoping to raise a giant trevally (GT).  This sounds like a tedious task but with my Winston 12-weight SX and my custom made 100lb core Titan fly line from my friends at Scientific Anglers I could bomb that thing out there.  I quickly raised a GT but he refused.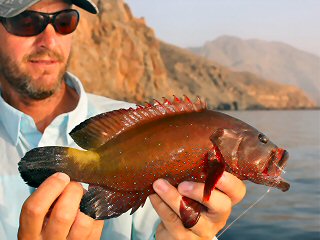 Seeing the GT right away was encouraging but an hour later he was the one and only.  We saw a free jumping sailfish also but couldn't tease him up.  I decided to make a few deep runs with my 9-weight and a 300 grain and picked up an assortment of fish ranging from Russell snappers to halfspotted grouper.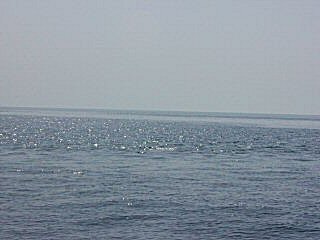 The sea turned to glass shortly after 9 AM and fish activity went dead.  Calmness isn't the norm for the ocean and just like in freshwater, most species get spooky and hide deep.  I continued blind casting for GT's, dredged and we drove around hoping to find activity.  That's when we found a school of milkfish.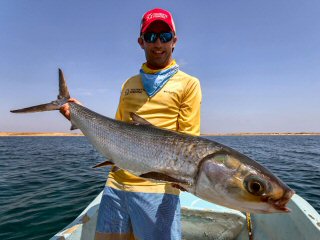 Milkfish (milkies) look like oversized bonefish, or better yet like supped up grass carp.  Milkies feed on algae and other plant life like their freshwater cousins.  They are extremely difficult and rarely caught on fly.  I've had a few opportunities and dabbled but my best shot was in Sudan last year where my friend Mark Murray connected and landed this monster.
These milkfish may not have been feeding.  In Sudan (I also watched a client fish to them in the Seychelles) the milkies swam along in huge schools with their heads above water and mouths open funneling algae soup into their mouths.  These milkfish only had the tips of their massive sickle tails out of the water and seemed to be playing with each other rather than feeding.  Granny and I tried a variety of algae like flies for nearly three hours without any luck.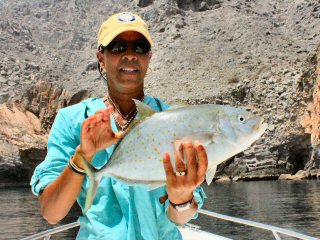 At about 3 PM Cameron called it.  It sounds early but remember the day started at 4 AM.  On the way home we stopped at a place the guides call White Rock (covered in bird turds).  They usually catch lots of huge queenfish here but it was still glassy calm and there were no signs of life.  Granny dropped a dredge and picked up this very nice orange-spotted trevally.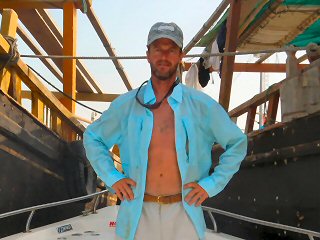 Today wasn't the first butt-kicking of this trip.  I've had more than a few tough days.  That's life with a fly rod in the salt, especially your prodding new waters.  According to Cameron we need to hope for some wind and stronger current lines and tidal changes to improve our fishing chances.   Today was simply too nice.  Stay tuned. . .