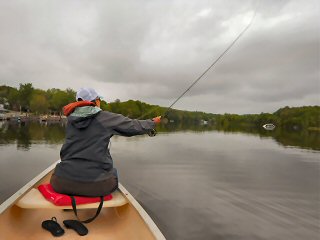 The dreadful springtime nor'easter lasted all the way till this afternoon.  Granny and I have been freezing at camp and going stir crazy not being able to fish.  We've found ourselves at the local establishments more than once having some afternoon beers.  At 3 PM, despite a 48° high temperature, we boarded the canoe for a few hours of fishing.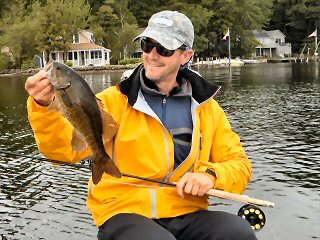 Smallmouth bass get lethargic when conditions are cold so we went out with extremely low expectations.  It was really a matter of getting out.  Ideally our best method of attack would have been grabbing the 7-weights and dredging with Uniform Sink lines and Clouser minnows.  But I'm stubborn and addicted to watching a bass suck a popper on a slow retrieve so we went for it.  To my delight we got two nice ones.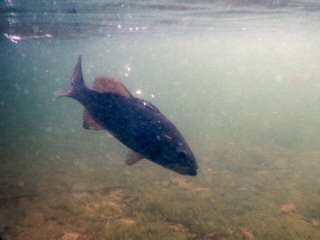 The weather is forecasted to improve for tomorrow.  Let's hope.  If so Granny and I will be spending the day hanging with my sister who loves to fish.  She and I will likely smallie fish in the morning then venture to some neighboring lakes for some adventure.