Last Day of Flyfishing St Brandon's Atoll 2017
Categories: Uncategorized
The last day came quick.  Scott, Ben and I treasured our final early morning coffee together and watched it get light on Rafael Island here at St Brandon's Atoll.  After the 7 AM breakfast Scott and I climbed aboard with FlyCastaway guide Brendan with hopes to bang up as many bonefish possible.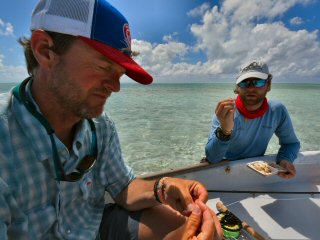 I was over the yellow permit hunt.  If the chance came I would be on it but St Brandon's has proved to be the best bonefishing imaginable so bones were our specific target today.  On my last day of any trip the goal is always to relish in it to the max.
Wouldn't you know, despite all the spectacular bonefishing this week, and naturally because I finally dedicated a day to it, the bonefish were hard to find.  The three of us hit numerous flats.  Scott managed to scrape up three but I got tangled in a school of baby permit and wasted time on them unsuccessfully.
There was no disappointment in this group though.  Fish own you at times and we took in some of the other sights through the day that we've missed.  There's a particular island crawling with nesting terns.  We paid a visit and it was amazing.  The terns lay an egg randomly on branches without a nest.  Then they hatch and chicks stand randomly on a branch waiting to be fed.  Nature can be incredible and unusual.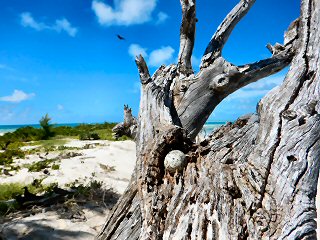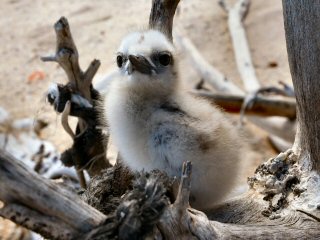 Patience always pays off in fishing.  The bones weren't cooperating so we ignored them a few hours.   When we got back after them we found a few.  We'd hoped for the elusive 10lber on the last day but for St Brandon's they were average.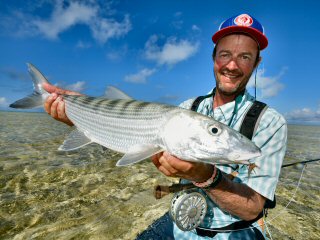 Though I've chased permit excessively all week, I made a point to land a nice bonefish each day.  You need to at a place like St Brandon's.  Well, on our last flat and in the last hour, I still hadn't done that.  And on this flat the bones were scarce.  But we kept after it and thanks to Brendan's keen eyes I was able to catch my final respectable bonefish of the trip.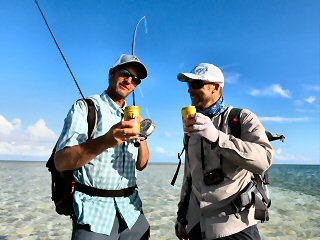 Gerhard and the guides of FlyCastaway claim we saw the worst week of fishing at St Brandon's Atoll since they opened in 2011.  No doubt I expected to see more Indo-Pacific permit.  But if this was the worst week of fishing they have seen – I'm coming back.  Scott and I loved today regardless of the fishing being tough.  And this week has been no less than outstanding fishing and hands down the best bonefishing I've seen.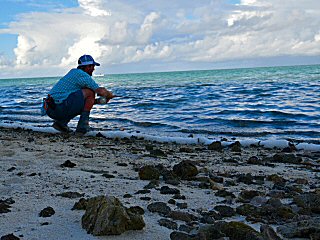 I ended my fishing day like I have all week with a slow walk completely around our island at sunset.  I found a baby permit tailing.  In the late light he was no less than a miracle of fish spotting.  I thought this fish was meant to be.  I crouched down and dropped my fly in the zone.  When crouched I couldn't see the fish or his reaction with the poor light.  But we didn't connect and I never saw the rascal again.  Next time. . . .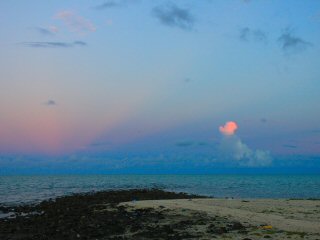 Tomorrow we begin our grueling trip back to the US.  That starts with our 28-hour boat ride followed by 30 hours of flying and five hours drive from Salt Lake City back to the Yellowstone Country we live in.  This will give me plenty of time to put together a few of my favorite memories of the trip.
Stay tuned for one last entertaining blog about St Brandon's Atoll 2017!
Although this may not seem like an obtainable adventure – actually it is.  Feel free to Contact Me and you can book this incredible trip to St Brandon's with us at Yellow Dog Flyfishing Adventures.