Another Great Day Fly Fishing the Salt in South Africa
Categories: Uncategorized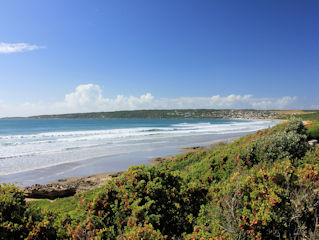 We said bye to Knysna, South Africa early this morning and traveled with Craig and Coreta west over an hour to visit their friends Chris and Teresa.  Their friends have a house on top a cliff overlooking the ocean about a half hour past the famous Mossel Bay.  Their view is stunning.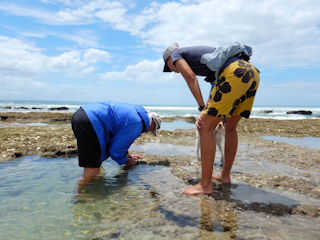 We're staying here tonight so upon arrival Granny and I settled into our room then all of us took a walk down the beach.  Craig and I cast in hopes of catching a dusky kob on the fly.  The kob is a fish much like a white sea bass.  Chris has caught them on lures in front of his house on a few occasions but to catch one on fly would be quite a feat.  While we fished Chris chiseled us out fresh oysters which we fed on along the way.  When oysters are this fresh I recommend you chew them to enjoy the flavor of the sea.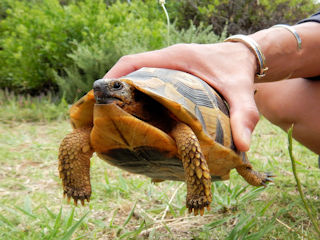 The fish continue to win the battle and after our session we returned to the house and packed snacks and fishing stuff to head to prime fishing water where the Gourits River meets the ocean.  This is a well-known river for fishing both where it meets the ocean and further upstream.  In fact, tomorrow Granny and I will say goodbye to Craig and Coreta and head upstream to fish fresh water with another of my South African friends, Ed Truter.  As we left the driveway this geometric tortoise was crossing the road.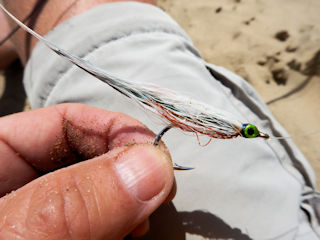 The tide was ripping in at the mouth of the Gourits River.  Its nearly a spring tide which means fluctuation from low to high is large.  Theoretically a strong incoming tide brings heaps of fish but five of us fished hard in this area for an hour without catching a fish.  I had one swirl behind my minnow imitation as I lifted to make my next cast.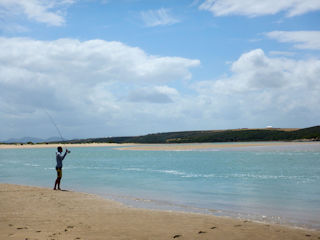 The wind was cranking to go along with the heavy currents from the incoming tide.  It was actually chilly when you waded in.  Granny, Coreta and Teresa gave up and not only quit fishing but headed back to the house to watch the ocean and drink wine.  We dudes went to a more sheltered area upstream by a bridge.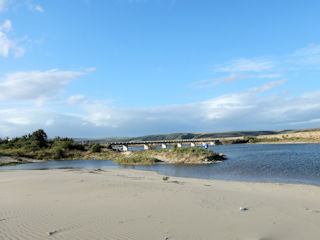 At the bridge we got the protection from the wind we hoped for.  It was still blowing but not nearly as hard. There were also numerous bait fishermen here which at least told us there were some fish around.  Craig, Chris and I worked our way upstream to where there was some structure.  Chris was tossing a lure half way across the river while Craig and I tossed the flies.  Not much was happening for anyone.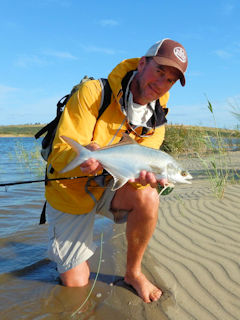 I was still fishing in hopes of a kob which means getting the fly down deep.  I was using my 9 and 300 grain.  Craig switched gears and threw a popper on his 12-weight in hopes for a huge Garrick.  He yelled to Chris and I that he had a follow and invited us over.  I stepped in and instead of dredging with my fly I zoomed it along to keep it near the surface.  On the first cast I nailed a Garrick then went on to land about five of them.
After the five Garricks I went back to dredging in hopes of a kob.  Chris put me on a spot where he thought I had my best chance at one.  There were a lot of snags and I lost a few flies.  When you fish bottom it's a good idea to count how many seconds you're letting your fly sink.  I started with about twenty seconds and got hung up.  At fifteen seconds I got hung up then at about twelve seconds I had my fly swimming right along the bottom snag free.  After an hour of relentless casting I hooked up.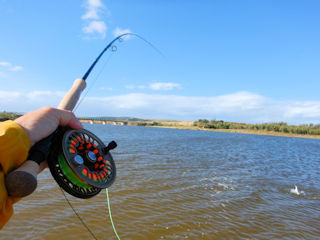 I knew right away that this wasn't a Garrick.  This fish didn't run but rather bullied me trying to cling to bottom where I hooked him.  Knowing there were plenty of snags I hoisted him up and muscled him in to me fast.  I was in a terrible spot to finagle a picture.  While Craig was running to assist I climbed down the steep bank only to see up close I had an even more unusual fly rod catch than a kob, I had a white Steenbras.  Unfortunately, before Craig made it for the pic the cool looking grunter like fish flopped off.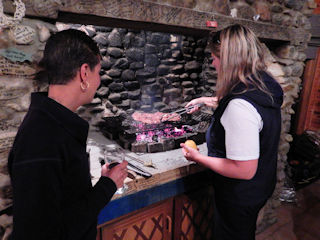 We rapped it up shortly after the Steenbras returned to Chris and Teresa's house.  And yes, like every night so far we had an incredible meal and drank better wine than we're used to.  What was really cool is that Chris and Teresa have an indoor grill – something that would come in pretty handy back home in the winter.  This has been one hell of a trip so far!