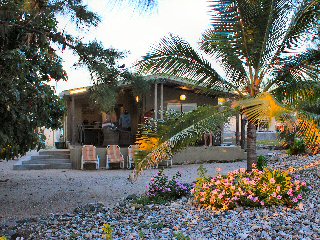 We had a nice evening around the lodge last night here at St Brandon's Atoll.  There are four other anglers all from South Africa.  We had a yummy dinner and a few Phoenix Beers with them before retiring to bed.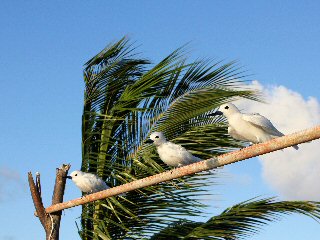 This morning Ben, Scott and I got up before sunrise for coffee.  Then before breakfast I grabbed the camera and enjoyed the sights outside the room.  These are some curious white terns (often confused as fairy terns).
Hot breakfast comes out at 7 AM and after last bite you can make the short walk down to meet your guide.  I matched with Scott today and we were lacing up our Simms Flats Boots by 7:15.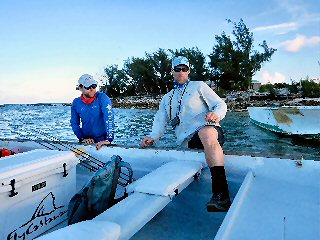 I know most the guides here from fishing in the Seychelles and today I was with old friend Brendan Becker.  Brendan was with me for my first ever bumphead parrot on Farquhar in 2014.  We've also chased yellowfish together in Lesotho.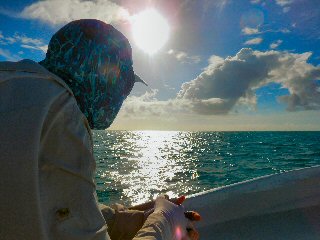 This is the first week of the two month long season at St Brandon's.  FlyCastaway offers another season September-November.  The weather is perfect in mid-April.  The temperature runs about 85° with winds averaging 15 mph.  Skies today were mostly sunny which is essential for sight fishing the flats.  There's one problem however.  We were warned a few days ago the flats are unusually warm due to lack of wind the last few months and an El Niño situation going on down this way as well.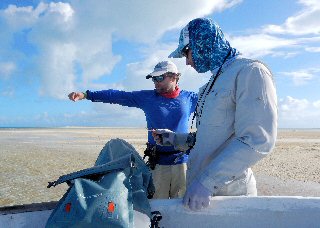 We motored about 40 minutes to the south end of a massive flat named Julies.  It was miles long and I was out of the boat with my 9' 8-weight Jungle Winston and hunting my first fish before Brendan had the anchor secured.  Scott hasn't fished the flats in five years so I left him to kick things off with Brendan.  FlyCastaway guides are superb and Brendan went right to work to make sure Scott's leader and fly were perfect.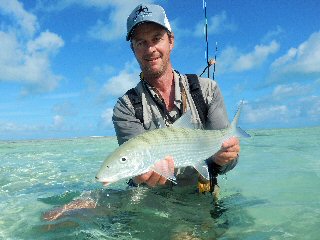 St Brandon's is rapidly being recognized as the finest bonefishing location on the planet.  It took me about five minutes to spot my first ghost of the flats.  He was a rascal to see as he was patrolling turtle grass.  I was persistent as usual and I nailed him quick.  Add my 59th country to my fishing list – Mauritius!
Brendan soon had Scott in the bonefish game as well.  They were plentiful.  Some travelled in schools and you only needed to get your fly near.  The individuals were more challenging and often bigger.  Over the first couple hours Scott and I nailed about ten each and doubled up several times.
We moved around through the morning to several different bonefish flats.  We caught more every spot we stopped.  To me these are quality bonefish – most bigger than the average fish in the Caribbean.  But to Brendan, today's bonefish were smaller than what they are accustomed to catching here.  Our biggest was 5lbs and St Brandon's usually produces a fish of 8lbs every session!
The incoming tide was kicking around lunch time.  The incoming is what brings in the Indo-Pacific permit which is a cunning fish I hope to catch this week.  We left the bonefish flats to move to prime permit areas around 1 PM.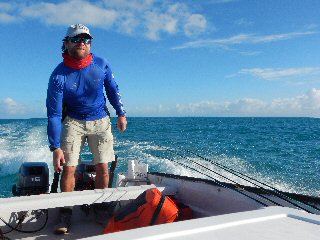 When moving you keep watch.  There's always a chance to see other fish such as when birds are diving or when you spot a big sting ray or even a large shark.  We saw a huge shark as we were running and stopped to find it was a massive 10-foot long plus tiger shark hunting sea turtles (one of their favorite foods).  Often times these sharks have a giant trevally hiding behind them so I made a cast.
Balancing on the bow of a skiff is never a problem for me.  But I must admit, doing it in the presence of a turtle-shell-crushing man-eater does make you wobbly.  The giant fish didn't have a GT with him so instead, he decided to chase the fly.  I heard Scott and Brendan let out a squeal.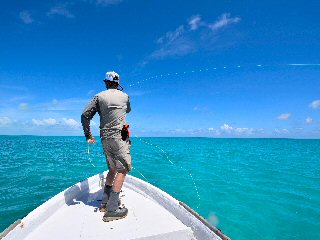 The tiger lit up meaning he went from a lazy black shape to a fast moving lighter colored monster fish, visibly flashing the stripes that earned him his name.  He put his huge face an inch behind my fly and followed.  Sadly he lost interest in what would have been a tiny meal for him.  Had he eaten I doubt I had any chance in hell to land him but damn it would have been fun to try!
We walked a couple permit flats but saw very little.  I wasn't the slightest bit surprised.  I've caught a few permit, but if you calculate the hours it took me to catch them, the stat is unbelievable.  Basically, when I'm around the permit aren't.  And when I get my rare opportunity I usually botch my cast.  If I send a good cast the permit spooks or ignores my fly.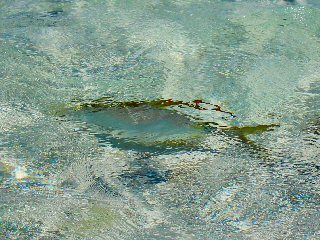 It was the last flat of the day.  This was a massive sand flat where you could spot a permit coming a mile away.  Sure enough, along came three towards Scott and Brendan.  I ducked out of the way and Scott launched his cast.  His crab imitating fly landed about four feet to the side of the weary permit.  It's amazing how well these fish blend in with the sand but I could see the yellow of them, a color the Atlantic permit don't have.
The next thing that happened wasn't permit like at all.  This finicky species usually ignores a cast unless it hits them between the eyes.  But this time, to our delight, one of the permit charged Scotts fly and devoured it!
Scott set the hook and in a blur the permit took off.  It should've ended right there.  Scott's line tangled and wrapped around the butt of his rod.  Wisely, he charged forward fast enough that the permit didn't break him off and he eased the tension enough to undo the near disaster.  The fight was on with no dangers such as coral heads in sight.
Permit fight hard.  Bonefish are impressive but they are no match for a permit.  Jacks, shaped just like permit fight hard but I say the permit fight harder.  Scott had his hands full for the next ten minutes.
All went well and soon Brendan netted Scotts permit.  This was his first Indo-Pacific and the first I've had the pleasure to see get caught.  In all my trips to the Indian Ocean I never caught one nor anyone I was with.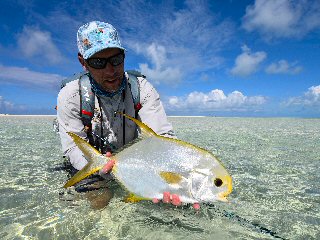 Apparently the Indo-Pacific permit doesn't get as big as our Atlantic permit.  Scott's fish weighed 7lbs and was as gorgeous as any flats species I've ever seen.  The yellow changes when you tilt the permit under the sunlight.  Some angles he gleams yellow but most are different shades of gold.  This handsome yellow permit was no less than stunning!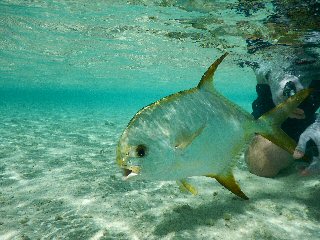 After we released the permit we took a breather on the beach.  We had a lot to celebrate.  Then Brendan and I walked the rest of the flat but there were no more shots to be had.  We packed it in and headed for camp to relax for the rest of the evening.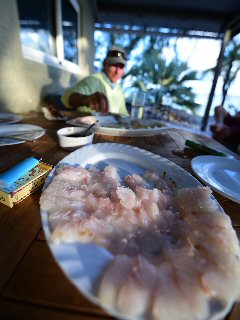 It's been an epic start to this extended trip to St Brandon's.  I can't get my mind off the incredible bonefishing we had to start the day and then the permit – WOW!  We celebrated with a few brews tonight over some fresh grouper sashimi.  Seeing Scotts permit crush his fly gives me confidence for my first this week and perhaps more than just that.  Time for some rest!
Although this may not seem like an obtainable adventure – actually it is.  Feel free to Contact Me and you can book this incredible trip to St Brandon's with us at Yellow Dog Flyfishing Adventures.