I spent a beautiful day rowing Maddon Creek today with friends Ken Holder and Nati.  Ken built my first website fifteen years ago and maintained it as a favor for ten years.  But Ken has a real job and when my site got larger than he ever imagined a fishing bum could possibly need he called it quits.  Now under the guidance on another friend, Mark Kuhn, I do most of my site myself.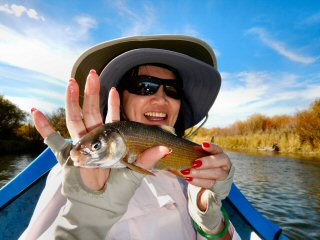 Fishing was slow for the second time this year on the Maddon.  We saw fish in the morning but Ken couldn't connect.  Once the clock struck 11 AM the Trico hatch ended and so did the rising.  Ken landed one nice brookie on a dry dropper rig and I hadn't caught a whitefish in ages so I plucked one on the nymph.
I won't be fishing for at least ten days due to a minor surgery that's too much to explain.  Instead I'll use the next couple weeks to do art, work on my book and of course, watch Cubs baseball!