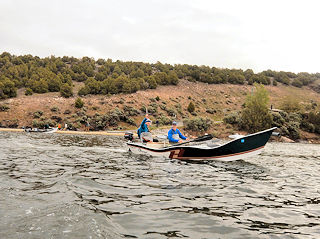 I haven't spent much time on my home waters this year but the Ririe Bass n Fly tournament is a day I hope never to miss.  I've been doing the fun contest since its start about ten years ago.  Rather than speedy bass boats like the monster competitions on the pro circuit ours is a heap of drift boats with 3.5 motors.  Most of the anglers are fishing guides enjoying one last relaxing fishing outing before a busy guide season.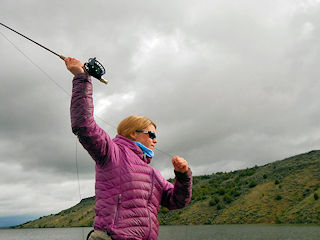 My teammate from last year, Cyndle Clift, and I were joined by other friend Tim Brune.  Tim and I carp fish together often.  We left the docks when the gun went off and tried an area I generally save for the end of the day.  I rowed while Cyndle and Brune launched Clouser minnow type flies towards the bank.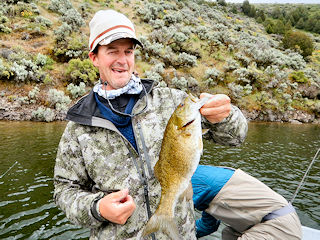 The bass at Ririe Reservoir are smallmouths.  They aren't native here and have never really taken like the wild ones in the Midwest.  There's a lot of them here but few get bigger than 12".  Each team is allowed to enter five bass 12" or better and you're judged by the weight.  All fish are required to be brought in alive and healthy or there is a penalty.  There's also a prize for big fish.  While my teammates went empty handed for the first hour, when came my time to fish I landed a beautiful fat 15" smallie in an instant.  We knew this respectable smallie would move our score up nicely at the end of the day after we got our five.
We nibbled away the rest of the day at obtaining our five 12" or longer bass.  It seems like catching them should be an easy task but it's not.  We landed four before noon including another 15" fish but the fifth bass didn't come till around 3 PM (tourney ends at 4).  Once we had that one it was a sigh of relief because we knew with five fish and two being 15" – we had a good chance to win this thing!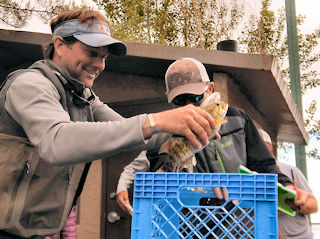 At the weigh in at 4 PM we were quick to learn that fishing on Ririe this year was far better than others.  Out of the fifteen or so teams most had all five 12" bass needed to qualify.  Furthermore, there were two bass larger than the 15 inchers we caught.  My heavy one was 1.79lb but there was a 2.25 and a 2.54.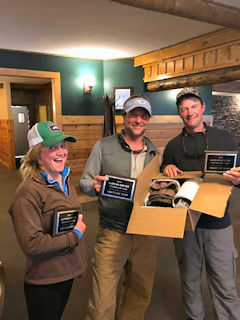 In the end, the teams with the two largest smallmouth bass also had better complete scores.  While I'm not certain the weights, our five bass weighed just under 7lbs.  The second place team was 7.25 and the champs weight was 7.5lbs.  Although we didn't win 1st, we ended up with 3rd place and that still got us plaques and cash.  It's all good and another very fun Bass n Fly Tournament in the books!