Last Push for Granny's Roosterfish on the Fly
Categories: Uncategorized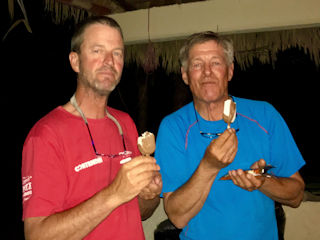 I have some great friends that either live in Baja or spend much time in Baja.  Granny and I are trying to keep things interesting and not fish the same area twice.  I dropped a random email to my friend Gary Bulla who is often in Baja hosting fishing clients, hoping he was around with time for a beer.  He was here and he had time.  He invited us to his place for dinner and a room at the hotel he takes over for his clients.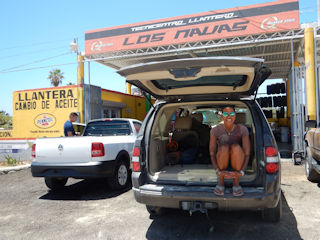 We didn't rush out of bed early to get to Gary's.  We slept in, enjoyed an hour of coffee time and a big breakfast then did a four-mile barefoot beach run.  We pushed it hard at the gym (part of Sammy's condo gig) then at noon headed to another of my old roosterfish stomping grounds for the last hours of fish spotting light.  However, not so fast.  We had a flat tire to tend.  And, the jack with our rental car was incomplete meaning we needed to thump our way into a service station for some tire work.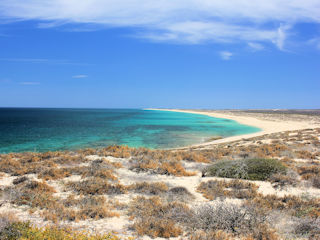 Flat tires are a common thing when fishing abroad on twisting dirt roads and beaches.  The locals know how to fix them and in less than 30 minutes our tire was repaired and we were on our way.  Soon we were overlooking a rarely fished rooster beach and had it all to ourselves.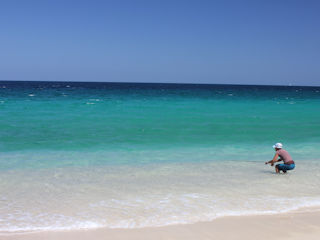 A great beach all too yourself doesn't mean your guaranteed a roosterfish.  Or a jack for that matter.  Despite excellent conditions, from 2-5 PM we never saw a roosterfish.  This being said, there was a school of massive Pacific jack crevalle.  Granny made some perfect casts with the same popper that caught us a jack few days ago.  She got one to eat twice but never got a hook set.  Two chances and they were gone but I think we shall return for them tomorrow.
It was a fun night at Gary Bulla's hotel.  Gary has been running hosted Baja trips for more than 20 years.  He has 12 guests this week and we had dinner and a little party time with them tonight.  His folks are terrific and we had a whale of a time.  So much fun that they invited us to fish with them tomorrow.  Gary's trips are by panga boats so Granny and I are having them drop us off at a remote beach that other anglers can't drive to.  Should be good. . . .