A Bluewater Fly Fishing Day to Remember
Categories: Uncategorized
Whenever I add a tough fish to my fly rod species list the fishing days ahead are relaxing.  I didn't come to Baja for a yellowfin tuna this week but I capitalized on opportunity and yesterday got a beauty.  If I don't get my marlin this trip, so be it.  That great fish will come some day and it will be that much more rewarding.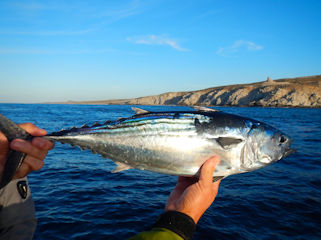 Sammy has rightfully fallen in love with yellowfin tuna these first few days and asked me if I minded doing the morning dredge again.  I was stoked!  The mystery that comes with dredging a fly down deep on the ocean blue always excites me.  While yellowfin tuna is the most likely fish we'll hook, there's a bunch of other potential fish as well.  Today I started us off with this fantastic black skipjack tuna.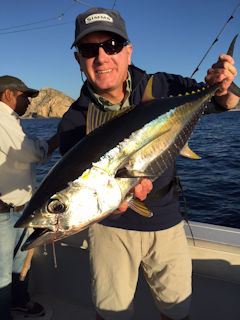 At nearly the same time Sammy got that underwear ripping run on his first cast and it wasn't the average yellowfins we've been catching.  This fish was the real deal providing a near spool clearing run followed by backbreaking battle that took Sammy nearly ten minutes.  We didn't stop there either.  Sammy caught yet another nice yellowfin.  Then I got broke off.  I was ticked but when you play with the big boys **** happens.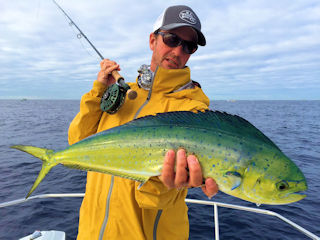 The ocean became calm for an hour.  I was making long casts letting my rig sink and stripping back to the boat.  As I was gazing at my second sea snake of the year (first was off Dubai in April) I hooked this acrobatic peanut of a dorado.  After a trout style hero shot I released her safely to make us more of this incredible fly rod fish.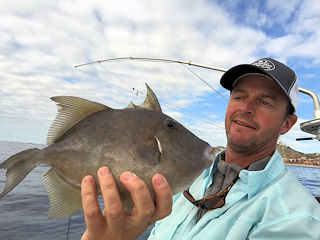 I added yet another new species for my list before we went looking for marlin.  Right after the juvenile dorado I kept getting whacked down deep and after three turns of the reel I'd lose the fish.  I was getting frustrated because I knew it was a mystery species and I had to find out what it was.  Finally, I kept one on all the way to the net.  This is the less than glamorous finescale triggerfish, but a new species nonetheless.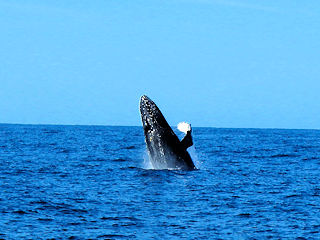 If the tuna, dorado and triggerfish bite was good perhaps the marlin bite was also.  It was hard to pull away from the dredging but soon the hum of the dual outboards was the only sound and teasers danced behind the boat.  We haven't seen a ton of whales this week but today they were everywhere.  Something seemed different and my confidence was high.  But after one hour, two hours, and then three without a sign of a marlin I insisted Sammy take over.
Sammy was reluctant to take over marlin on the fly duties.  It's the kind of guy he is.  Sammy truly wants me to get a marlin more than him.  But it didn't seem right to keep wasting our time.  What if I really am cursed?  Sammy took over and in less than thirty minutes we teased in the hungriest striped marlin I've ever seen.  Sammy had trouble sticking the hook in him but after each unsuccessful try the marlin came back for more.  Finally, on the fourth attempt the line went tight.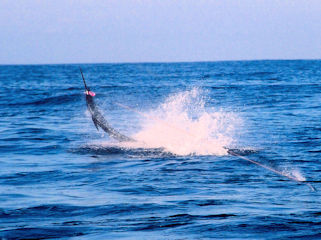 This stripy was seriously crazy.  Once hooked he refused to take off and instead rather hung around the back of the boat looking for the teasers with Sammy's fly sticking out of him.  Sammy had to hit him repeatedly before he realized he was in trouble.  Once he finally fought he jumped and unfortunately the fly came lose.  Sammy's caught many striped marlin on the fly so despite losing this one it was all high fives for jumping one!
Thirty minutes and Sammy had a hungry marlin to cast to.  Three days and I've yet to cast.  It was my turn again and we went the rest of the day without seeing a marlin.  I do believe in curses but like I said to start todays blog, I'm at peace with this week with the tuna bite.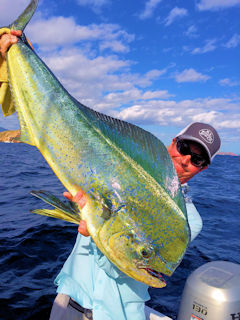 I must mention however that we enjoyed our second dorado blitz of the week.  We thought we had a marlin toying with our teasers.  Whatever it was hit hard and disappeared but came back a minute later.  Eventually we took the teasers out and I made a blind cast with the marlin fly.  Out of nowhere came a truly massive dorado and I nailed him.  And as I was fighting him Sammy hooked his friend.  Today was perhaps the most memorable bluewater fly fishing day I've experienced.
That's all I can write.  The salt makes a man seriously exhausted.  Tomorrow is our last boat day and Sammy and Grant intend to break my marlin curse.  We'll see. . . . . .