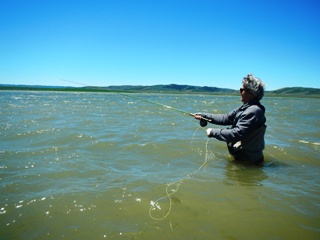 You might remember last year when a couple old customers/good friends from my fly shop times traded some fishing days with me.  They said take us fly fishing for carp and we'll take you to Bolivia for golden dorado.  I really had to think hard on this but I decided to do it – HA!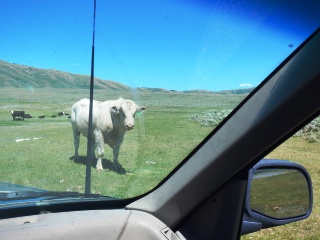 Tom Hansen and Skip Brittenham are in Jackson Hole this week for the 4th of July so I took them carping today and will again on Thursday.  Last year I tuned them on to carping on a small lake with numerous easy to catch mirror carp.  Today we went straight to the bull infested more difficult to fool monster carp of Blackfoot Reservoir.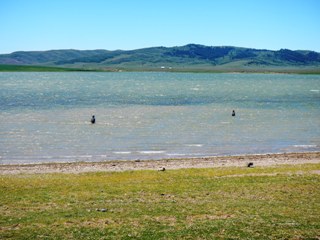 I met the guys in Alpine at 8 AM to clear skies and relatively no wind.  Carp is a sight fishing venue so sun and little wind are essential.  It takes about 40 minutes to get to the lake from there and then you drive along looking for tails and muds.  If you find one mirror carp you've found a bunch and usually you can stake up on them for the entire day.  But when we arrived it was already windy.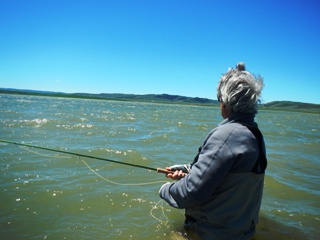 In 2014 it seems the wind never stops no matter where I go.  Some of you see me on the casting ponds demonstrating at the Fly Fishing Show in the winter telling you wind is your friend.  It can be but not when it's blowing a steady 25 mph day after day.  My boys toughed it out but for the most part it was miserable at Blackfoot Reservoir.
That being said however, giving up isn't really in my DNA.  I have one small stretch of Blackfoot that is almost always sheltered from the wind.  Sure enough it was and the guys got into some fish!
Next on the agenda is one of my favorites – The Henry's Fork Marathon!