Atlantic Salmon Fishing on the Sela River
Categories: Uncategorized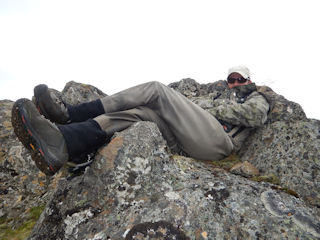 I could've easily slept more this morning.  Not only was it cold and wet outside but I felt aftereffects from our after dinner party last night.  I'm not sure what time we went to bed but it was after 2 this morning.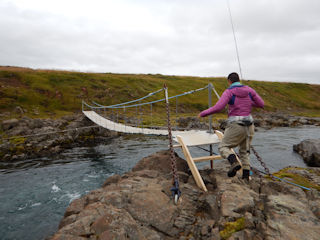 The good news however is that we had Beat 2 which meant fishing from the Selá Lodge.  All we had to do was meander down the hill to the river and cross the rickety suspension bridge.  Ingo and I sent Granny ahead.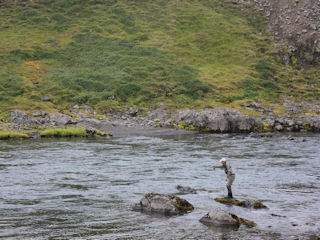 I fished first which was good to get my blood flowing.  Ingo tested my stability sending me out to a slippery rock to cast from.  I was almost certain to fall in and freeze to death.  Luckily I didn't but nor did I move a salmon.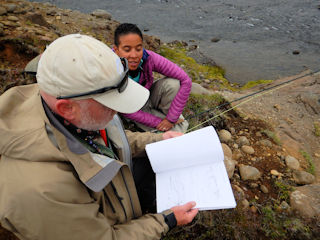 Granny grabbed the next pool directly below the lodge.  Ingo coached her along but to no avail.  This was a wide section of river and after Granny completed her run Ingo felt like it needed to be covered again.  He broke out a prize possession of his.  He had and old man friend that passed away recently.  The old man fished the Selá his whole life and mapped every pool in the river.  He left the precious information to Ingo and he wisely had it along.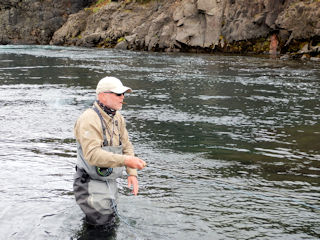 The far side of the Selá needed a more thorough attempt with a smaller fly according to the manual.  Ingo pieced together his 11-foot spey rod, lit a cigarette and proceeded to pick apart every inch of water on the far bank.  It's impressive to watch a pro spey caster cover water.  It's a technique I wish I had time to get better at but until more salmon or steelhead fishing comes my way it needs to wait.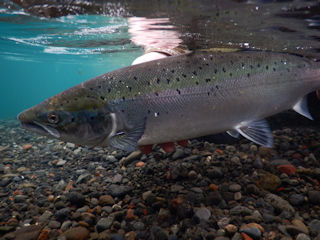 Ingo made us proud when he hooked up with a salmon on the far bank that was out of reach of Granny.  It was by no means a major battle on that big spey rod but a salmon nonetheless.  It was chrome in color meaning he just arrived in the river last night.  It was a gorgeous Atlantic salmon of 60cm.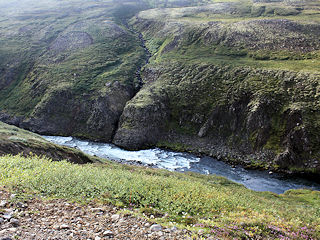 We wrapped up the morning session early for a little extra rest before the evening session.  This evening we went to Beat 7 which is the most demanding as far as hiking and wading of all the beats on the Selá River.  I gazed at the stretch as we drove past it going to Beat 8 yesterday.  To me it looked like fun with all the climbing but the locals disagree.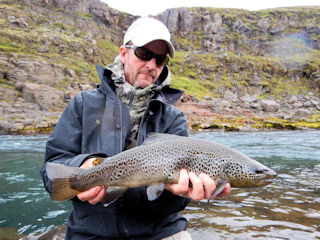 When we got to Beat 7 the day of drizzle turned to a night of rain.  Wet dirt and slippery rocks made for a fiasco down to the first hole.  It was the worst conditions you could have.  But I lucked into some action right away.  The fish took off so hard and strong that we assumed nice salmon.  Instead it was another hefty brown trout larger than the one I caught yesterday.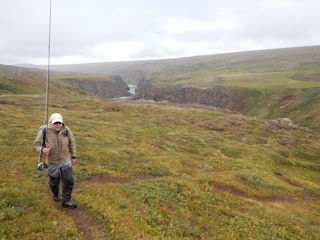 Ingo and I descended into several more pools.  There was a ton of up and down through the rugged section of the Selá.  The rain continued to fall and at times was a downpour.  It rained so hard we could see the river level rise inch by inch.  I rarely get to fish I rain so I was invigorated.  Ingo on the other hand had enough early.  He actually slipped and hurt himself so for most of the night he kicked back and followed me from his car.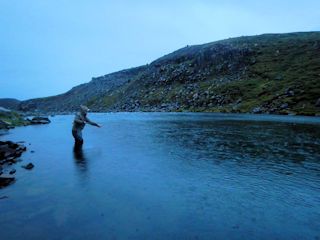 I fished hard through the rain right until 9 PM sharp, stopping time.  I thought with the fresh rain through the day the Atlantic salmon would be active but only managed one more brown trout.  Ingo made it out of the car to join me on the last pool of the night, named Krokur.  There were fish jumping but nada.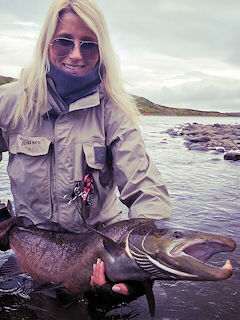 We returned to the Selá Lodge to learn that another huge salmon was caught by another of the Icelandic gals.  This beast was 103cm!  A true monster and fish of a lifetime!
Tomorrow morning will be our last session of fishing then it's back to Reykjavik and on the plane home.  It's hard to believe this incredible journey through three of Iceland's best Atlantic salmon rivers is at its end.  It's been good though.  We'll see if we can pull off some "Currier last day magic" for a grand finale.
Thanks to Icelandic Fly Fishermen for bringing Granny and I on this unbelievable trip.  When you're ready for Iceland feel free to Contact me.