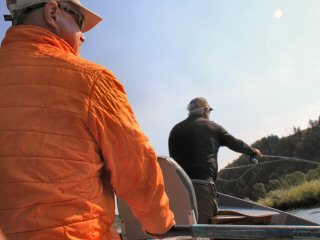 What a treat it is to be on Gary Eckman's Good Times Team in the Jackson Hole One Fly.  Not only does Gary sponsor me to be one of his teammates, but he also splurges on a few guided fishing trips so we get practiced up before the tournament.  Usually the guides just so happen to be pals of mine making it extra fun.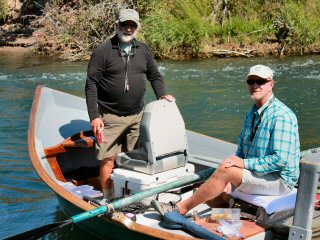 Today Gary booked us on canyon of the South Fork with Ed Emory, better known as Bead Head Ed.  Ed is well known because he is one of the top guides on the South Fork and he's been guiding forever.  I've fished with Ed many times and it so happens he was my guide in the One Fly last year on day one.  We had a tremendous day that led to me taking home the 1st Place Individual award.
Today was practice, but to get the best out of practice you need to identify your weakness and use the day to improve.  For me I simply needed to get comfortable with the legal One Fly set up of a floating line and only one fly instead of my usual multiple fly rig.  In addition, I tested Scientific Anglers 16lb fluorocarbon tippet to see if the fish would eat my streamer attached to it.  16lb is where the tippet starts getting thick and many don't believe fish are dumb enough to eat a fly attached to it.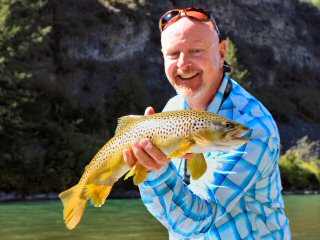 The verdict on today was that a cold front blew in.  And I mean BLEW IN.  I just looked it up, the wind gusted to 34 MPH!  It was hard to see through the white caps.  It was hard to cast.  It was hard for Ed to row.  And the fishing was slow.  The few follows we had from decent trout were for the most part, just that, follows.  I caught four fish that would have measured.  Gary caught three.  And Ed did some fishing as well and he caught three and the biggest, this handsome brown trout.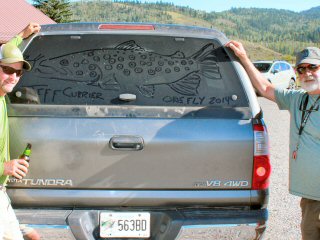 She'd of been a tough day in the One Fly if today counted.  Luckily it was practice.  But then again, the playing field is the same for all.  Back out tomorrow to fish with Ed and our newest team addition, Cooper Eckman.  More tomorrow.