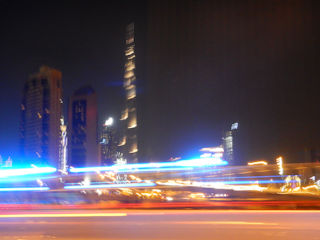 The night was short.  Sammy and I flew a redeye from Mahe, Seychelles to Dubai, United Arab Emirates arriving at 4:20 AM.  I slept 3 hours so at touch down I was rested and ready to bust through customs.  Sammy tagged along wearily for two reasons.  He was tired but also on edge.  This is Sam's first time in the Middle East and like many Americans, he's expecting trouble around every corner.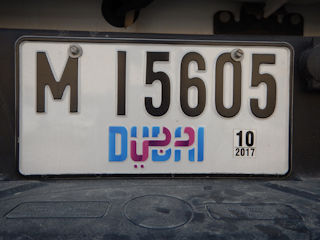 I've spent much time in the Middle East and particularly in Dubai.  I can tell you the people are wonderful; the culture is amazing and I've had nothing but great experiences.  I love it here and soon after customs we were at my friend Nick Bowles house scrambling to get our 9 and 10-weights rigged for sunrise.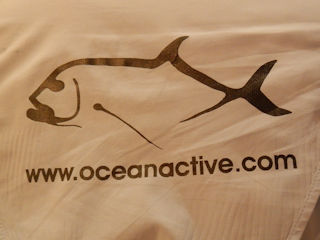 Nick is the owner of Ocean Active.  Ocean Active is a tackle shop/fly shop and a guide service that specializes in fishing around Dubai and the neighbor country, Oman (Granny and I fished Oman in 2015).  He's gradually adding Abu Dhabi as well and in fact we'll head up there later this week to do some exploring.  If you ever come to Dubai or can arrange a layover of a day while enroute somewhere else, fishing with Ocean Active is a must.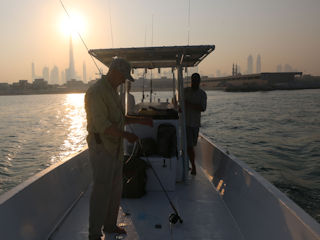 We didn't make the water by sunrise but it was close.  Nick and his mate Noan motored slowly out of the harbor while Sammy and I rigged up size 2 Clouser's for queenfish.  Good colors are chartreuse and white or gray and white.  Most important is that the flies are sparsely dressed. Queenfish can be finicky.
Fishing under the city of Dubai is amazing.  If you fly fish often I'm sure 99% of it is done in remote places as far from humans as possible.  Usually the more humans the worse the fishing.  But not here.  The Tallest Block in the World looms over every cast, boogie boarders come close and parachuters jump from a plane above you.  Yet there are fish.  Sammy was awestruck.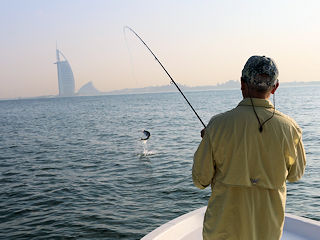 We weren't fifteen minutes out of the harbor when near the famous Burj Al Arab Hotel we found our first school of bait busting queenfish.  Nick and I watched as Sammy came to life and launched his cast.  One strip and he was hooked up.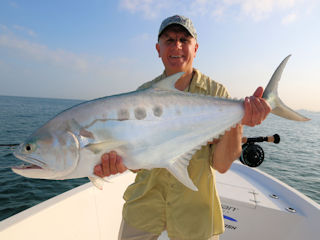 There are several species of queenfish.  These are the talang queenfish (the biggest) and here in Dubai they often reach 15lbs.  This bad boy was a lunker and he beat the daylights out of Sammy.  No doubt he wasn't expecting it.  The best thing about queenfish, unlike jacks that they're compared to, they jump several times.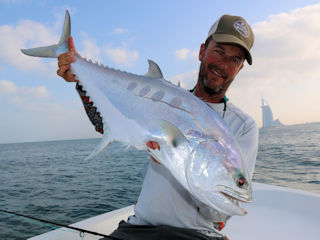 That first fish blew Sammy's mind.  No doubt, after a challenging week in Farquhar he wasn't expecting to be holding a huge fish two hours after arriving in Dubai.  But trust me folks, this place has an unbelievable fishery.  As long as I keep sticking fish with regularity here in Dubai, Nick Bowles and family will be stuck with me!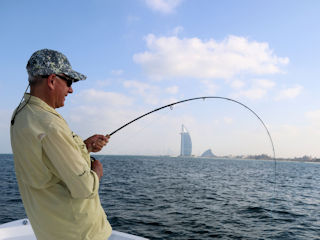 Sammy tore it up this morning landing ten big queenfish!  I was struggling from the back of the boat landing only the occasional queen while he was bent constantly.  These fish stretch the arms so bad Sam was begging me to switch places so he could rest.  I refused with a smile on my face.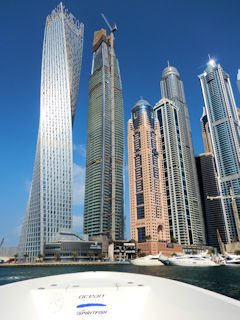 This week stopover in Dubai is no doubt for fishing.  But it's also meant to be a "true" vacation.  Sammy has a stressful job and hasn't been away from home for this long in 25 years.  For me, I'm about to start a three-month speaking tour giving seminars and talks on fly fishing.  This week will include some relaxing.  We reeled in at 11 and motored through the Tallest Block in the world for a decadent lunch – courtesy of Sammy.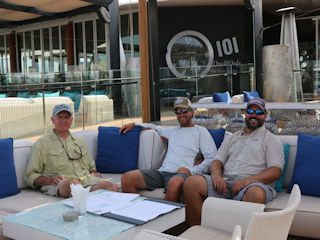 Our plan was to eat at the Yacht Club.  For the second try in a row (Nick and I tried after landing a huge golden trevally 2015) we were too early for beers.  Instead we headed to the outskirts of town and had a phenomenal lunch and beers at 101 One and Only.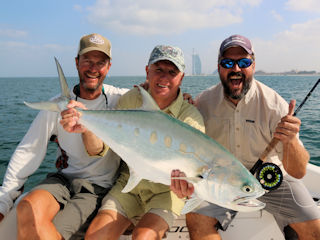 After lunch Sammy slugged out yet a few more queenfish.  I battled Sammy to stay in the back of the boat where I accepted an afternoon blank.  Such is life.  It made my day to see Sam catch so many amazing fish.  It was truly a fishing day for the history books for any angler.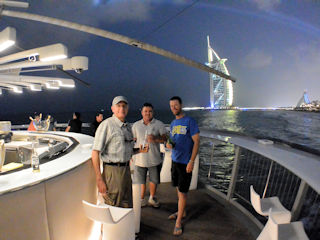 There is some beat news.  "Monsoon Currier" strikes again.  A storm front has moved in and will last the next four days.  In the Middle East, this means 30 knot wind with gusts to 40, cold temps (upper 60°s) and believe it or not, possibly Dubai's first rain in a year.  Nick took Sammy and I to see the incredible Al Qasr Hotel then to the outdoor establishment, Pierchic Bar.  I can honestly say I froze my butt off.  There's been a huge drop in temp since we got off the water this afternoon.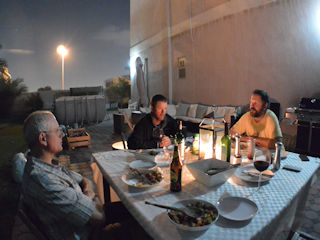 Despite exhaustion, when we returned to Nicks around 10 PM tonight we lit up the barbecue.  Nick broke out the fine red wine and we stayed up catching up till the early hours.  Life is so damn good.  I just hope tonight wasn't our last barbecue of the trip due to this dang weather I caused!
Dubai is a common layover enroute to the Seychelles.  I highly recommend staying here at least a day.  Get rid of the jetlag and wet a line with my friend Nick Bowles and Ocean Active for queenfish and more!