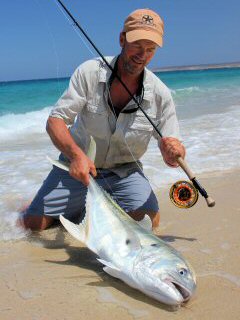 The last day of Baja 2017 (unless I return in Dec) was a full one but a bust.  The wind cranked in our face all day from the beach and we saw one roosterfish and no jacks.  Granny will have to come back for her first roosterfish.  In general, major fish were slim pickings.  We got two roosters and two jacks.  At least this Pacific jack crevalle from last night was as big as some GT's!
Overall it was a fantastic trip but next in line is a trip to NH mainly to see family.  Next weekend is Moms 75th birthday and it will be good to check in and see how dad's doing.  I can promise some days in Back Bay on Lake Winnipesaukee and plenty of warmwater fishes.
And, its official, my annual Henry's Fork Marathon will be Tuesday June 20th, the second longest day of the year.  We will meet in the Last Chance parking lot at 7 AM.  Or if you want some campfire time Granny and I will be camped in the gravel pits on Monday night at around 8 PM.  Everyone is welcome to join on this fun long day of fishing that will end around 11 PM Tuesday night with beer and good food at TroutHunter.