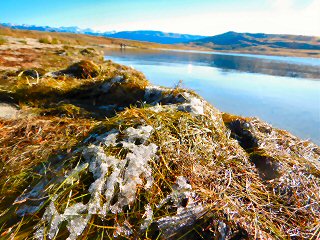 Since teaching fly fishing to veterans on Monday the Yellowstone Country has been doused with needed snow and rain.  My lawn is as green as it was in June and the leaves are changing.  When we got to Kubswin Lake today there were tiny remnants of snow on the ground.  Word has it that yesterday there was 4" of the white stuff covering this unique part of the western desert.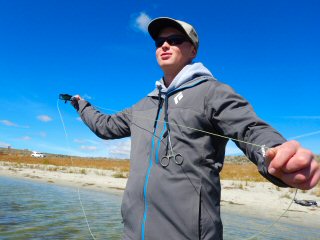 I fished with friends Tim Brune and Gary Eckman.  Along with us was surprise guest, Cooper Eckman.  If you've followed the blog over the years you've watched Cooper grow up fishing in and around Jackson Hole.  Cooper is now a freshman in college in Utah and this weekend is a rare time that he'll be around for fall fishing up this way.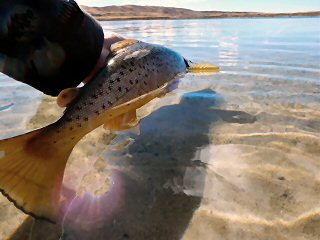 With the Chicago Cubs tearing it up it made perfect sense to me to align a trip to famous Kubswin Lake.  Actually, that's only part of the reason.  Kubswin Lake has some fine brown trout and brook trout fishing and September is the best time to catch them on their last big feed before they focus on spawning in October.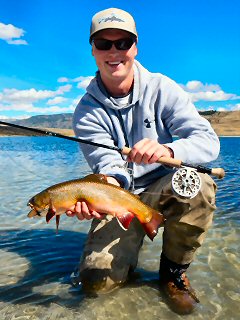 Fishing was challenging but we managed a few.  I hit them hard with a Callibaetis nymph and a strange epoxy ant fly I stripped slowly just under the surface.  Young Cooper succeeded landing a brown and the two biggest brook trout of his life (wait till someday when he gets to Labrador!).
I am a serious Cubs fan and as crazy as it sounds, I'm hoping to miss some fishing days for October baseball.  We'll see but the Cubs are hot and I'm listening to almost every game on my XM and watching when televised.  Next on the agenda is teaching veterans to fly fish again on Monday then possibly redemption on the carp on Wednesday.  My carp season can't end on last Friday's sucky fishing!