Chasing Atlantic Salmon on the Hafralonsa
Categories: Uncategorized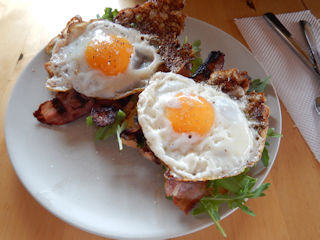 Although its August and Iceland no longer has 24 hours of daylight, there was light at 11 PM last night and the sun came up around 3:30 AM this morning.  Close the shades before bed and save that eyepatch the airlines gives you on the flight over.  Atlantic salmon fishing in Iceland takes stamina.  Perhaps that's why Ingo busted out one heck of a breakfast before we hit the Hafralónsá River today.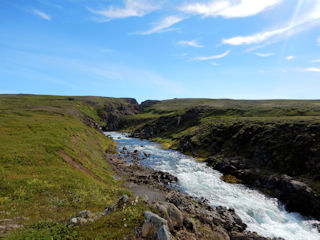 All Atlantic salmon fishing in Iceland is private and you must buy fishing beats.  Granny and I are lucky dogs because Icelandic Fly Fishermen sells beats on many of the best rivers and we're friends with the founders Ingo and Siggy.  For nine days we're their guests.  When you're ready for an Atlantic salmon feel free to Contact me or visit icelandicflyfishermen.com.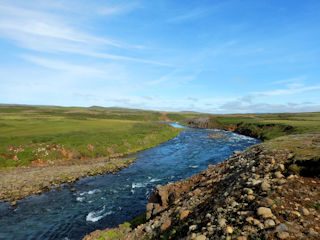 The Hafralónsá River is broken into two beats – the upper and the lower and there are 55 official salmon pools.  Today we had the upper which meant a bumpy dirt track for an hour up to a spectacular canyon section.  This river stands out as a "classic" Icelandic salmon river.  I slapped myself ten times today because it's so hard to believe I'm back again!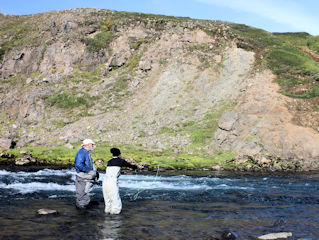 Granny entered the first pool of the day with guidance from Siggy.  Ingo and I kicked back and watched.  My goal for this trip is to watch my wife nail her first big salmon.  This is a great fish she knows little about and I think the best way for her to understand is to work her butt off a few days then finally land one.  There's no guarantees however as salmon numbers are low this year in Iceland.  She and Siggy worked over this pool for an hour without seeing a fish.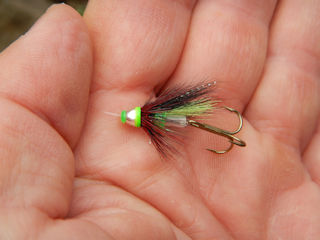 We drove all the way to the top of the beat to pools 52-55.  There's a fork in the river here and the river shrinks in width and depth.  We peeked over the edge of a cliff on number 53 and there were about ten salmon.  My heart skipped a few and I looked at Granny.  It was a steep spot and not liking heights she said they're all yours.  I said, "No problem" and tied on the Metallica which worked for me last night.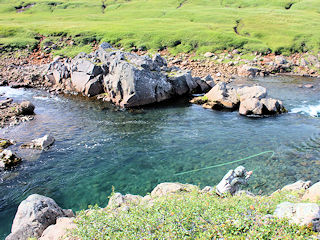 It was an easy climb to position.  What was hard was making sure the wise salmon didn't see me.  I treat every fish on the planet like a spooky Yellowstone trout.  Simms camo jackets aren't quite the Tweeds Atlantic salmon anglers often wear but I'll take cover-up any day if it helps me succeed.  My first cast went straight towards the biggest fish of the pool but a bodyguard grilse charged into action and devoured my Metallica.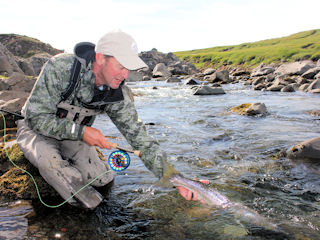 I did my best to yank the young salmon from the pool without disturbing the others.  I heaved and climbed backwards testing my 16lb Scientific Anglers Flouro to the max.  I managed to pull the fish from the pool and he did most his fighting at a safe distance.  I landed the 55cm grilse and released him but when I returned to my perch the big fish were gone as were most the others.  We don't call small fish hanging near big boy's bodyguards for nothing.  The pool was done.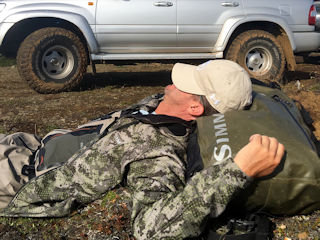 Salmon fishing times are regulated in Iceland no matter where you're at.  Fishing hours in late August are from 8 AM to 1 PM and again from 3 till 9 PM.  Normally you bust out of the waders and retreat to your accommodation for lunch and a nap but the upper Hafralónsá is such a drive we stayed up there all day.  We ate sandwiches and took power naps on the ground.  Looks like I needed mine.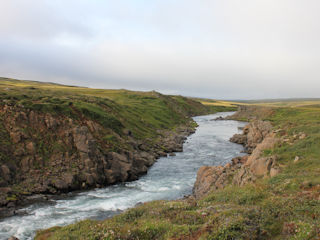 The weather has been unusually nice for Iceland since we got here on Wednesday.  There are changes in the air however that began when we started up the afternoon session.  We were greeted by cold wind and some low hanging fog and clouds.  It didn't stop us from fishing but you certainly didn't want to fall in the river.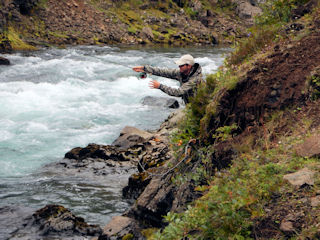 The evening proved slow for us.  I had another grilse to the fly but I made a common mistake of setting the hook on him like on a trout.  With salmon you must wait for them to turn after they take your fly then set.  This means actually giving them some line then gently lifting the rod.  I'll screw up many more if I don't break my trout set habit.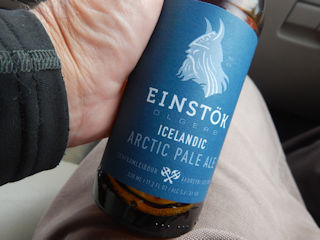 Any day you catch an Atlantic salmon is a good day.  We fished hard on some amazing water today and we'll do the same tomorrow.  Tonight Ingo made fajitas that were to die for.  There's nothing better than a great meal after a long day of fishing.  And when in Iceland you should always wash it down with a few tasty Einstök.
Thanks to Icelandic Fly Fishermen for bringing Granny and I on this unbelievable trip.  When you're ready for Iceland feel free to Contact me.