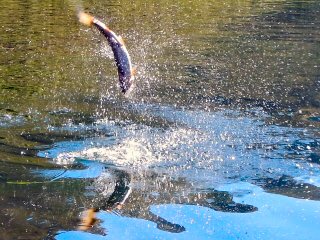 Today was our last fishing day in Lesotho and to say it went well is an understatement.  I awoke at 4 like most days here in Africa.  I told Granny I was making us coffee and then going down to the camp pool to catch the huge rainbow I missed yesterday.  She got up but wasn't confident enough in my plan to meander down the steep trail just yet.  Instead she witnessed this first jump all the way up from our hut.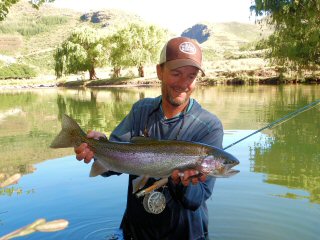 The rainbow jumped at least six times completely clearing the water more like a steelhead on an Oregon river than a rainbow from a small stream in Africa.  He couldn't hold back on my flying ant pattern for the second day in a row.  This time I hooked him.  His battle lasted nearly five minutes on my 4-weight Winston.  As I landed the incredible rainbow Granny arrived in time to click of a few memories.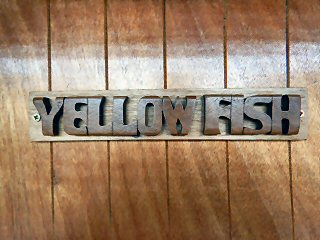 The first part of the day worked out like a dream.  Next in line was to put a spanking on the smallmouth yellowfish.  Instead of joining my friends of Tourette on a long march upstream, Granny and I opted to fish from camp up.  I fished these nearby pools on that cold, cloudy, windy first day and was blanked.  A little redemption wouldn't hurt while perhaps luck was in my favor.  After breakfast we headed on down the steep trail past the camp pool and started hunting for fish.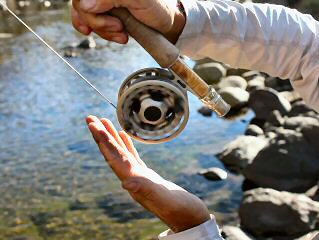 On that difficult first day I had a yellowfish munch my Carty cicada on the next pool up from the camp pool but I lost him.  When we got to that same pool today a yellow was mulling around.  If these fish hold territories anything like a trout than this was the same fish.  I offered the opportunity to Granny but she was comfy watching.  I was crouched behind a rock and when the fish turned his back on me I dropped my ant to his side.  Without any hesitation he ate.  I hooked him and he spun line off my reel just like the other day.  The only difference today, he didn't get away.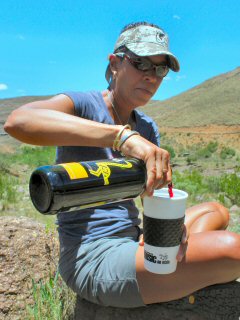 Granny and I fished today the way we used to in New Zealand.  The fishing is tough there as it is here.  I always carried a bottle of wine in my pack.  When we caught a fish we took a few moments for a small glass of it.  Well, I carried a nice bottle of red that I purchased in Clarens for each yellowfish today.  We didn't expect to be divulging so soon but there were no complaints.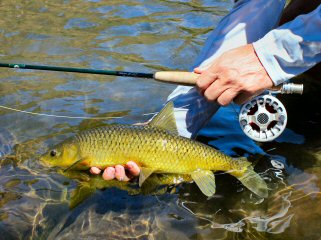 The wine drinking slowed us down which is exactly what you want when sight fishing.  We moved slow and methodically.  Granny and I are a dangerous team because I have good fish spotting eyes yet Granny's may be better.  After that first glass we wandered to the next pool and nailed another yellow and poured another wine.  The weather was hot sunny and calm.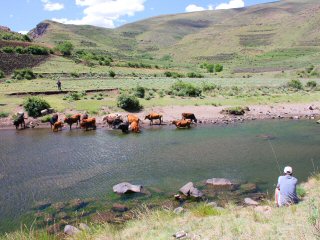 Granny and I managed to finish our bottle of wine with ease before we left the third pool.  In fact at the third pool we landed three yellows and perhaps would've landed more had a young Lesotho boy not watered his animals before us.  We didn't care though.  When you're in a foreign land far from home it's not only about the fishing.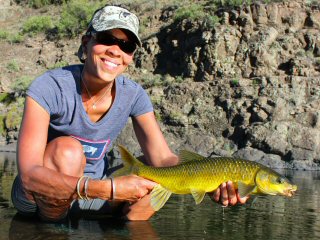 Naturally, even after the wine was gone Granny and I continued.  We fished hard right up till the sun was gone and spotting fish became too difficult.  We ended up landing a total of seven of the golden gamefish of Africa.  Granny slammed the last fish in Lesotho for us THIS TRIP.  We had so much fun and enjoyed stalking the yellows and the huge trout here at Tourette Fishing's Makhangoa Community Camp that we must return to see it when it's not in drought.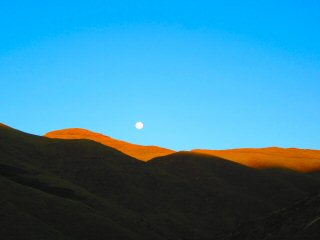 We got back to camp about the same time as the Tourette boys.  They went far upstream and had excellent fishing as well.  We kicked back outside and shared the day while the sun set over the mountains and at exactly the same time the full moon rose.
It was the last night for most of us so as you expect we celebrated our fantastic time together.  We finished the rest of our Maluti Beers and South African wines and every piece of meat we had left went on the fire.  The third chapter of this amazing journey comes to an end tomorrow when the guides of Tourette Fishing drop Granny and I off in Clarens.  Stay tuned for our next and final segment of this kick ass adventure.
A special thanks to my friends of Tourette Fishing – Fight it in Africa for bringing Granny and I to the Kingdom of Lesotho!