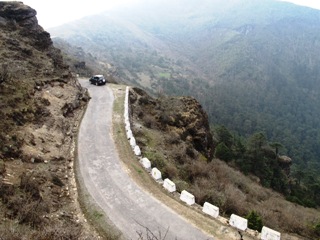 Yesterday was a fun day of fishing – what Mike Dawes and I can remember of it.  Seriously, going straight from 40 hours of travel to the water immediately upon landing in Bhutan was grueling and both of us were undoubtedly delirious by the time we reeled in.  But we caught fish, had a good dinner at the resort followed by a good nights rest.  Therefore at 5:30 AM we were in the car with Jigme and Sangay heading to the Haa Valley.  One major difference however, today we had the raft we flew around the world.
The Haa River runs through the Haa Valley.  The river is known for its trout fishing and therefore it's important that Dawes and I got to sample it.  We also had an appointment with the fish hatchery so we could see their fish and chat with the manager.  We wanted to see how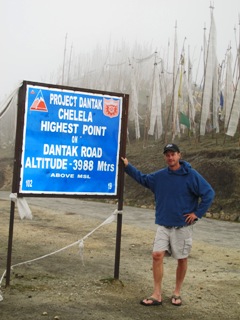 they run their facility and give them an idea what a fish hatchery in the USA is like.
Our drive to Haa was no less than thrilling.  If you've not been to the Himalayan foothills it's hard to explain, but driving anywhere requires going over absolutely incredibly high mountain passes.  For instance even though Haa is only about fifty miles away from where we left this morning in Paro, the drive took two hours because of winding roads with marginal guardrails up to elevations where planes fly in the rest of the world.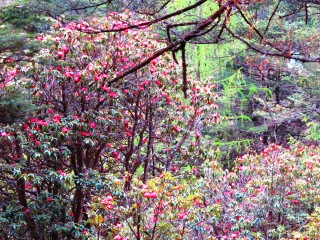 The scenery makes up for any scary cliffs you straddle.  As you go up in elevation the views can be mind blowing.  Also with the change are new kinds of flowers and different species of trees and shrubs.  The most eye catching plants to me are the wild rhododendrons growing everywhere.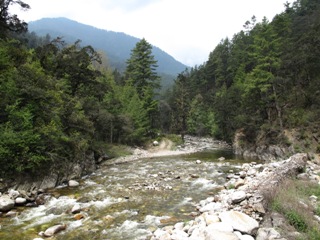 The temperature in Haa was noticeably cooler.  The skies were partly cloudy and we had plenty of wind.  After dropping in to the town of Haa we crossed the river.  Unfortunately it's towards the end of dry season and there's not enough water to float.  About then we met the fish hatchery manager Singy who told us not to worry and suggested we wade fish one of his favorite areas.  Dawes and I hopped in his car with him and we hit him with a million questions about the fishing in Bhutan.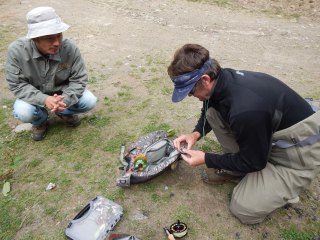 Like yesterday on the Paro River, you must have a permit to fish the Haa.  Because Dawes and I are on a consulting project our fishing permits are all set up.  The area Singy took us too was downstream ten miles from town.  We drove  a dirt road for twenty minutes to where it left the river up another pass.  Dawes and I rigged up there under the curious eyes of Singy.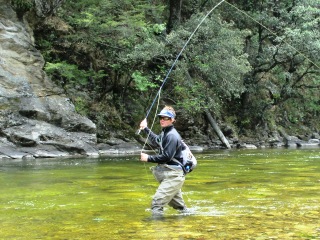 I've been dying to try my new Sharkwave GPX fly line so I rigged it up on my old Gunnison Reel last night so I'd have it today.  I wadered up and tied on the same orange Stimulator I used yesterday.  Dawes decided to work upstream so I watched him for a few minutes but after he stuck two browns I had enough watching and strolled downstream.
As I walked downstream I came to another reasonably sized stream coming in.  The clear river was amazingly pristine and upstream was a wood bridge with a local marching her cows across.  The beauty enticed me to put off the Haa River for a few and make some casts.  Sure enough, I went on to land six wild little browns which coaxed me into continuing onward.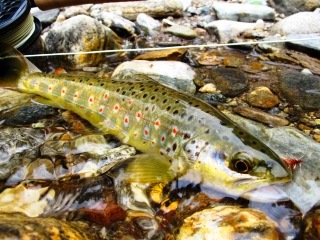 Dawes and I had an amazing day of fishing in the Haa Valley.  Like yesterday on the Paro, the brown trout were small with our biggest barely 13".  But to me, anywhere I catch wild trout without other angling pressure gives me a tremendous feel.  Furthermore, these browns were incredibly beautiful with their unique red dots over bluish par marks.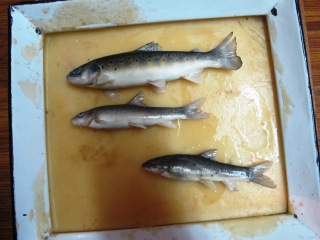 We wound down our fishing at around 5 and Singy took us to his fish hatchery.  The hatchery is primitive to what we have in the States but efficient enough that it held plenty of nice trout, including rainbows.  Fortunately, Bhutan doesn't intend to stock any of the rivers already containing wild brown trout.  Singy and his staff were eager to hear our thoughts and then showed us samples they have of many of the fish in Bhutan.  One fish is the snowtrout which isn't a trout at all but rather a barbell type species similar to the mahseer.  They get big and both Dawes and I would be delighted if we caught one.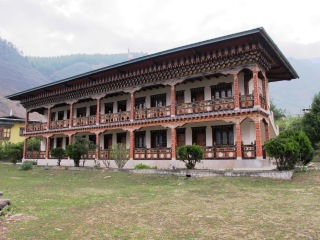 Tonight we're staying in Haa Valley at the Irigsum Resort.  It's quite cold here and we just finished up a spicy good meal.  And of course we consumed a few tasty Bhutan brews called Druk Lager Premium Beer.