Spring Tide Challenges and a New Species
Categories: Uncategorized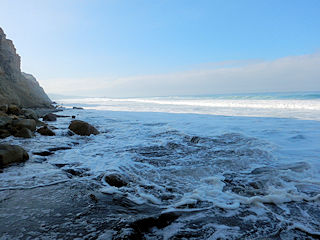 I leapt from bed early this morning here in Encinitas, California.  Granny and I were eager to get to the Torrey Pines State Beach.  She wanted to do a run while I was aiming to once and for all catch my elusive corbina on the fly.  When we got there at 10 AM the tide was high and the waves dumped a frothy mess of mud and foam against the rocks.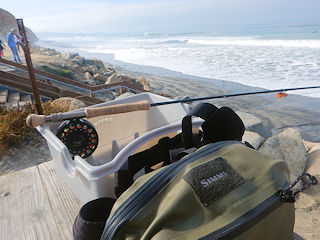 Tides play a huge factor in saltwater fly fishing.  I knew high was at 9 AM and that because of the present full moon it would be a spring tide (highest high tides of the month).  Prevailing wind made the tide higher than high and the wind created larger than large waves.  I'm disappointed to say I sat in one place for three hours and made a mere ten minutes worth of casts.  Fly fishing the surf was useless this morning.
We had till about 3 PM before returning to Encinitas to grab a bar stool for the Cubs game.  We went to the river near Del Mar.  It looked grim but I grabbed my rod and tossed some flies and low and behold I caught a barred sand bass (Paralabrax nebulifer).  He's tiny but a new species for the list nonetheless!
I caught another fish as well, a spotted bay bass (Paralabrax maculatofasciatus).  I've caught heaps of these in Baja but I'll take more any day.  It was a tug and man was he pretty.  It's amazing what you can do simply by keeping a fly in the water.
So the fishing was challenging today but what a Cubs game!  Granny and I celebrated hard and the Cubs are up Game 1.  This is my favorite time of year and to have the Cubs competing in the NCLDS – doesn't get any better!