Spruce Creek and a "White Out" at Penn State
Categories: Uncategorized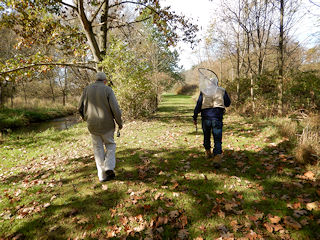 It shouldn't be this warm on a late October day in Pennsylvania but it is.  And I like it.  It was a magic morning heading out on Spruce Creek with Joe Humphreys and Jerry Arnold for our second day of fishing.  The leaves were falling and the trout were hunting.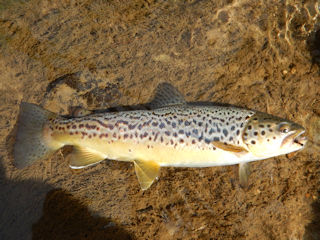 I fished my flying ant all afternoon yesterday and it was conveniently ready to float again today.  The first uniquely marked brown trout I cast too was more than happy to eat it.  The day started remarkable with trout after trout falling for the terrestrial.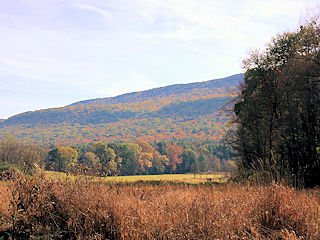 The three of us marched far downstream from the car.  It's an easy walk and enthralling for me with the huge oaks, maples and hickory trees dropping their leaves.  We don't have this type of terrain out west.  Every place has incredible beauty when you look at correctly.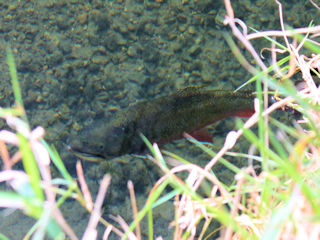 I was engrossed and stood and watched my surroundings.  Joe was below and Jerry above.  Each were working a fish.  That's when out the corner of my eye I noticed I was being spied on by a large brook trout.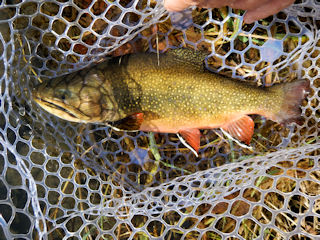 The nice-looking char startled me at first.  I dropped to my knees as if he didn't see me.  But my presence was long announced.  I tossed my ant pattern regardless and the trout gave me that look "are you joking dude?".  That's when I made a rare "Currier" fly switch to a Vladi Trzebunia Polish nymph.  It's a dirty deed on a spring creek when the dries are on but this brookie had to be caught.  Three casts with the heavy caddis larvae and soon Joe was netting my brookie.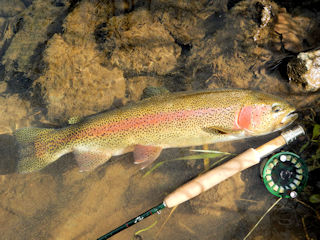 I caught a heap of nice fish this morning.  There was an oversized brown trout that had no business eating a tiny ant.  But he did.  And I caught several fantastic rainbows on the ant as well.  It was a stellar morning and early afternoon.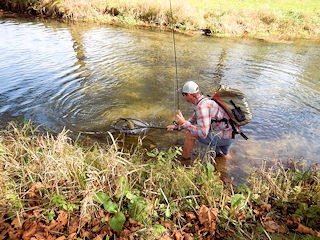 Hands down the fishing highlight of the outing was doubling up with Joe.  I was working the bottom of the pool and he the top.  Simultaneously we hooked up.  My fish was a mere 13" rainbow but Joes was a hawg.  The immediate plan was for a double hero shot together.  I netted my fish then waited for Joe to land his.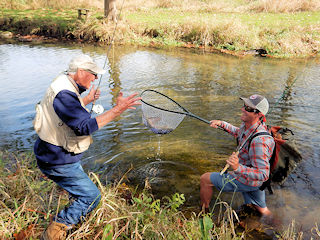 Joes trout was significantly larger than mine.  It took him awhile to get the beast under control.  At least four times the fish came near to me to try and net but it still wasn't ready.  One time I made a lunge but missed and my fish jumped out of the net. I had to start completely over.
After a few minutes of chaos, I finally scooped up Joes big rainbow and had two fish in the net.  It was a lot of fun and the three of us laughed loudly.  When I finally lowered the net to the water to undo each fish and release them I got a really good look at the two fish.  Mine was a midget compared to Joes.  And that's the way it should be!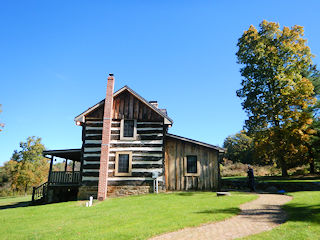 After the double it was 2 PM.  Though our Penn State vs Michigan "White Out" Football Game wasn't until 7:30 we had some tailgating to tend to.  We raced for the car and packed it up.  We returned to Joe's lady friend, Ann's cabin, that we moved into yesterday, then headed for town.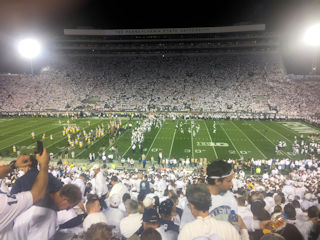 The Nittany Lions stadium holds 110,000 people and tonight somehow they held 110,823.  To say downtown State College was out of control is an understatement.  Luckily, Joe is experienced at this and we took the bus right to the tailgate parties.  There were hundreds of parties and I swear Joe knew someone at every one of them.  To see a man 89 years old party down like a college kid is a sight to behold.  The man is incredible!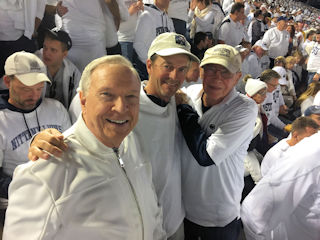 Joe has season tickets to games and they are great seats.  Every single person there including Joe, Jerry and I were wearing white.  It was an unbelievable sight that no doubt I will always remember.  I love Cubs games and Wrigley Field but this was an experience!  Best of all, Penn State won and Joe and his family are ecstatic.  Tonight was a huge game for them and their season is shaping up perfect.
Its 1 AM.  Its back to fishing in the morning.  Time for a short sleep.
Don't forget Christmas is coming fast.  Check out my new fish decals.  There's a chance for some free decals too!  And as always – my coffee mugs and beer steins are the ultimate gift for the angler who has EVERYTHING!