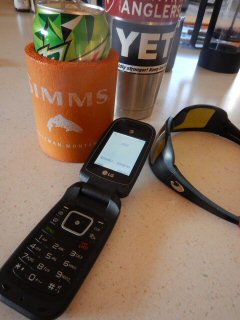 I got a call from Simms back in April asking if I would fish on their Jackson Hole One Fly Team.  At the time I expected to be tarpon fishing in the Congo and had to turn it down.  When denied our permits and VISA's for the Congo a month ago I checked in with Simms to see if they fielded their team.  Lucky for me, they still had a spot.
I haven't fished the Jackson Hole One Fly since 2014.  I miss fishing the event.  It's a chance to be a part of generous group.  The One Fly raises a significant amount of funds and donates to river improvements nationwide.  Organizations like American Rivers and Trout Unlimited send teams as well and have fund raising events over the weekend.  It's also a time to see and hang with old friends.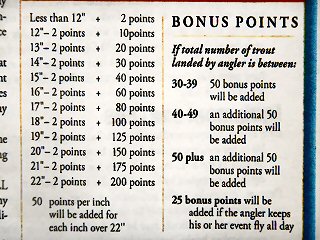 The One Fly consists of 40 four person teams for a total of 160 individual contestants – that's a lot!  It's a two day contest.  Each contestant is allowed to fish one fly (not one pattern but ONE FLY) each day.  You lose it and you're done.  Every fish caught is worth two points and you can measure eight fish over 12" for bonus points.  (E.g. a 12" fish is worth 10 points while a 18" fish is worth 100 points).  It's a challenging tournament that annually humbles top anglers.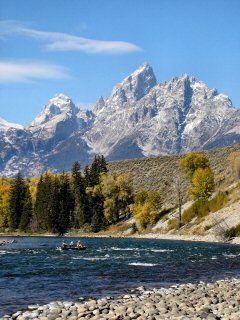 The contest takes place on the Snake River through Jackson Hole in Wyoming and the South Fork of the Snake in Idaho.  These are broken down into stretches and you fish from the drift boat.  Basically, you get in a boat with a guide and a contestant from another team and go head to head.
Stretches are drawn randomly.  Ideally you want to draw a section of the Snake in Grand Teton National Park.  The Park fishes far better than the sections of the Snake south of Jackson.  The South Fork stretches are fairly even.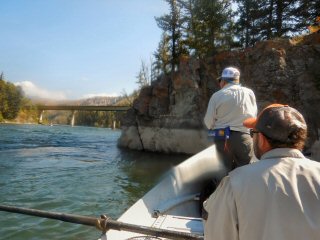 While most of Team Simms drew well, Saturday I got the most challenging section of the Snake, South Park to Prichard.  Regulations on this stretch allow two cutthroats of any size to be harvested throughout the summer.  It's a ridiculous regulation in this day and age but true and unfortunately the stretch suffers.  By September it's a tough place to find fish over 12".
Lucky for me the scoring also gives bonuses for the number of fish caught.  Catch 30 and receive 50 bonus points.  Catch 40 and get another 50.  Catch 50 fish and get another 50 points for a total of 150 bonus points.  So it breaks down like this – 50 fish at two points each is 100 points.  Add on the bonus 150 and you have a total of 250 points for catching 50 fish.  Not bad really and a great way to salvage the tough stretch.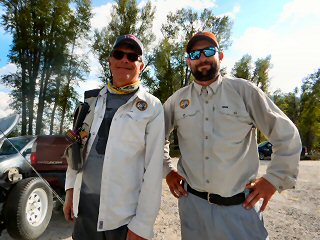 The challenge is however, catching 50 fish.  These fish are small and hard to keep on.  All you need to do is touch the leader but still – it aint easy.  I went with a small mahogany dun dry fly to help the situation.  I give much credit to my excellent guide, Rhys Brown, and opponent Tim O'Leary, both agreed to work with me on the approach to catch as many fish as possible.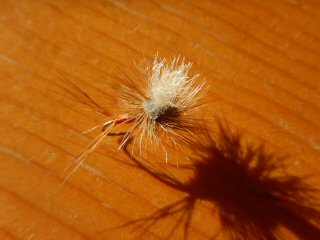 I worked like a machine with that small fly for 8 hours start to finish.  I hardly took time for a bite of lunch.  I caught 56.  Only two measured for bonus points and my final score was 321.  This would be the best score on this stretch for the weekend.  Tim scored 157.  This turns out to be an excellent score on this stretch as well.
The rest of Team Simms hung in there on Saturday.  At the end of Day 1 we were in 10th place.  All of us had good stretches on Sunday so things looked good to move up.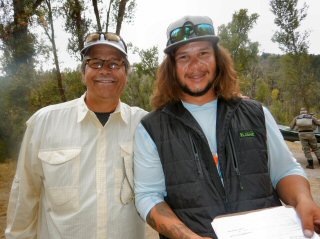 I headed over to the South Fork on the Eagle to Byington Stretch.  My guide was Cruz Quiroz and my boat mate opponent was Martin Goebel.  While I was prepared to fish my mahogany dun again, Cruz suggested streamers.  Martin and I loved the idea.  My fly was a conehead woolly bugger concoction.  Keep it simple!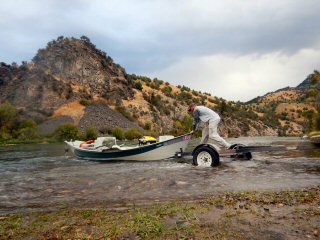 Things started fast and furious for me.  In the first hour I boated five fish 14" to 17".  Remember, you're only allowed to measure eight for bonus points.  After you measure them all you can't measure another.  Imagine if you filled your card with 14" to 17" fish and then in the last hour you caught several 17" to 20" fish.  You wouldn't be able to count them!  So there's strategy here.  I only measured three of the nice fish I caught this morning.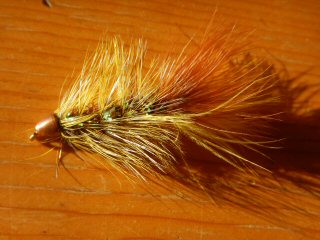 This would be a large mistake.  One would think that with the fishing starting so incredible that catching eight nice fish would be easy given a long 8 hour fishing day.  But it wasn't.  At 10 AM, the fish literally stopped eating.  In the remaining six hours of tournament, Martin and I each measured one more fish and left blank spots on the bonus sheet.  A torturous mistake to dwell on. . . .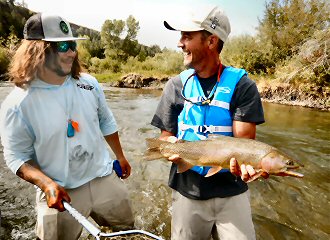 And you can't dwell on it.  The good news is that the one more fish I measured was a 20" cuttbow that scored high for me.  Its a long story but this fish was a miracle! Still a tough pill to swallow but you can't look back.  My final score at the end of the day 467.  Martins score, 249.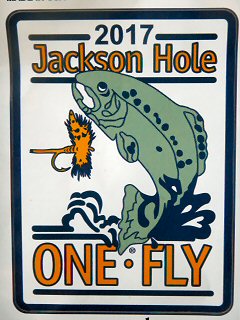 Team Simms finished in 7th place.  My individual placement was 12th.  The points were close.  If only each of us could've scored a mere 50 points more each day.  I certainly could've today on the South Fork.  Oh well.  You can't win them all.
It's been a fabulous weekend nonetheless.  And a very special thanks to Simms and my teammates for saving me a spot on the team.  I must say I'm beaten down after traveling all the way to Costa Rica then the One Fly in the same week.  No complaints of course!  Next in line a jaunt up to Yellowstone.  Stay tuned.