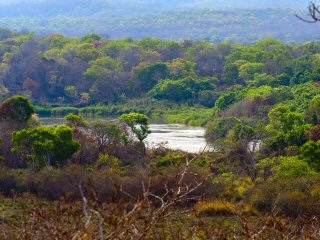 It was an early morning because we switched from the Mnyera River Camp to the Ruhudji River.  The Ruhudji is where I started last week.  It's a two hour jeep ride where you see lots of wildlife which this morning included enjoyable sightings of Lichtenstein Hartebeest and not so fun Tsetse flies.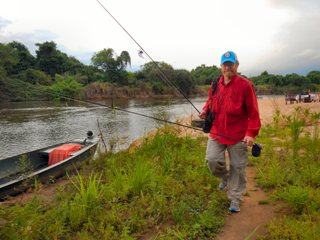 When we got there we moved into our tents then polished off the usual breakfast of boiled eggs and toast.  John and I were fishing together so he and I rigged up and went upstream with guide Mark.
John and I fished two days ago on the lower Mnyera.  We had a good time, how could we not, we were tigerfishing in Africa, but it was the slowest day of fishing since I've been here.  Today I had a good feeling that we would make up for the slow day together.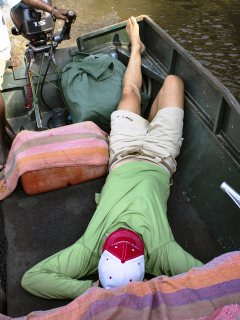 We boated up the Ruhudji for an hour then cut the motor and went right in to pounding the banks.  The tigers were on and in the first hour John and I each landed several small tigers.  I had some issues however.  Due to the exciting day in the rapids yesterday and ten other days prior, my hand has finally given in.  It's not the muscles and tendons but rather my skin.  I don't wear stripping gloves and yesterday my fly line burned through me once and for all.  I rigged up a bandage with Band-Aids and medical tape.  By the time I rigged up my hand I had to nap.  I found a comfy nest in the bottom of the boat and zoned out.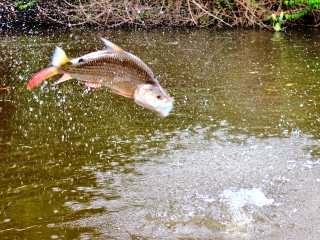 Sleeping in the heat of the sun takes its toll and after a half hour I sat up.  I was totally dazed and rather than jump back to casting I looked around and took a few deep breaths.  It's hard to believe I've been tigerfishing for almost two weeks.  Then I heard John go tight – fish on.  My good camera was inches from me and I was able to fire away and nailed this jump shot.  One thing you should've gathered by now, tigers jump like no fish I've ever met.
This was a big tiger.  John went to work with five minutes of down and dirty, heeding to the gill rattling jumps and surges for stumps and dangling tee branches.  At least five times this special tiger came close to being netted but took off again.  Finally Mark scooped him up.  John had a 17lb monster from the Ruhudji River!
John and I had a great day.  I had a bit of glory myself.  You may remember last week with Mark Del Frate when I lost three big tigerfish in a row without seeing any of them.  One thing with me is I remember locations well.  Mark took me there and this time I got them.  I'll never be sure they were the same fish but I landed two back to back tigers over 10lbs.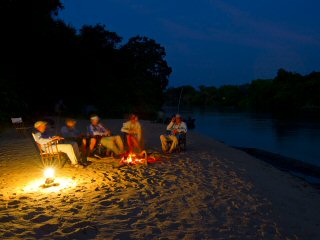 We're having a heck of a week.  Although Oliver and Steve didn't smoke them today, they caught fish and several were in that 10lb range.  We celebrated with a Ruhudji tradition of eating and drinking under moon and candle light in the sand by the river.  It really doesn't get any better than this.
For information about this incredible trip feel free to CONTACT ME.
Be sure and visit Tourette Fishing – Fight it in Africa.
And ask about my future hosted trips through Yellow Dog FlyFishing Adventures.